Born on November 13, 1909 in Lillehammer, Norway, Edward Kristian Mahlum, immigrated to the United States in 1928. He received his Bachelor of Science degree in Architecture from North Dakota State College in 1934. Upon graduation he served as a draftsman for the United States Department of the Interior from 1934 to 1935, before joining the architectural firm of Broaten Foss & Co. in Minneapolis (1935-1938). He then went to work for C.H. Johnston in St. Paul (1938-40) before coming to Washington State. In 1940, he began working for Naramore & Brady, serving as their chief draftsman, and later became a principal in the firm.
After WWII, Mahlum received his architectural license (No. 369) on August 6, 1946, then in 1948 he established his own practice. In addition to running his own firm, Mahlum assisted John W. Maloney in managing his office of about fifty architects after the sudden death of Maloney's chief draftsman.
Mahlum's early projects included a variety of residential commission for Emil Elverum (1947); Durwood Lapham (1950); Norman Berg (1951); T. Bjornstad (1951) and J.S. Arnason House in Kirkland (1954); .
Other known projects includ the Fremont Court Apartments (1949), Seattle Teachers' Credit Union (1949); Technical Research Co. (1959); and an educational addition to the Phinney Ridge Lutheran Church (1960). Mahlum's design for the Norway Center (1951) was well publicized and brought him many additional commissions including; the Norse Retirement Home (1956); Bardahl Manufacturing Office (1957); and the Ole Bardahl House (1958).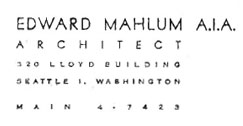 After the Norse Retirement facility was completed, Mahlum began to specialized in similar projects and designed at least four other retirement homes in the Seattle area and two in Oregon. He was an active member of the Washington Association of Homes for the Aged. Mahlum also served as consulting architect to the Supreme Lodge Sons of Norway for the construction of retirement homes nationwide.
Mahlum's later work included Queen Anne's McClure Middle School (1961-62), Stephen Decatur Elementary School (1961); the Hearthstone Retirement Home (1960-66); rear addition to Edmond Meany High School (1962), North Seattle Community College (1966-70); and Group Health Eastside Hospital in Redmond (1970-75).
In the mid 1960s, Mahlum sons joined the firm (renamed Mahlum & Mahlum). Then in the late 1970s, they took on another partner, John Norfors. Today, the firm is known as Mahlum Architects, and currently has offices in Seattle and Portland. Edward K. Mahlum passed away in Seattle on September 5, 1998.
Adapted from Seattle Landmark Nomination- The Norway Center/Mountaineers Building, Larry Johnson - Oct 2007