Born in 1879 in Warren, Illinois, Floyd Archibald Naramore grew up in Mason City, Iowa and attended the University of Wisconsin, where he studied engineering. After a reprieve from schooling, Naramore graduated with a BS in architecture from the Massachusetts Institute of Technology in 1907. Early in his career, Naramore worked as a bridge draftsman for the Chicago & Northwestern Railroad, and subsequently with architect George Fuller.
After a short-term employment with the John McEwen & Co. in Chicago, Naramore moved to Portland, Oregon where he landed a position with Northwest Bridgeworks where he became skilled in cost estimation. This was beneficial to Naramore in his appointment as Architect and Superintendent of Properties for the Portland school system in 1912. During his seven years in that position, he designed sixteen schools for the district.
The Seattle School Board hired Naramore in 1919 as its architect. During the next thirty plus years, Naramore designed over thirty schools for the district. All but a few of the schools constructed during his tenure feature a distinctive Georgian stylistic mode which was preferred by Naramore.
In 1924, Naramore formed a partnership with Alvin Menke (1924-29), extending Naramore's work to Ellensburg, Aberdeen, Longview, and Bellingham. However, with the onset of the Depression, school construction slackened as funds were cut, and the partnership dissolved. These same factors led to Naramore's resignation from the Seattle School District in 1932. He continued to win projects however, including Bagley Hall on the University of Washington campus, designed with Seattle architects Grainger & Thomas and Bebb & Gould.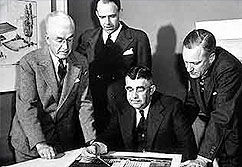 In 1938, Naramore formed a parterniship with fellow architect Clifton J. Brady. The amount and scale of work commissioned by the federal government during WWII forced Naramore and other architects to form joint ventures. In addition to a partnership Brady, Naramore joined forces with Thomas Grainger, William Bain, and Perry Johansen. The connection stuck with most of the new partners and in 1943 a new firm was establised; Naramore, Bain, Brady & Johansen (NBBJ). At the age of 64, Naramore was named senior partner with broad responsibilities for firm management. The firm quickly became one of Seattle's leading architectural practices. During the war years, the firm designed nearly six thousand units of housing, a number of schools, and other facilities for the Navy, Army and Air Force.
Naramore passed on his experiences in school planning to his younger colleagues, supervising design work for the Diablo School (1946) and McKinley Elementary School (1949) in Olympia. Among the firm's more notable projects during Naramore's tenure include the A.W. Carlson Clinic (1949) in Everett, the University of Washington Health Sciences Building (1949), the Seattle Federal Reserve Bank (1950), Lincoln High School (1951) in Wenatchee, the VA Hospital (1952) in Seattle, and Medina Elementary School (1957).
Naramore was ellected to the college of AIA fellows in 1935 and served as president of the Washington State Chapter from (1939-1940). He died in Seattle on October 29, 1970.