Spokane architect Franklin Manz was born on Feb 22, 1888 in Lyons, Iowa and graduated from Iowa State University with a bachelors degree in architecture in 1910.
For reasons unknown, upon graduation he moved to the Pacific Northwest and first took a job as a draftsman for the Ballard Plannary Company in Spokane. With valuable work experience at hand, in 1912 he opened his own firm, called "The Plan Shop".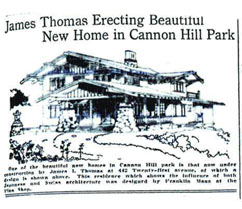 Manz specialized in high-end Craftsman style Bungalows, and his projects serve as some of the best examples of the style in the city. Notable designs included: the Ralph Dyar House (1913, 526 E 12th Ave); a home at 532 E 12th Ave (1912); a home at 911 E 20th Ave (1911); the Montfort – Harrison House (1913, 442 W Shoshone Place); James Thomas Spec House (1913, 448 W 21st Ave ); the Alvis House (1913, 448 W 21st Ave); and Durkin House Garage (1915, 930 S Lincoln St.); the S.D. Weaver House (1912, 720 W 23rd Ave.); the J.C. Pritz House (1913, 21st & Bernard); and the Hugo Oswald House (1913, 17th & Monroe).
Other non-residential projects included the Apple Show Building (1916); a hotel for Milwaukee Lumber Co. (1913) in St. Joe, ID; Fire Station No.13 (1913, Wabash & Jefferson) in Spokane; and the a 10 story building (design only) for the Spokane Ad Club Building (1912).
During WWI Manz was drafted and rose to the level of 1st Lieutenant in the 682nd Signal Air Corps squadron based in Huston, TX. He trained in San Francisco but was never deployed overseas.
Reportedly after the war Manz returned to Spokane and lived and worked in the community until 1923. Research indicates that he then moved to San Gabriel, California where he was listed as a civil engineer with the US Army Corp- Los Angles District (1938-1955). He passed away in Pasadena, CA on May 11, 1962.
By Michael Houser, State Architectural Historian - October 2013