The son of Norwegian and Italian immigrant parents, Fred Bassetti grew up in Seattle and earned the BArch at University of Washington in 1942 and an MArch from Harvard University in 1946.

Following a brief apprenticeship with Paul Thiry, Bassetti worked for the architectural firm of NBBJ and served as the chief designer for Alvar Alto. Bassetti and fellow Harvard graduate John Morse formed a partnership in 1947. The practice was devoted largely to residential designs from individual custom houses to larger developments and public-housing projects. Together Bassetti & Morse received several local and national awards. Among their more notable residential projects are the G. J. Armbruster House in Lake Stevens which received a Seattle Honor Award, the Gamma Rho Apartments a National Grand Honor award winner (1952), the Gerald Martin House also a National AIA honor award winner (1954), and the Marshall Forrest Residence in Bellingham and the Walter F. Isaacs House in Hilltop which received National Merritt Awards in 1953.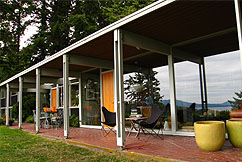 Their public, commercial and civic projects include the Lakeview Elementary School (1954) and the Mercer Island High School (1958) both on Mercer Island, the East Shore Unitarian Church in Bellevue (1957), the Bouillion Building (1961) and Library (1961) at CWU. In 1962, Bassetti & Morse divided into two firms, and Fred Bassetti & Company (later Bassetti Architects) came into existence.

Now on his own, Bassetti continued to receive large commission. These included the Children's Zoo at Woodland Park, Ridgeway Dormitories (1964, HUD Award, 1966) at Western Washington State College; dormitories and the library at Central Washington University , a variety of buildings at the University of Washington and Washington State University, the 37-story Seattle Federal Building (1974), the US Embassy building in Portugal (1979-83), Pine Street Substation (1966), the PACCAR Technical Facility at Mount Vernon, and the 62-story AT&T Gateway Tower (1981-91).
Among Bassetti's many professional leadership activities, he served on the Allied Arts of Seattle, the Seattle Landmarks Commission, and the Seattle Design Commission. He also served as President of the Seattle Chapter of the AIA in 1967-68 and was awarded to the college of Fellows in 1968. A recipient of the AIA Seattle Medal, Bassetti has received recognition as an Academician of the National Institute of Design, and was nominated for the Pritzker Prize in 1989.
Bassetti passed away in Seattle on December 5, 2013.