Seattle architect John Cecil O'Brien was born on May 14, 1916 in McCloud, California. Raised in the Los Angeles area, O'Brien's formal architectural training was limited to studying industrial design at the Arts Center School in Los Angeles and a correspondence course in engineering, however he had six years as a draftsman before applying for his Washington State architectural license in 1944.
O'Brien arrived in the Seattle area during WWII, where he served as a principle engineering aid for the USEO (1943-44). By 1948 he had opened his own architectural firm and remained in private practice until 1969. During most of that time he shared an office with fellow architect Raymond Peck, whom he occasionally collaborated with.
His first known design is for a modest builder home at 4847 Kenny Street (1949) in the Upland Neighborhood of Seattle. His home design for William P. Butler (1955) brought him much attention and further commissions such as several builder homes in Salt Air Hills neighborhood (1958) for Rigby Construction Co. and a design for the 1957 Parade of Home House in Rancho Vista neighborhood in the community of Seatac.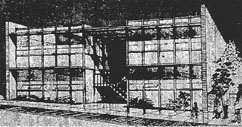 O'Brien's designs show distinct articulation of their structural framing and interior plans on the exterior facades. He developed a specialty for apartment buildings. Designs include the Queen Villa Apartments (1955 with Raymond Peck); View Apartments (1957); apartment complex at 10th Ave & John Street (1958); Chateau Apartments (1963); Taylor Towers (1960); Village Green Apartments (1967) in Kent; and the Casa del Sol Condominiums (1969) in Bellevue.
Over the course of his career, O'Brien designed several projects for builder/developer Delmar Noonan including the Ediphone Co. & Standard Register Building (1956); the Retail Credit Co. Building (1957); the Valleho Apartments (1958); and the Bluff Apartments (1959).

Other project include the Paul Revere Life Insurance Building (1958); Century Construction Co. Headquarters (1961); and the Forest Interiors Corp. Building (1962 & 1967).

O'Brien died in Monterey, California on November 27, 2001.

By Michael Houser, State Architectural Historian - Aug 2012