Lewis R. Stritesky was born in Racine, Wisconsin on Feb 24, 1866. He received his formal education at the University of Illinois graduating in 1890. Upon graduation he moved to Omaha, Nebraska and gained valuable hands-on experience by working in a variety of architectural firms. Upon moving to Spokane in 1892, Stritesky went to work as a draftsman for architect Willis A. Ritchie. Reportedly he left the city to try his hand at mining in British Columbia but returned to Spokane in 1902 and opened his own independent practice.
Stritesky married Ms. Meldora Ice in 1906. Meldora holds the distinction of being the first formally trained female architect in the State. She received her degree from the University of Illinois in 1897 and worked for Spokane architect John K. Dow.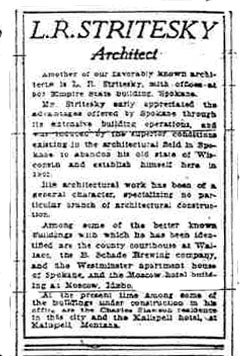 In 1904 Stritesky formed a short-lived partnership with architect Robert C. Sweatt. Together they were awarded several important contracts including the Westminster Apartments (1905); a Hotel (1905) in Wallace, ID; the Shoshone County Courthouse (1906) in Wallace, ID; and B. Schade Brewing Co. Building (1908).
In 1906 the firm was dissolved and Stritesky practiced alone until 1909 when he formed a partnership with Francis P. Rooney. Together Rooney & Stritesky designed the Charles Slawson House (1909), the Buchanan Building (1911) and the Beyer Store (1911) all in Spokane; the Kalispell Hotel (1909) in Kalispell, MT; the F.G. Slocum House (1911) in Northport; the Latah County Courthouse (1911) and Moscow Hotel (c.1912) in Moscow, ID; the High School (1912) and City Hall (1913) in Kellogg, ID; and St. Thomas the Apostle Church (1910) in Coeur 'Alene, ID.
The partnership with Rooney was dissolved in 1912 with each opening independent practices. Stritesky continued to practice in Spokane until 1923. While he appears to have moved from the city after that date, he was buried in Spokane at the Greenwood Cemetery in 1951 next to his wife, Meldora.
By Michael Houser, State Architectural Historian - Feb 2012