Born on June 18, 1908 in Des Moines, Iowa, Roland Gilbert Pray attended school in Lake City, Iowa before receiving his B.S. in Architectural Engineering from Iowa State College in 1932. During the Depression, Pray taught construction skills to men enrolled in the CCC in Gurnsey, Wyoming. Other early design experience included stops in Denver, Colorado and Forth Worth, Texas before moving to Seattle in 1943. Pray received his architectural license in 1946 while working at Boeing. He then went to work for short time with NBBJ before establishing a lasting and successful partnership with fellow architect Craig Harmon and engineer Robert Detrich in 1948.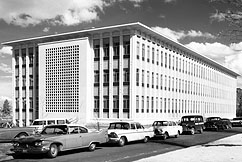 The work of the firm Harmon, Pray & Detrich included several important commissions—mainly offices for large corporations and governmental entities. Known projects include the King County Administration Building (1971); Sieg Hall (1960) at the University of Washington; Fulmer Hall addition (1961) at Washington State University; headquarters for Puget Power Co. (1957) in Bellevue and subsequent switching stations around the Puget Sound; the Operating Engineers "Local 302" Building (1958) in Seattle; the master plan for the expansion of the East Capitol Campus in Olympia and subsequent designs for the Employment Security Building (1962), the Highway & Licenses Building (1962), and the State Archives Building (1963); and a multi-story addition to the Snohomish County Courthouse (1964) in Everett.
One of the firm's most unusual designs was the Power Control Center for Seattle City Light (1963). Located at the base of Queen Anne in Seattle, the octagonal building served as the power dispatching center and support administration office, and boasts a near windowless concrete sculptural form at street level.
Pray Passed away in Seattle on December 23, 1996.
By Michael Houser, State Architectural Historian - January 2007