Governor's Executive Order 21-02 (formerly 05-05)
Governor Jay Inslee signed Executive Order 21-02 on April 7, 2021. This was a revised cultural resource Executive Order that immediately replaced former Executive Order 05-05 which was signed by Gov. Chris Gregoire in 2005. The Executive Order reflects the governor's commitment to assure cultural resources, archaeological sites, historic structures, and tribal sacred places are fully considered in any state funded project and that impacts to these cultural resources must be considered. The process includes both consultation with the Department of Archaeology & Historic Preservation and with tribal governments.
Executive Orders are formal orders issued by the Governor to cabinet agencies statewide requiring that certain actions be taken. GEO 21-02 is codified in the budget as signed into law by the Governor, and it applies to all agencies receiving funding through the capital budget.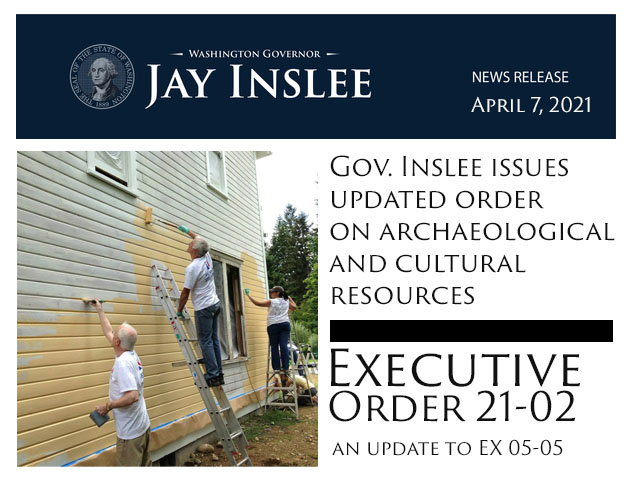 As a part of state agency biennial capital budget planning process, EO21-02 requires all state agencies implementing or assisting capital projects using funds appropriated in the State's biennial Capital Budget to consider how future proposed projects may impact significant cultural and historic places. To do so, agencies are required to notify the Department of Archaeology and Historic Preservation (DAHP), the Governor's Office of Indian Affairs (GOIA), and concerned tribes and afford them an opportunity to review and provide comments about potential project impacts. The underlying goal behind the Order is to ensure that the State is proactive in protecting our rich history for future generations and to use taxpayer money wisely by avoiding unnecessary damage and loss of significant sites, structures, and buildings.
The following categories of State funded capital projects require EO 21-02 review:
State-Funded Construction Projects
State-Funded Acquisition
So You Need a Letter for 21-02?
If you are applying for a grant from Commerce, or a direct appropriation from the Washington State Legislature, or any number of other reasons you are being told you need a letter from DAHP for 21-02, please complete a E021-02 Project Review form. Once you have completed that form to the best of your abilities, send it to 2102@dahp.wa.gov. If you do not hear back within 30 days, please feel free to reach out and inquire about the status of your review.
The Review Process
Below is a general outline of the consultation process for Governor's Executive Order 21-02:
Step One: Consultation Initiation
Agencies should initiate consultation with DAHP and affected tribes early in the project planning process and must complete it prior to the expenditure of any state funds for construction, demolition or acquisition.
Consultation under this Executive Order may be delegated to non-state recipients of state funds, however the state agency shall retain the responsibility to ensure an adequate consultation process and will be responsible for holding all records related to the tribal consultation process. To obtain compliance with EO21-02 agencies shall provide the records to DAHP that demonstrate completion of the tribal consultation process.
The project propenent and/or lead State agency should submit a Project Review Form (EO21-02 Form). The Project Review Form includes overall project information, various check-off boxes regarding the undertaking, and applicable State agency contact information. Submit the Project Review Form and all subsequent correspondence to 2102@dahp.wa.gov.

Step Two: Identification of Historic Properties and Determination of Eligibility
Depending on the results of our review of the EO21-02 Project Review form, we will contact the project proponent and lead state agency to continue consultation to determine what, if any, further cultural resource investigation will need to occur. This may involve professional archaeological or historic survey work.
State agencies should utilize qualified staff and/or employ the services of qualified consultants meeting National Park Service (NPS) Professional Qualifications Standards for history, archaeology, architectural history or historic architecture as appropriate for the property type being evaluated. These professionals can determine if resources are eligible for listing and properly document resources which meet DAHP's standards. They may also access the WISAARD, where survey, inventory and other documents must be submitted. Information about access to the WISAARD system can be found here. All inventory forms shall follow the Washington State Standards for Cultural Resource Reporting.
However since most state agencies do not have professional cultural resource staff, or funds to hire such persons, we have created a simple WISAARD EZ entry form designed to provide us with some basic information we need to make decision. Note this is often a starting point in the determination of eligibility process and may eventually require the hiring of a professional to fill out a more comprehensive WISAARD entry from.
Step Three: Assessment of Project Adverse Impacts
Once received, DAHP staff will review the correspondence, WISAARD inventory forms, the EZ Project Review Form, and other supporting documentation. DAHP staff will then provide notice to the agency on the impact of the project on cultural resources. There are three possible determinations of impacts:
No Historic Properties Impacted - No historic properties because they are less than 50 years old or were determined to be not eligible for listing in the National Register.
No Adverse Impact - Historic properties were identified, but there will be no alterations to a resource that affect its important historic characteristics.
Adverse Impact - Historic properties were identified, and there will be alterations to a resource that affect its important historic characteristics.
Note that DAHP also has the option of requesting additional information about the project and/or resource being effected.
Step Four: Resolution of Adverse Effects
Under EO 21-02, DAHP encourages the agencies and project proponents to avoid or minimize adverse impacts. If adverse impacts cannot be avoided the agency "shall implement mitigation strategies."
Mitigation for impacts to archaeological sites and resources is decided and documented through the issuance of archaeological monitoring and excavation permits as described in WAC 25-48. Projects that impact archaeological sites or resources must obtain an archaeological monitoring or excavation permit from DAHP as required by RCW 27.53.
For impacts to other cultural resource types including historic buildings, structures, and objects, traditional cultural places. and scared sites DAHP recommends implementing mitigation strategies through a "Memorandum of Understanding" (MOU) and/or through stipulations in agency grant agreements and contracts. Such mitigation can take many different forms depending on the resource and/or impact o the proposed project. Ideas about typical mitigation can be found here. In the case of adverse impacts to eligible archaeological resources, typically the proponent must submit a research design to mitigate adverse effects through proper data recovery. Mitigation strategies can be developed collaboratively and included in the proposed project, or they can be incorporated in an MOU negotiated amongst the lead state agency, project proponent, and DAHP. Interested and affected Tribes may also participate in the negotiations and may request to be a signatory party to the agreement as well as other parties who have a defined role in implementing the mitigation strategies (or "stipulations").
If an MOU is drafted to implement mitigation strategies, the final draft is circulated to the signatory parties to sign the document. Note that evidence of tribal consultation and resolution of any of their concerns must be provided to the SHPO before the SHPO will sign the agreement. Once the MOU is signed, the executed document shall be submitted to the SHPO for posting on WISAARD for public viewing and kept on file for future reference. Implementation of the stipulations (mitigation strategies) is the responsibility of the party identified in the MOU as defined in the terms of the agreement. Implementation of the mitigation strategies must include coordination with DAHP staff and often include the review of draft materials, monitoring, submittal of annual reports, etc. Final products usually are provided to DAHP (and others as appropriate) as a permanent record and evidence that the terms of the agreement have been satisfactorily fulfilled.
Biennial Capital Budget Requests by Agencies
Every state agency that maintains property is required to submit a capital budget request to Office of Financial Management (OFM) preceding each biennium. This process requires obtaining a letter from DAHP and the tribes for pre-design and design phases in order to avoid adverse impacts to archaeology and historic resources under EO21-02.
In order to obtain an "exemption" letter from DAHP during the biennial capital budget request period to OFM, please include the following in your correspondence:
Cover letter on official letterhead from the requesting agency indicating the nature of the request. Letters from consultants will not be accepted.
Spreadsheet or list of proposed capital budget request projects. Include information such as whether or not ground disturbance is proposed with the associated project, what buildings will be impacted, and the original construction date of the impacted buildings. Please also include a brief description of each proposed project.
The list may include both major projects and minor works projects. They should be included under the same cover in order to expedite review time.
To expedite the review process, you can check to see if buildings being impacted have been inventoried or are listed in the National Register by checking WISAARD, our online database of historic properties.
Requests should be made at least 30 days in advance of your deadline for submitting your capital budget request in order to ensure adequate amount of time for DAHP to review and respond.
For larger agencies, we also recommend a brief meeting with our agency to outline the capital budget request in order to identify any potential critical issues.
Email a digital copy of all correspondence for biennial capital budget requests
After going through the project list with DAHP staff, you should come away with the following tangible results:
A list of your projects that do not require further DAHP review; or
A list of projects that need additional clarification or information; or
A list of projects that have been identified as of concern and that will require additional dialogue to resolve impacts to cultural resources;
and an Agreement about needed "next steps" to continue or complete the review process.
**Note that projects that are not "exempt" from EO 21-02 will require further DAHP review and consultation. See "The Review Process" above for more information.
EO21-02 (formerly 05-05) Guidance Documents
GEO 21-02 Guidance / Overview (PowerPoint Presentation)