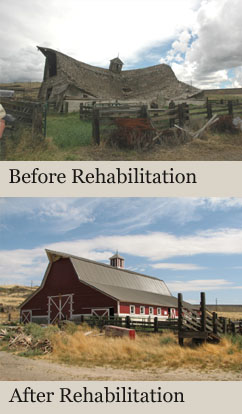 The Washington State Department of Archaeology & Historic Preservation is pleased to announce that the capital budget for the 2015-17 biennium includes funding to continue the highly successful Heritage Barn Grant Program. Part of the state's Heritage Barn Preservation Initiative established in 2007, the grant program assists with rehabilitation projects designed to stabilize and preserve designated Heritage Barns across the state. We anticipate distributing grant application materials by mid-August, with an application deadline of mid-October.
Since the program's inception, Heritage Barn Grant funding has provided assistance to 66 Heritage Barns throughout Washington. "This program is made possible because of the tremendous dedication and passion owners have for their historic barns," states Jerri Honeyford, Chair of the Barn Advisory Committee that oversees the initiative. "Washington's agricultural heritage is a rich component of our state's history and we applaud those who continue to serve as stewards of these remarkable structures."
Rehabilitation grants are awarded through a competitive application process: in four funding rounds, the Barn Advisory Committee has reviewed over three hundred grant applications. Criteria for funding include, but are not limited to, the historical significance of the barn, urgency of needed repairs, and provision for long-term preservation. Priority is given to barns that remain in agricultural use.
"The Heritage Barn Preservation Initiative has achieved the objectives of saving historic barns while raising awareness and educating the public about the role agriculture continues to play in terms of economic development and heritage tourism," noted Dr. Allyson Brooks, director of the State Department of Archaeology & Historic Preservation. "Washington State now boasts over 600 designated Heritage Barns spread across all 39 counties statewide, and our agency looks forward to building on the success of the program in the coming biennium."
Historic agricultural structures listed in the Heritage Barn Register, the Washington Heritage Register, or the National Register of Historic Places, are eligible to receive grant funds. To be eligible for listing in the Heritage Barn Register, barns must be over 50 years old and retain a significant degree of historic integrity. All nomination/application materials related to the Heritage Barn Register and the Heritage Barn Rehabilitation Grant Program can be downloaded here. Approximately $400,000 in grant funds will be available.
Only designated Heritage Barns, or barns listed in the Washington Heritage Register or the National Register of Historic Places are eligible to apply for grant funds. The next deadline for barn owners interested in nominating their barn to the Heritage Barn Register is Feb. 23, 2018.
Barn Grant Documents
The following barns have received grants through the Heritage Barn Grant Program:
Heritage Barn Grant Recipients: 07-09 Biennium
Garfield County
Van Vogt Family Farm
Island County
Sherhill Vista Farms, LLC
Island County
Hall Family Farm
Kittitas County


Blue Heron Farm

Klickitat County


Crocker Ranch

Lewis County


Boistfort Valley Farm

Lincoln County


Straub Farm

Okanogan County


Olson Long Ranch

Pacific County


Parpala Farm

Pend Oreille County


La Porte Farm

Skagit County


J4 Ranch LLC

Skagit County


Prevedell Farm

Snohomish County
Jackknife Ranch
Spokane County
Hutton Settlement
Thurston County
Erickson Family Farm
Whitman County
Cook Family Farm
Yakima County
LaFramboise Farm
Yakima County
Herke Hop Kiln
Yakima County
O.J. Gendron Ranch
Heritage Barn Grant Recipients: 09-11 Biennium
Adams County
Bar U Ranch Co.
Adams County
Calf Creek Ranch
Clark County
Heisen Farm
Clark County
Landcaster Farm
Island County
Ebey Road Farm
Kittitas County
NW Improvement Co. Barn
San Juan County
Higgins Farm
Skagit County
Andrew Johnson Farm
Skagit County
Wiseman Farm
Snohomish County
Howard Weiser Farm
Walla Walla County
Reser Centennial Barn
Whitman County
Heidenreich Dairy
Whitman County
Old Bush Place
Heritage Barn Grant Recipients: 11-13 Biennium
Adams County
Krause Barn
Clark County
Grinnell Road Farm
Chelan County
Boning's Dairy Farm
Island County
Willowood Farm
Klickitat County
Doubletree Ranch
Lewis County
Frederick Roth Barn
Skagit County
Elmer Axelson Farm
Skagit County
Hedlin Farms
Snohomish County
Bernhard Walther Farm
Spokane County
George Clark Barn
Stevens County
Sherwood Creek Farm
Wahkiakum County
Nutter Barn
Yakima County
Kerby Ranch
Heritage Barn Grant Recipients: 13-15 Biennium
Benton County
Kendall Dairy
Clallam County
Henry Frost Farm
Clark County
Hilltop Farm
Douglas County
Happy Home Farm
King County
Cooper Dairy Farm
King County
Serres Farm
Kittitas County
Barnhart Farm
Klickitat County
Broadfork Farm
Pierce County
Johnson Farm
San Juan County
Gallanger Farm
San Juan County
Valley View Farm
Skagit County
Benson Farm
Skagit County
Otto Larson Barn
Snohomish County
James McCaulley Farm
Spokane County
Koch Farm
Spokane County


Palmer Farm

Walla Walla County
Eiffert Farm
Walla Walla County
Epstein Farm
Yakima County
Newman Farm
Heritage Barn Grant Recipients: 15-17 Biennium
Clallam County
Eberle Farm
Clark County
Landcaster Farm
Columbia County
Bar Z Ranch Inc.
Columbia County
Shiloh Farm
Ferry County
George Pane Farm
Island County
Hookstra Farm
King County
Novelty Hill Farm
Kittitas County
Foothills Farm
Lewis County
Lucas Farm
Okanogan County
Patterson Mountain Ranch
Pierce County
Owls Nest Farm
San Juan County
Lawson Farm
San Juan County


Wilson-Kring Farm

Skagit County


Prairie Road Farm

Snohomish County


Rosemeadow

Thurston County
Tighe Mounts Farm
Walla Wall County
Fritz Plucker Farm
Whatcom County
HMW Farms
Whatcom County
Martin Shaeffer Barn
Whitman County
Kramlich Farm