Skeletal remains represent the physical remains of once living individuals and as such should be treated with the utmost care, dignity, and respect.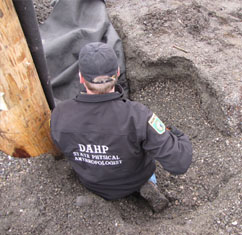 The Department of Archaeology and Historic Preservation holds jurisdiction over all non-forensic human skeletal remains found in the state of Washington on non-federal and non-tribal lands. It also has the primary responsibility for the notification of appropriate cemeteries and affected tribes when non-forensic skeletal remains are discovered.
The State Physical Anthropologist has the responsibility of investigating, preserving, and, when necessary, removing and reinterring discoveries of non-forensic skeletal remains. The State Physical Anthropologist is also required under law to determine whether human skeletal remains finds are Indian or not.
Reports