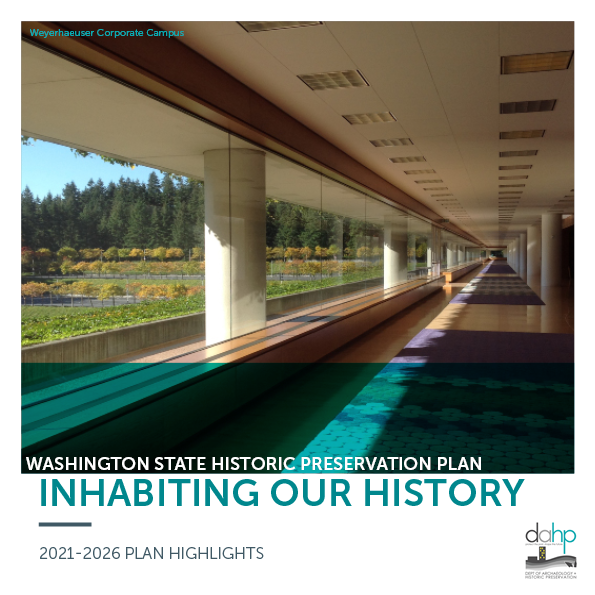 The Washington State Historic Preservation Plan 2021-2026: Inhabiting Our History goes into effect on January 1, 2021. The title of the plan intentionally conveys the message that our state's cultural resources are vital, dynamic, living places to be recognized as critically important to sustaining healthy, diverse communities; active civic engagement; and a prosperous economy. To this end, the Vision Statement crafted for the Plan reads:
Our shared heritage not only enriches the present, it can also shape the future.The state historic preservation plan seeks to engage with all people of Washington to help them take ownership as intentional stewards of that heritage. Together, we can honor the stories and places of our diverse communities, that will boost the economy, promote sustainable practices, and strengthen our sense of place.
The full text of the plan is available here.
The Plan Highlights (condensed version with photos!) is available here.
DAHP invites you to engage with the Plan. If nothing else, you are encouraged to read the Plan's five goal statements, 13 strategies, and 48 separate action items, beginning on page 22 of Inhabiting Our History.
​Available here is the cover letter by Washington State Historic Preservation Officer (SHPO) Allyson Brooks. In her letter is a call to all Washingtonians to join with her, DAHP, plus our key partners and Tribes to help implement the Plan. Keep in mind that Inhabiting Our History is not a work plan for DAHP. Plus, it does not come with funding to implement the action items identified in the Plan.
We look forward to engaging with you in implementing Inhabiting Our History. Should you have any questions or comments, please feel free to contact us by calling 360-586-3065 or emailing support@dahp.wa.gov.
Previous Statewide Preservation Plans
Local Preservation Plans
Guidelines