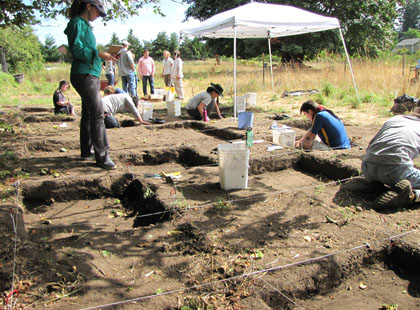 A variety of environmental laws and review processes at the federal, state, and local level typically require consideration be given to protecting significant historic, archaeological, and traditional cultural sites from damage or loss during development. The Department of Archaeology and Historic Preservation (DAHP) works with agencies, tribes, private citizens, and developers to identify and develop protection strategies to assure that Washington's cultural heritage is not lost.
Each year DAHP reviews more than 9,000 federal, state and local government projects for effects on cultural resources. As a result, significant archaeological, historic and cultural properties are protected for Washington's citizens and future generations. Typically consultation is done through lead agencies whom hire professional cultural resource management personnel to complete the various tasks.
Compliance programs reviewed by DAHP staff include:
NEW in 2016! The State Historic Preservation Office requests all cultural resource reports, archaeological site forms, and historic property inventory forms be submitted through WISAARD. All other compliance correspondence should be transmitted via email. See below for the appropriate email address for each regulatory requirement. Thank you for your cooperation!
The National Historic Preservation Act requires that all federal agencies consider cultural resources as part of all licensing, permitting, and funding decisions. As part of that process, each agency must consult with DAHP to assure that cultural resources are identified, and to obtain the formal opinion of the Office on each site's significance and the impact of its action upon the site.
For cultural resources report and historic property inventory upload use WISAARD
Correspondence email: 106@dahp.wa.gov
Section 110 of the National Historic Preservation Act
Section 110 of the National Historic Preservation Act directs federal agencies to assume responsibility for the preservation of historic properties which are owned or controlled by such agency. To that end, each federal agency shall establish a preservation program for the identification, evaluation, and nomination to the National Register of Historic Places, and protection of historic properties. Part of the program may include consultation with the State Historic Preservation Office, among others. Federal agencies wishing to initiate consultation in accordance with Section 110 may do so by completing the appropriate resource form (Archaeology or Built Environment) and submitting it to DAHP along with a letter indicating the agency's intent and determination of eligibility for the resource(s). Correspondence may be sent to 106@dahp.wa.gov.
Environmental laws such as the National Historic Preservation Act and the State Environmental Policy Act (SEPA) require that impacts to cultural resources be considered during the public environmental review process. Under SEPA, the Department is the sole agency with technical expertise in regard to cultural resources and provides formal opinions to local governments and other state agencies on a site's significance and the impact of proposed projects upon such sites.
For cultural resources report upload and historic property inventory forms use WISAARD
Correspondence email: SEPA@dahp.wa.gov
The Forest Practices Rules establish standards for forest practices such as timber harvest, pre-commercial thinning, road construction, fertilization, and forest chemical application (Title 222 WAC). They give direction on how to implement the Forest Practices Act (chapter 76.09 RCW) and Stewardship of Non-industrial Forests and Woodlands (chapter 76.13 RCW). The rules are designed to protect public resources such as historic and cultural sites while maintaining a viable timber industry.
Correspondence email: fpa@dahp.wa.gov
Executive Order 0505 (GEO 05-05) requires that all state agencies with capital improvement projects to integrate the Department of Archaeology & Historic Preservation, the Governor's Office of Indian Affairs (GOIA), and concerned tribes into their capital project planning process in order to protect the public interest in historic and cultural sites.
For cultural resources report upload and historic property inventory forms use WISAARD
Correspondence email: 0505@dahp.wa.gov
All federally assisted or permitted projects require an evaluation of the impacts to historic properties. This includes projects where HUD, USDA or HHS assistance is proposed for property repair, rehabilitation of an existing structure, conversion of use, demolition, new construction, or the acquisition of undeveloped land, among others. The environmental review with the State Historic Preservation Office is required under federal law (24 CFR 58.5(a) or 24 CFR 50.4 (a)). There are also requirements by some local governments and state agencies for cultural resources review. In order to streamline the process for non-cultural resources professionals we have created EZ forms.
The Shoreline Management Act requires that development permits issued by local governments in areas with archaeological sites require a site inspection or evaluation by a professional archaeologist in coordination with affected Indian Tribes prior to issuing development permits.
For cultural resources report upload and historic property inventory forms use WISAARD
Correspondence email: SEPA@dahp.wa.gov