Federal Historic Tax Credit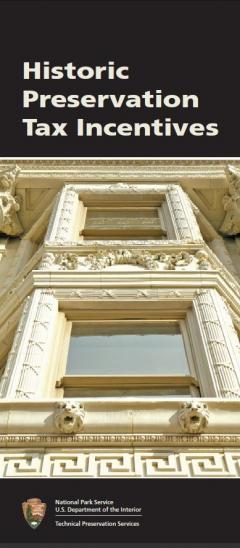 What is it?
A 20% Federal income tax credit on the qualified amount of private investment spent on certified rehabilitation of a National Register listed historic building.
The Federal Historic Tax Credit Program (a.k.a. Investment Tax Credits or Rehabilitation Tax Credits) is one of the most useful incentives for encouraging the preservation of the state's historic resources. Since 1977, over 300 projects in Washington totaling over $1.3 billion dollars have been completed using the Federal Historic Tax Credit Program. Applications have averaged approximately 15 per year, with total investment per year ranging from several million dollars to more than $60 million. The smallest project ever certified was $14,000, while the largest ever certified was over $73 million.
Nationwide, the Federal Historic Tax Credit Program has levereged $162 billion in private investment since the program's inception in 1976. Over 44,000 buildings have been rehabilitation through tax credits, creating more than 2.7 million jobs. In 2018 alone, 129,000 jobs were created as a result of ITC projects. The cost of the program in actual tax credits awarded ($30.8 billion) is far outweighed by the net gain in Federal tax receipts ($35.9 billion) as a result of rehabilitation activities, which leverages private investment for economic growth.
How do I qualify?
There are four threshold requirements for a project to become certified:
Building must be listed in the National Register of Historic Places, either individually or as a contributing property to a district.

If you're unsure about the status of your building, visit our online database of historic properties (WISAARD) to find out! You can also use our website to find out more information on how to become listed in the National Register of Historic Places.

Property must be income producing for at least five years following rehabilitation. This may include but not be limited to proposed uses such as hotel, restaurant or bar, retail, office, rental residential, industrial, or agricultural. Owner-occupied residential properties thus do not qualify.

The project must be substantial. This means the amount spent on "Qualified Rehabilitation Expenditures"* (QREs) must equal or be greater than the "Adjusted Basis" value** of the property.

*Qualified Rehabilitation Expenditures (QREs) can be soft or hard project development costs, and not necessarily reserved for historic character defining features of a property.

**Adjusted Basis value is an IRS term to determine the "value" of a historic property using this basic formula:
A – B – C + D = adjusted basis, whereas:
A = purchase price of the property (building and land)
B = cost of land at time of purchase
C = depreciation taken for an income-producing property
D = cost of any capital improvements made since purchase

The rehabilitation work must be done according to the Secretary of the Interior's Standards for Rehabilitation (Standards). For further information on how to interpret these Standards, please contact our office, visit the NPS website, or hire a qualified architect or historic preservation consultant.
Application Forms
Technical assistance and application information are available from the state Department of Archaeology and Historic Preservation. The office reviews all applications and makes comments and recommendations. Final review and approval is made by the National Park Service in its Washington, D.C. office.
The application is three parts for most projects and the forms are available for download below. You must use these forms dated 2019. No older versions of the form will be accepted.
When you click on the form links the PDF viewer might give you a message that it can't preview the file. Press the Download button and save it to your computer and it will work fine. Note for Apple users: You must right click (or double click, or hold Control and click, depending on your mouse/trackpad settings) and "Save As" or "Download As" on the link below rather than clicking on the link. Clicking on the link will tell you that you must update your Adobe Acrobat Reader.
Note for PC users: The application forms are fillable PDFs. Download and "Save As" under a new file name before filling out the form.
Part 1 (Evaluation of Significance) - NEW form effective 1/27/2021
Part 2 (Description of Rehabilitation) | Amendment Form - NEW form effective 1/27/2021 - InDesign Photo template (requires Adobe InDesign)
Part 3 (Request for Certification of Completed Work) - NEW form effective 1/27/2021
Instructions for completing Historic Preservation Certification Application - NEW instructions effective 1/27/2021

Additional resources: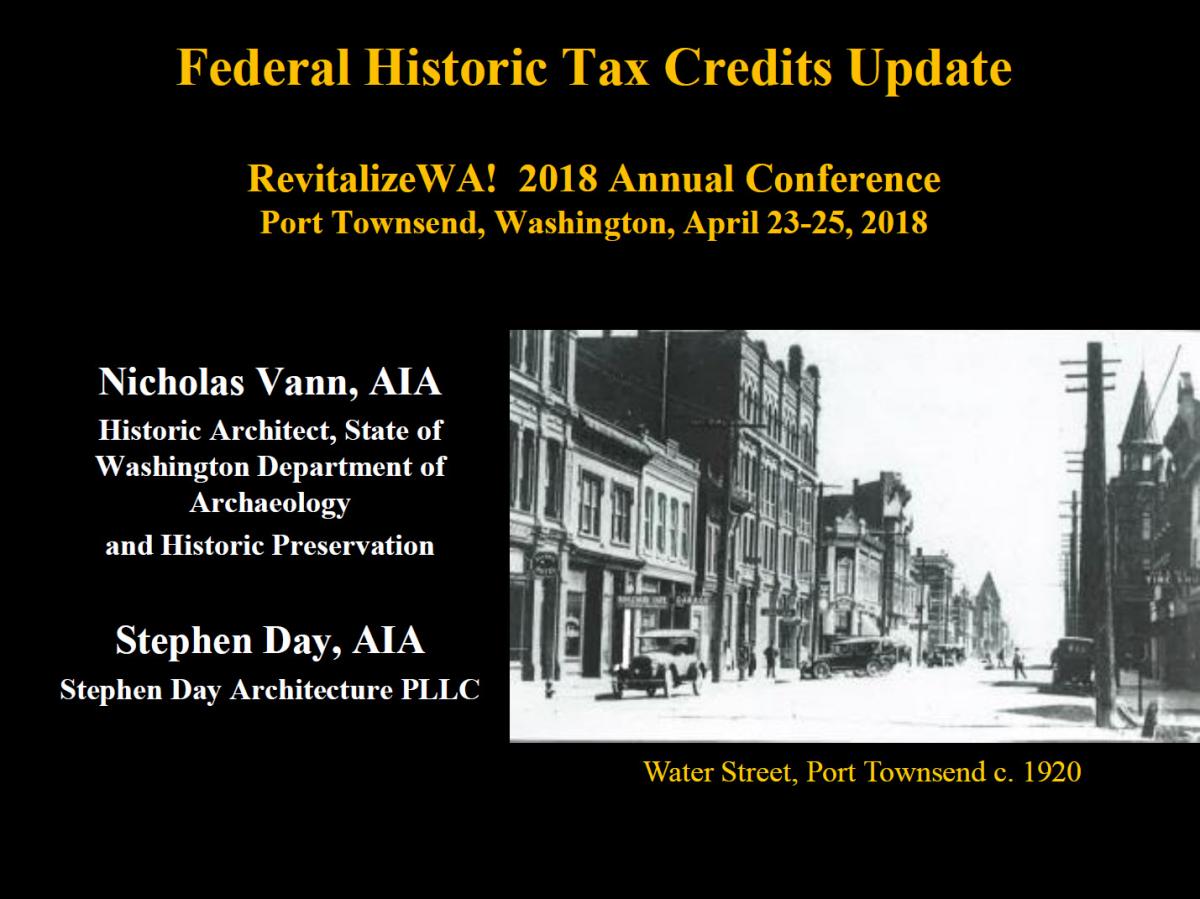 Federal Historic Tax Credits Presentation
As presented at the 2018 RevitalizeWA Conference in Port Townsend, WA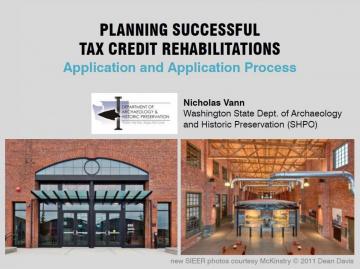 Planning Successful Tax Credit Rehabilitations: Application and Application Process
Excerpt as presented at the 2012 National Trust for Historic Preservation Conference in Spokane, WA
Six webniars covering topics related to unreinforced masonry building retrofits.
Additional Incentives
Special Valuation
Oftentimes, Federal Historic Tax Credit projects in Certified Local Government communities package tax credits with Special Valuation to maximize incentives. Click on the link to find out more.
New Market Tax Credit
The New Markets Tax Credit (NMTC) Program permits taxpayers to receive a credit against Federal income taxes for making qualified equity investments in designated Community Development Entities (CDEs). Substantially all of the qualified equity investment must in turn be used by the CDE to provide investments in low-income communities. The credit provided to the investor totals 39% of the cost of the investment and is claimed over a seven-year credit allowance period. In each of the first three years, the investor receives a credit equal to five percent of the total amount paid for the stock or capital interest at the time of purchase. For the final four years, the value of the credit is six percent annually. Investors may not redeem their investments in CDEs prior to the conclusion of the seven-year period.
For more information contact:
Community Development Financial Institution - New Market Tax Credit Program
601 13th Street, NW, Stuite 200, South
Washington, DC 20005
Phone: (202) 622-8662
Fax: (202) 622-7754
National Trust Small Deal Fund
The National Trust Small Deal Fund is a partnership between Tax Credit Capital and a subsidiary of National Trust for Historic Preservation designed to help developers of historic properties that generate an equity investment of less than $650,000 (total project costs of approximately $4 million or less). Although the tax credit program has been around for 25 years, and an active and efficient market has evolved for larger deals, there is still a void in the market for smaller projects. The Fund was created in 2002 to fill this void.
For more information contact:
National Trust CommunityInvestment Corporation
John Leith-Tetrault
1785 Massachusetts Ave. NW
Washington, DC 20036
E-mail:ntcic_mail@ntcicfunds.com
Bank of America Historic Tax Credit Fund
In August 2000, the National Trust for Historic Preservation and the Bank of America entered into a partnership to create an equity fund dedicated solely to investing in historic tax credit projects, known as the Bank of America Historic Tax Credit Fund, LP. Since its inception, the Fund has closed on twelve investments totaling $21.4 million in net historic tax credit equity. Projects in which the Fund invested ranged in both geography and size but reflect a consistent theme: each one rehabilitates a National Register-eligible structure that significantly contributes to the economic vitality and character of the surrounding community.Managed by The National Trust Community Investment Corp. (NTCIC), a for-profit subsidiary of the National Trust, the Fund's unique investment strategy targets projects with development costs in the range of $4 million to $30 million, eligible for a minimum of $750,000 in tax credits. Types of projects eligible for a Fund equity investment include apartment lofts, office and retail use, mixed-use development and governmental and nonprofit facilities. Thanks to NTCIC's $127 million new markets tax credit allocation, the Fund is also able to offer new markets tax credit equity to qualifying historic tax credit projects in low-income communities.
For more information contact:
Bank of America Historic Tax Credit Fund