Geographic Information System (GIS)
The Washington State Department of Archaeology and Historic Preservation (DAHP) GIS Initiative is a set of Geographic Information System based tools that help public agencies design projects to avoid damage to archaeological and historic sites during the environmental planning process.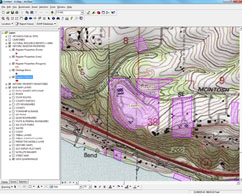 The DAHP GIS system consists of a series of maps portraying the known location of recorded archaeological and historic sites. These digital maps and information represent the next generation of computerized cultural resource management.
GIS Layers at DAHP
Because of the potential for vandalism and looting, archaeological site locations are not publicly available. However, this information is shared with a variety of local governments, agencies, tribal governments and academic institutions by means of a Memorandum of Understanding (MOU) to ensure state and federal laws are followed. Please contact Lance Wollwage at (360) 890-2616 or lance.wollwage@dahp.wa.gov for more information about obtaining a MOU.
DAHP has developed several GIS layers (Metadata) for inventoried historic properties and registered historic sites. The following non-archaeological GIS layers are available for download without a DAHP data sharing agreement:
Historic General Land Office Plat Maps - Map Service is temporarily unavailable. Some of the maps can be viewed in Wisaard.

GLO Surveyor Information

- thanks to Jerry Olson for his kind permission to access his material
DAHP – Register Properties (metadata)
DAHP – Register Districts (metadata)
DAHP – Historic Property Inventory (metadata)
DAHP - Maritime (metadata)
These GIS layers are updated on a quarterly basis.
For general information about our GIS program contact Morgan McLemore at (360) 972-4007 or Morgan.McLemore@dahp.wa.gov.