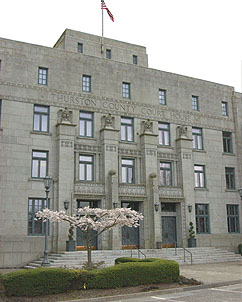 The Department of Archaeology & Historic Preservation is located in the historic Thurston County Courthouse (commonly known as Capitol Court). The building is located just east of the State Capitol Campus. Our main office is located on the terrace/basement floor of the building. You can access the office from the front or rear of the building. Once inside and on the terrace level, the main entry to the office is to the right at the end of the hallway. The office is open Mon-Fri -8am to 5:00pm. However, staff may be available at different hours than DAHP regular business hours. Please see Meet the Staff page for each staff member's hours.
Please note that due to the pandemic, the office has been temporarily closed until an unknown time. Staff is working from home and can be contacted via email or phone.
Parking
The Department of Archaeology & Historic Preservation does not have any free customer parking spaces available. There is on street parking available (metered) near our building and a fee-based parking behind our building at the Department of Natural Resources garage. The top floor of the garage is visitor parking that costs about $1.50 an hour.
Directions to DAHP
From Interstate 5 (north or south):
Take Exit 105A to State Capitol.
Proceed through tunnel to Capitol Way (first light after tunnel).
Turn right onto Capitol Way. Drive past Capitol Campus.
Turn right on 11th Ave, then another right onto Washington St SE.
Capital Court Building (1110 Capitol Way S., Suite 30), home of DAHP is on the SW corner of 11th Ave SE & and Washington St.
DAHP Office entrance is on rear facing Washington Street.