Certified Local Government Program
Washington State's Certified Local Government (CLG) Program allows local governments to directly participate in preserving their community's treasured historic resources as both cultural and economic assets for Washington's future. The nationwide CLG Program offers technical and financial assistance to particppating communities and is a uniquely powerful tool for protecting historic resources at the local level. In Washington State, the CLG Program is implemented and administered by the Department of Archaeology and Historic Preservation (DAHP).
Local governments that establish a historic preservation program meeting federal and state standards are eligible to apply to DAHP and the National Park Service for certification. A local government that receives such certification is known as a "Certified Local Government" or "CLG."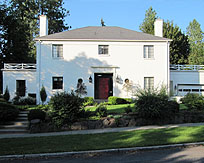 Responsibilities of a CLG include maintaining a historic preservation commission, surveying local historic properties, enforcing state or local preservation laws, reviewing National Register Nominations, and providing for public participation in historic preservation activities. In Washington State, we have more than 60 CLGs! A list of current program participants can be found here.
Obtaining CLG status is intended to help local governments encourage, develop, and maintain their preservation efforts in concert with local development planning. To help fund preservation program activities, CLGs uniquely are eligible to apply to DAHP for special annual grants. CLGs may also offer Special Tax Valuation to properties listed on their local historic register. Additional benefits of the program include, special access to technical assistance and training from DAHP; participation in the review of nominations to the National Register of Historic Places; participation in the national historic preservation assistance network; regular exchange of information with DAHP; participation in statewide preservation programs and planning, and recognition for preservation efforts and accomplishments by local, state, and federal agencies;.
DAHP's Historic Preservation experts work closely together with Certified Local Governments to support and foster expertise in historic preservation at the local level. Together, CLGs and DAHP advocate for the preservation of your community's precious historic resources. Through education and information, the CLG program provides leadership and partnership for the protection of our shared heritage. For more information contact our Certified Local Government Coordinator, Michelle Thompson at (360) 890-2617 or email: michelle.thompson@dahp.wa.gov.