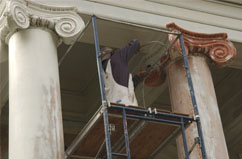 For historic buildings, achieving code compliance is often perceived as one of the most formidable challenges to any rehabilitation project. It doesn't have to be. Innovative treatments and technologies, and the increasing adoption of rehabilitation codes present fresh opportunities for building owners, architects, consultants and local officials. New codes, materials and other planning and technical resources can facilitate life safety goals, while accommodating treatments that preserve the character of historic buildings.
The Department of Archaeology & Historic Preservation (DAHP) does not have authority to overrule a local code official. However, the ruling of the local code official can be appealed to a higher local official or board.
In Washington State most jurisdictions use the International Building Code (IBC), and many have also adopted the International Existing Building Code (IEBC). All jurisdictions must also adopt the Washington State Energy Code (WAC 51-11C). There are many exceptions for historic buildings with the IEBC and the Washington State Energy Code. In addition, a local government may amend or change a code to meet a particular to the local environment and conditions. The jurisdiction may also adopt different codes for mechanical or electrical work, for example. The major code organizations update the codes every three years; however, it may take several years for a municipality to adopt the most recent version.
Purpose of Codes
The intent of all codes is to provide minimum requirements for new and renovated buildings in order to protect the health, safety and welfare of the public. Fire prevention and life safety remain the primary focus. The codes are written so the regulations can be consistently and uniformly interpreted. However in reality, the codes are often interpreted differently depending on the official. When a local building code official is flexible on interpretation of the code, the official or the city is possibly assuming some liability if an accident occurs. Be advised that building codes are primarily written to govern new construction. Most buildings fall out of compliance with current codes within a few years of construction as new codes are adopted. Building code requirements vary depending on the occupancy or function of the building. Types of occupancy include: residential, assembly, business, educational, mercantile and others. Another factor considered when applying code requirements is the type of construction. The construction classification categorizes a building according to its fire resistance characteristics. Construction materials and elements are assigned fire ratings, usually in terms of hours until structural failure would occur in a fire.
Washington State Historic Building Code, chapter 51-19 WAC
The Washington State Historic Building Code, chapter 51-19 WAC, has been repealed.
Washington State Enegry Code, WAC 51-11R-50100 - for Historic Buildings
This WAC allows a code official to modify the specific requirements code as it relates to historic buildings and requires alternate provisions which will result in a reasonable degree of energy efficiency. it notes that "This modification may be allowed for those buildings or structures that are listed in the state or national register of historic places; designated as a historic property under local or state designation law or survey; certified as a contributing resource with a national register listed or locally designated historic district; or with an opinion or certification that the property is eligible to be listed on the national or state register of historic places either individually or as a contributing building to a historic district by the state historic preservation officer or the keeper of the National Register of Historic Places." - WAC 51-11R-50100
Chapter 34 of the IBC (2012) - Existing Buildings & Structures
This Chapter has been deleted from more recent IBC editions in favor of a reference to the International Existing Building Code (IEBC). See below.
Chapter 12 of the IEBC (2018) - Historic Buildings
Historic Buildings. This chapter illustrates some alternative code paths for specific building code issues, as well as establishes a process for obtaining acknowledgment that a particular building and its features may be of historical significance. https://codes.iccsafe.org/content/IEBC2018/chapter-12-historic-buildings
Common Code Problems in Historic Buildings
Meeting required fire separation between occupancies.
Number and locations of exits.
Most areas need two exits (stairs from an upper floor, for example).
Open stairways (not located inside a fire rated enclosure).
Transom windows, opening into egress routes or corridors.
Doors that swing into the egress route.
Inadequate fire ratings for historic construction materials.
Stairways that do not provide roof access.
Exit routes that do not empty to the outside or a safe location.
Dead-end corridors.
Open atriums.
Stairs that are too narrow, steep or have irregular riser heights.
Common Code Solutions for Historic Buildings
Installation of automatic smoke and fire alarms and detectors.
Installation of a sprinkler system (alleviates numerous code problems, but costly).
Self-closing devices on doors to halt the spread of fire and smoke.
Sensitively covering transom windows on the least visible side.
The use of fire escapes is allowable, with restrictions.
Installation of equipment for venting smoke from stairwells and atriums (costly but effective).
The use of intumescent paint to protect building materials from fire.
Keys to Finding Code Solutions for Historic Buildings
Understand the intent of the various codes.
Understand how the applicable codes treats historic buildings.
Understand the constraints of the local code official.
Utilize variance and appeal boards.
Determine the preservation priorities and explain them to the local code official.
Maximize communication and consult early and often with your code official.
ADA Accessibility Guidelines (ADAAG) - Historic Buildings
ADAAG is not a model code, but is often enforced by local jurisdictions to ensure equal access to all building occupants. There is a section pertaining to Historic Buildings (§4.1.7 Accessible Buildings: Historic Preservation) that offers some alternative paths of satisfying the guidelines. For small multi-story buildings, there are also exclusions for requiring elevators (§206.2.3 Multi-story buildings and facilities) that aren't reserved particularly for historic buildings.