Courthouse Preservation Grant Program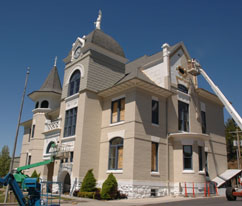 In spring of 2005, the Washington State Legislature established the Historic County Courthouse Rehabilitation Grant program. Based on findings from a statewide survey undertaken in 2003, 33 of the state's 39 counties were found to possess courthouses of historic and architectural merit. Additionally, the study estimated over $90 million in needed capital improvements to these structures. To address this need, the Washington State Legislature has allocated over $19 million from the state capital budget since the 2005-07 biennium. Through ten funding rounds since the program's establishment, sixty-six (66) grants have been awarded to twenty-six counties statewide. Grant funds have worked to leverage local funding resulting in nearly $50 million in total rehabilitation work to selected courthouses.
Eleventh Round of Historic County Courthouse Rehabilitation Grant Awards Announced
The Department of Archaeology & Historic Preservation along with the Courthouse Grant Program Steering Committee is seeking grant applications for the 2021-2023 biennium. Projects should focus on rehabilitating character-defining features of courthouses while also addressing needs such as energy efficiency, life safety, seismic retrofits and improvements to access. The Courthouse Steering Committee will review all applications received, prioritizing them based on the degree each meets the program criteria. Distribution of grant awards will be contingent on program funds being allocated in the 2021-2023 Capital Budget.
Applications are due: July 22nd, 2020.
Grant funding assists county governments in rehabilitating their historic county courthouses. Together with matching funds raised locally, this money will foster economic development in numerous communities while working to preserve public buildings vital to the architectural and cultural heritage of Washington.
To receive funding, all rehabilitation work must meet historic preservation standards known as the U.S. Secretary of the Interior's Standards for the Treatment of Historic Properties. For more information about these preservation standards, visit the following website.
Courthouse Grant Application
For more information on the program, consultation on completing the application, and general inquiries, please contact Chris Moore, Executive Director with the Washington Trust for Historic Preservation, at (206) 624-9449 or via email at cmoore@preservewa.org.
Studies/Reports/Brochures
Washington State Courthouses
| | | |
| --- | --- | --- |
| | | |
| Adams County, 2013-15 grant | | Asotin County |
| | | |
| Benton County, 2013-15, 2019-21 grant | | Chelan County |
| | | |
| Clallam County, 2009-11, 2011-13, 2013-15 grant | | Clark County, 2011-13, 2013-15 grant |
| | | |
| Columbia County, 2005-07, 2011-13, 2019-21 grant | | Cowlitz County, 2005-07 grant |
| | | |
| Douglas County, 2005-07, 2009-11, 2013-15 grant | | Ferry County, 2005-07, 2007-09, 2013-15 grant |
| | | |
| Franklin County, 2005-07, 2013-15 grant | | Garfield County, 2009-11 grant |
| | | |
| Grant County, 2015-17, 2017-19 grant | | Grays Harbor County |
| | | |
| Island County | | Jefferson County, 2005-07, 2009-11, 2013-15, 2019-21 grant |
| | | |
| King County, 2007-09, 2013-15 grant | | Kitsap County |
| | | |
| Kittitas County | | Klickitat County, 2007-09, 2011-13, 2019-21 grant |
| | | |
| Lewis County, 2005-07, 2009-11, 2013-15, 2017-19, 2019-21 grant | | Lincoln County |
| | | |
| Mason County, 2007-209, 2011-13 grant | | Okanogan County, 2013-15 grant |
| | | |
| Pacific County, 2005-07, 2007-09, 201517, 2017-19 grant | | Pend Oreille County, 2005-07, 2011-13 grant |
| | | |
| Pierce County | | San Juan County, 2005-07, 2007-09 grant |
| | | |
| Skagit County, 2007-09 grant | | Skamania County |
| | | |
| Snohomish County, 2005-07, 2007-09 grant | | Spokane County, 2007-09, 2009-11, 2011-13, 2013-15, 2015-17, 2019-21 grant |
| | | |
| Stevens County, 2005-07, 2007-09, 2011-13 grant | | Thurston County |
| | | |
| Wahkiakum County, 2007-09 grant | | Walla Walla County, 2009-11 grant |
| | | |
| Whatcom County | | Whitman County |
| | | |
| Yakima County | | |