1955 - 1980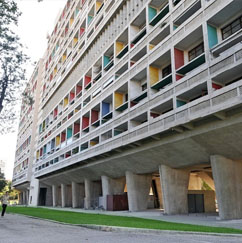 Coined in 1953 to describe the architectural work of a group of British architects, Brutalism in its early phase (originally called New Brutalism) was initially a design philosophy, not a style. The idea was to create an aesthetic based on the exposure of a building's components: its frame, its sheathing, and its mechanical systems. Quickly however the term began to be applied to buildings that utilized monumental concrete forms and bulky massing. The style represents a revolt by architects against the corporate glass curtain wall and was often seen as a quick and easy way to construct long-lasting buildings.
While the style appeared early in the Pacific Northwest, the best examples date to the late 1960s. The style was rarely used for residential architecture and is mainly found on institutional building such as libraries, classrooms and museums. Small-scale commercial building such as banks also utilized the style.
Brutalism brought out the best and worst in what Modern architecture had to represent. In warmer desert climates, many Brutalist buildings have often come to be regarded as works of art. However, under the damp, gray skies of the Pacific Northwest, Brutalist buildings are often described as being unfriendly, cold and dark. The roughness of the exterior concrete soaks up moisture and turns black with age.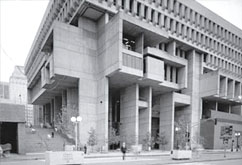 The term Brutalism is derived from the French word for rough concrete or "beton brut". Brutalist structures have a heavy mass and scale. And their highly sculptural blocky shapes are often stacked together in various ways, creating an unbalanced look. Common design features include the "Russian Wedge" in which a wall plane projects outward on a slopped angle. Broad surfaces are often interrupted by deep-shadow penetrations of the buildings mass; vertical slots may contrast with broad oblong openings or tall openings with horizontal slots, while "egg-crate" effects are also much employed. The exterior treatment, as the name suggests, is usually exposed concrete, which is left rough to show the wooden formwork. However some examples of brick and stucco can be found. Fixed windows are set deep into the walls and are often small in relation to the size of the structure. Other common features include the use of "Waffle" slabs for floor and roof systems. As the name implies this cast-in-place building system utilized continuous pour of concrete with a coffered underside to reduce the weight of the slab. Such slabs were often left exposed.
Washington State Examples
Christ Episcopal Church
Tacoma, 1969
Psychology Building - CWU
Ellensburg, 1972
Library
Prosser, c.1975
Freeway Park
Seattle, 1976
Recreation Building - Everegreen State College
Olympia, 1972
Washington Mutual Savings Bank
Tacoma, 1972
Edmonds Community College
Lynwood, 1970
Environmental Studies Bldg - WWU
Bellingham, 1972
First National Bank of Enumclaw
Enumclaw, 1971
For More Information
Whiffen, Marcus.

American Architecture Since 1780

. The MIT Press, Cambridge, MA, 1969.
Drexler, Arthur.

Transformations in Modern Architecture

. The Museum of Modern Art, New York, NY, 1979.
Jencks, Charles.

Late-Modern Architecture

, Rizzoli Press, New York, NY 1980.
Banham, Reyner "The New Brutalism: Ethic or Aesthetic?"

The Architectural Press

, 1966 pg. 130.