1910 - 1950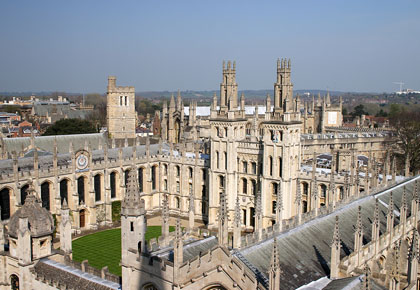 The Collegiate Gothic Revival style is an early 20th century adaptation of the 19th century Gothic Revival style and served a specific function, educational buildings. The initial Gothic Revival style flourished from the period of 1830 through 1890 in the United States. It was often chosen for churches and institutional buildings due to its impressive, medievally-inspired form. In the early 20th century the Gothic Revival style reappeared for an appropriate choice for both university and secondary school buildings. Prominent universities such as Boston College, Yale, Duke, and Princeton employed the Gothic Revival style (now called the Collegiate Gothic Style) in this period to create an atmosphere of respected antiquity.
These new larger and more complex school buildings had specialized space designed for cafeterias, gyms and technical training. Unlike their predecessors, on the inside they were constructed using modern materials such as steel, plaster, clay tile and gypsum board. While these designs were sometimes rather pared down versions of the more ornate forms of the style with only a few decorative details, like an arched and/or recessed entryways or a few decorative panels, these school buildings are clearly part of the Gothic Revival tradition. Masonry construction of brick and/or stone lent a sense of permanence and substance to the building, a fitting image for the public education system.
The use of Collegiate Gothic was also a natural choice for an educational institution owned and operated by religious groups. The architecture imbued not only a grand presence on the landscape but an instant connection to religious roots.
The Collegiate Gothic Revival style can be found throughout the state on numerous university campuses, as well as high schools and even elementary school buildings, both public and private. Examples include Saint Martin's College (1913) in Lacey; several buildings at the University of Washington (1916-1939) in Seattle; numerous structures at the University of Puget Sound (1924-1958) in Tacoma; Mount Vernon High School (1922) in Mount Vernon; Central School (1912) in Tacoma; Cheney High School (1929) in Cheney; and Renton High School (1931) in Renton.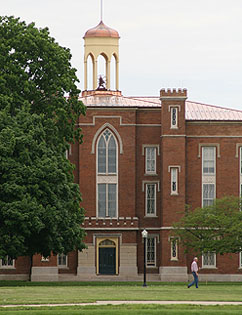 The beginnings of Collegiate Gothic architecture in North America date back to 1829 when "Old Kenyon" was completed on the campus of Kenyon College in Gambier, Ohio. This was followed by "Old Main", erected in 1857 on the campus of Knox College in Galesburg, Illinois. Later, in 1878, Seabury and Jarvis Halls were completed on the campus of Trinity College in Hartford, Connecticut. These buildings remain among the best examples of Collegiate Gothic architecture in the United States.
In 1894 the architectural firm of Cope & Stewardson completed Pembroke Hall on the campus of Bryn Mawr College. At Bryn Mawr, Cope & Stewardson combined the original Gothic architecture of Oxford and Cambridge Universities with the American Early Gothic Revival style and the local New England landscape. Commissions quickly followed for buildings on the campuses of the University of Pennsylvania, Princeton University, and Washington University in St. Louis, marking the beginnings of a movement that transformed many college campuses and other educational institutions across the country.
The Collegiate Gothic movement gained further momentum when Charles D. Maginnis designed Gasson Hall at Boston College in 1908. Publication of its design in 1909, and praise from influential American architect Ralph Adams Cram, helped establish Collegiate Gothic as the prevailing architectural style on American university campuses for decades. Other publications followed promoting the style and influencing a new generation of campus construction. One of the more prominent was John Donovan's 1921 treaty on school architecture (School Architecture), which featured pictorial review of large public schools built during the 1910s, a majority which showcased the Collegiate Gothic style.
Boston College's Gasson Hall is credited for establishing the typology of dominant Gothic towers in subsequent campus designs, including those at Princeton (Cleveland Tower, 1913–1917), Yale (Harkness Tower, 1917–1921), and Duke (Chapel Tower, 1930–1935).
Collegiate Gothic buildings are typically rectangular in plan, and frequently have flat rooflines hidden by a stepped or crenelated parapet. Gothic arched entrances are highlighted by central towers and bay windows, as well as Gothic cast stone tracery. The exteriors can be of brick or stone, and are highlighted by bas relief decorative panels or plaques.

Washington State Examples
High School,
Mount Vernon - 1922
Lewis & Clark High School,
Spokane - 1912
Central School,
Tacoma - 1912
Suzzallo Library - UW,
Seattle - 1926
Saint Martin's College,
Lacey - 1913
Hazen-Jaeger Funeral Home
Spokane - 1922
Columbia School,
Bellingham - c.1921
Smith Hall - UW
Seattle - c.1925

Admin Building - Seattle University,
Seattle - 1941
For More Information:
Journal of the Association of Collegiate Alumnae – Vol X, Sept 1916 – June 1917.
Donovan, John J. School Architecture: Principles & Practicies. McMillan Co. New York, NY. 1921
Meyer, Robinson "How Gothic Architecture Took Over the American College Campus"

The Atlantic

September 2013
Schuyler, Montgomery, "The Works of Cram, Goodhue & Ferguson"

Architectural Record

January 1911.
Robinson, Deborah & Meade, Edmund "Traditional Becomes Modern: The Rise of Collegiate Gothic Architecture at American Universities" Unpublished Article, University of Cambridge. Dept. of Architecture.
Klauder, C.Z. & Wise, H.C.

College Architecture in America and Its Part in the Development of the Campus

. New York, N.Y. Charles Scribner & Sons, 1929
Howe, Jeffery,

Houses of Worship

Thunder Bay Press, San Diego, CA, 2003.
Blumenson, John,

Identifying American Architecture: A Pictorial Guide to the Styles and Terms, 1600-1945

, W.W. Norton & Co, New York, NY 1977.