1970-2000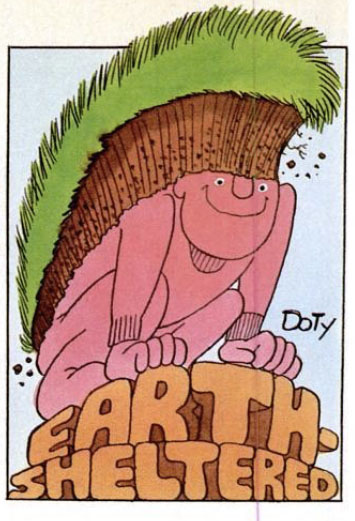 Earth-sheltering is a way of constructing buildings using earth against the walls and/or roof to create a natural external thermal mass. Numerous studies have shown that Earth-sheltered construction can reduce heat loss and maintain a constant indoor air temperature. The construction method is one of the oldest forms of building dating back to 15,000 BC where migratory hunters in Europe were using turf and earth to insulate simple round huts that were also partially sunk into the ground. In fact, the use of some form of Earth-sheltered construction is actually found across many cultures in history, and is distributed widely across the world. These structures have many different forms and are referred to by many different names.
In North America, almost every native American group used earth sheltered structures to some extent. They are often called a pit-house and dugout. When Europeans colonized North America, houses made of sod (often called "soddies") became common on the Great Plains. However, the construction method of Earth-sheltered designs in the US had for the most part disappeared by the turn of the 20th century.
The 1973 Oil Crisis spurred a renewed interest in the construction technique. That year, the price of oil dramatically increased, which influenced vast social, economic, and political changes worldwide. Combined with growing interest in alternative lifestyles and the "back-to-the-land movement," people in the US and elsewhere were becoming more interested in saving energy and protecting the environment.
Soon, government funded studies, pamphlets, magazines, and books flooded the consumer market touting the benefits of Earth-sheltered design. The first "International Conference on Earth-Sheltered Buildings" was hosted in Sydney, Australia in 1983 followed by a second conference in Minneapolis, Minnesota in 1986. By then, architect Malcom Wells had helped establish an Underground America Day (May 14th), first celebrated in 1974.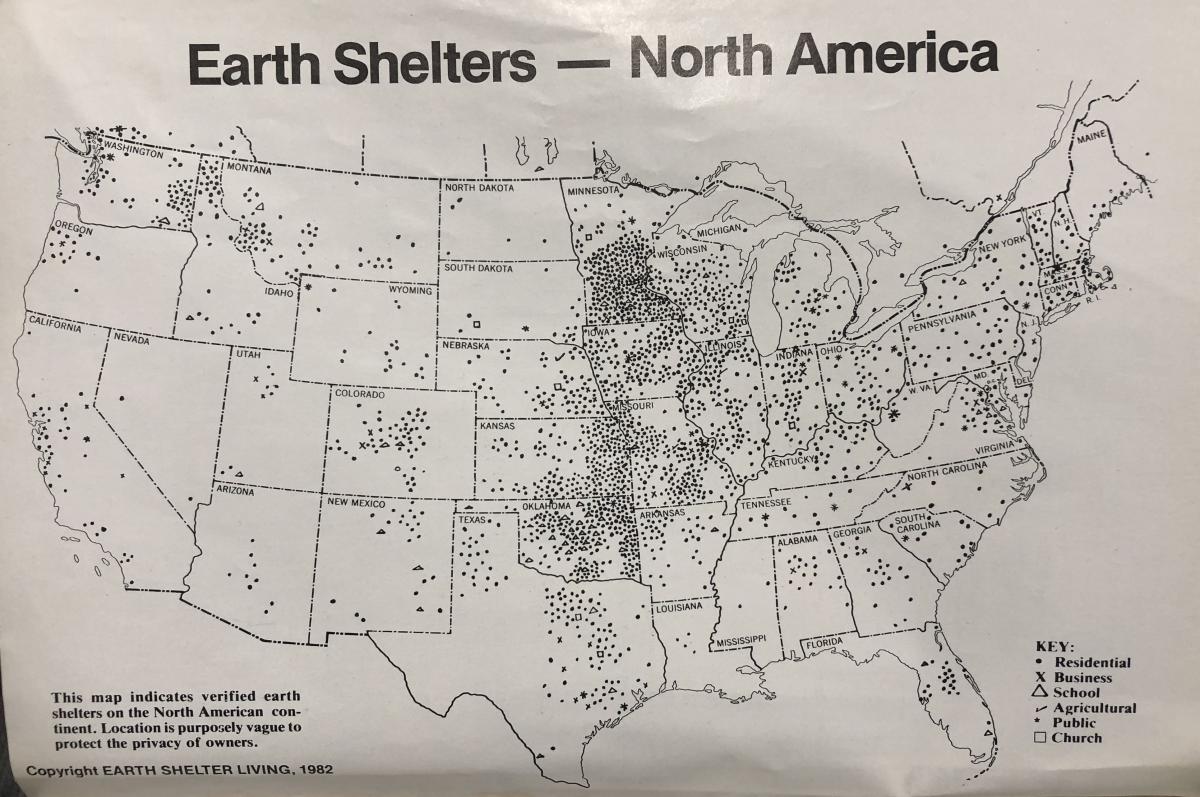 Due to our mild climate, Earth-sheltered structures never quite hit the main stream as a construction technique here in the Pacific Northwest; however, some examples can be found all over the state. A map compiled by Earth Shelter Living Magazine in 1982 shows clusters of Earth-sheltered dwellings in both the east and west sides of the state, as well as a school in Walla Walla; however, the exact numbers of Earth-sheltered designs and their specific locations in Washington State is unknown. Based on documents from the era, we do know that numerous people and organizations were pushing the construction method pretty hard in the late 1970s and early 80s.
Among the earliest was the Whatcom County Water District, who constructed an earth-sheltered water treatment facility for the Sudden Valley development on Lake Whatcom in 1971. A few years later various consumer groups in Washington began educating the public about the benefits of the earth sheltered design. Among them was the Washington Aggregates & Concrete Association, which held a seminar on Earth-sheltered structures at the Sea-Tac Red Lion in 1979. The seminar featured a variety of speakers who talked about engineering, heating, financing and construction detailing. That same year, Spokane Falls Community College held a free two-day workshop on the subject led by architect and professor, Don Stephens. The Community College later built a demonstration house on the campus named "Earth Lodge" and Stephens continued to lecture on the subject into the late 1980s inclujding the three-day Earth Homes Conference held at the Tacoma Dome in 1983. Due to weather conditions, the east side of the state was perhaps a more ideal place for earth shelter designs. In fact, a life-size mock up of various Earth-sheltered techniques was featured at the 1981 "Spokane Home and Energy Show." Spokane architects Larry Chalmers and Jeremy Jones even co-authored a popular book on Earth-sheltered design,"Homes in the Earth", which featured sketches for 40 different home designs. WSU architectural professor and department chair, David M. Scott, was also strong champion of the construction method and convinced Whitman County and the US Army Corps of Engineers to build an Earth-sheltered ranger residence in Wawawai Park on the Snake River in 1980. The demonstration project received a wide breath of media attention.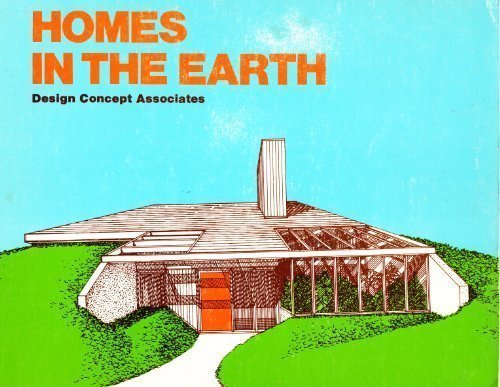 As interest grew in the energy saving possibilities at the federal level, the State Energy Extension Service promoted the benefits of Earth-sheltered designs by holding a variety of workshop around the state. They even issued their own pamphlet on Earth-sheltered housing in 1983. It coincided with an "Earth Sheltered Home Conference & Expo" in Spokane the same year. Also during this time, national companies such as the Terra-Dome Corporation from Missouri (which offered square, steel-reinforced concrete structures) penetrated the market in the state and opened sales offices in Lake Stevens and Yakima.
Overall, Earth-sheltered construction was, and still is, often viewed by architects, engineers, and the general public as an unconventional method of building. The techniques of Earth-sheltering have not become common knowledge to the construction industry. The cost of excavation, lack of expert knowledge in its construction methods, its increased need for damp-proofing, and stronger structural requirements specific to Earth-sheltered designs has resulted in a relatively rare presence of such structures throughout Washington State.
There are three main types of Earth-sheltered subtypes: Bermed, In-Hill, and Underground.
Bermed
The earth bermed type is perhaps the most common.In this design, earth is banked against the exterior walls, sloping down away from the building. The berm can be partial or total. Usually, this type of earth shelter is built on, or only slightly below, the original grade. Due to the building being above the original ground level, fewer moisture problems are associated with earth berming in comparison to underground/fully-recessed construction. It also costs less to construct with the earth bermed method. According to one report, earth berming provided 90-95% more energy advantage when compared to completely below grade Earth-sheltered structures.

In-Hill
The in-hill (or "elevation") construction is where the earth shelter is set into a slope or hillside, and earth covers the roof, in addition to the walls. The most practical application is using a hill facing south to capture the best solar gain. There is only one exposed wall in this type of Earth–sheltering: the wall facing out of the hill; all other walls are embedded within the earth/hill. This is the most popular and energy efficient form of earth shelter in cold and temperate climates.

Underground
The true underground (also termed "chambered" or "subterranean") earth shelter describes a building where the ground is excavated, and the structure is set in below the grade. They can feature an atrium or courtyard constructed in the middle of the shelter to provide adequate light and ventilation. The atrium is not always fully enclosed by raised ground, sometimes a U-shaped atrium is used, which is open on one side.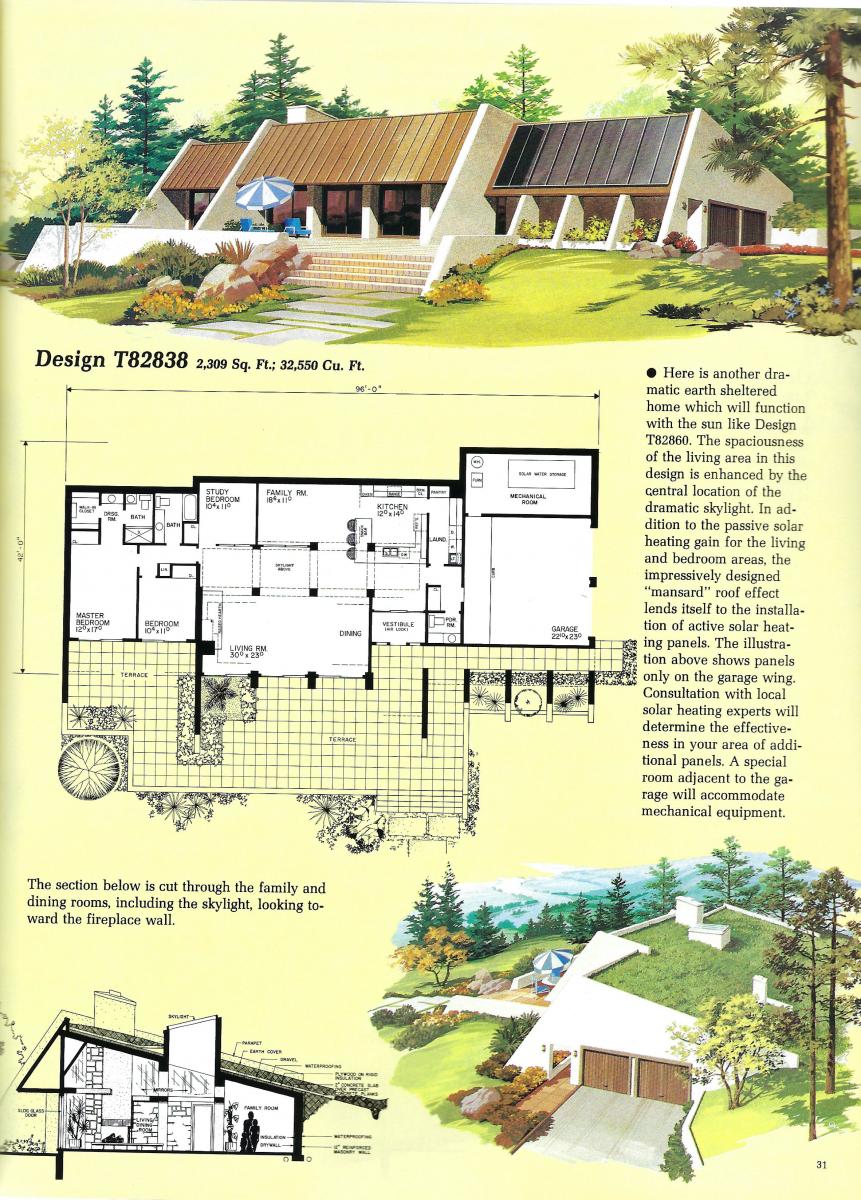 There is a great variation in the approach to Earth-sheltering in terms of the specific construction materials used and exterior detailing. The "low tech" approach might involve natural building techniques, wooden posts and shed style roofs, recycled materials, and owner labor. On the exterior, these types of organic structures often have a whimsical, almost fantasy-like appearance. The "high-tech" approach uses concrete and steel, and synthetic materials. These structures often have a rigid, Brutalist design and appear "bunker-like." While the low-tech approach may be more energy efficient in their construction technique, the high-tech approach is usually better designed to take in the efficiency of the earth and solar gain. Understanding the site characteristics is of utmost importance in Earth-sheltered construction with three basic elements considered: sun, wind, and views. The construction technique can be found on a variety of buildings types ranging from singles family homes, professional offices, to educational facilities.

Washington State Examples:
Central Pre Mix Concrete Co.
Spokane - 1979
Blue Ridge Elementary School
Walla Walla - 1981

House
Marysville - 1986

Elquest Houses
Cheney - 1983
Ranger Residence
Wawawai County Park - 1981
House
Spokane - 1981
J.H. Clawson House
Lake Sammamish - 1974
Rice Paddy Restaurant
Seattle - 1972

Wolfe House
Orondo - 2016
For More Information:
Chalmers, Larry A & Jeremy A. Jones Homes in the Earth Paperback Spokane, WA, Chronicle Books, 1980.
Earth Sheltered Housing Design: Guidelines, Examples & References Underground Space Center, University of Minnesota, Van Nostrand Reinhold Co, New York, 1979.
Wells, Malcom Underground Designs, Cherry Hill, NJ, 1977.
Advertisement – Northwest Earth Sheltered Housing Seminar – Seattle Times, May 13, 1979.
Advertisement – Earth Sheltered Structures: Washington Aggregates and Concrete Association – Seattle Times, September 24, 1979.
"Cousin to Cave: Earth Homes Not New" – Spokane Chronicle, Oct 21, 1978.
"Shelter Workshops" – The Spokesman Review, May 6, 1979.
"Earth Homes aren't Just Dirt Heaps" – Spokesman Review – Sept 21, 1979.
"Earth Shelter Seminar Set" – Seattle Times, September 30, 1979.
"Childhood Bolsters Advocacy of Earth Shelters" – Spokane Daily Chronicle, Nov 29, 1979.
"Authors Autograph Book on Earth Shelter" - Spokesman Review, December 14, 1979.
"Wawawai Symbol: Earth Shelter Takes Shape" – Spokesman Review, May 9, 1980.
"Building Castles within Mother Earth" – Spokesman Review, May 25, 1980.
"Earth-Sheltered Housing: Cave Dwelling was never like this" – Spokane Daily Chronicle, June 18, 1980.
"Standardized Earth Housing Moves Ahead" – Spokesman Review, Sept 7, 1980.
"Park Manager Displays Earth-Sheltered Home" – Spokane Chronicle, Jan 28, 1981.
"At Spokane Falls Community College: An "Earth Lodge" is Planned" – Spokesman Review, Feb 8, 1981.
"E. M. Hicks Design Wins Earth Shelter Contest" – Spokesman Review, March 10, 1981.
"Going Underground" – Spokesman Review, March 10, 1981.
"Earth Shelter Program Here" - Arlington Times, June 24, 1981.
"Dugouts Pioneer Earth Sheltering" - Earth Shelter Living, July-Aug 1981.
"Exploring the Spokane Underground" – Spokane Chronicle, September 24, 1981.
"County Builds Park Retreat" - Earth Shelter Digest, Sept-Oct 1981. Pg 12-14.
"Earth Shelter Digest Case Study: San Juan Islands, Washington" - Earth Shelter Digest, Sept-Oct 1981. Pg 35-39.
"Underground: Puget Families Turning to Earth Shelter Dwellings" – Spokane Chronicle, November 25, 1981.
"Dome Earth Home Touted" – Spokane Chronicle, June 4, 1982.
Dedication Brochure – Blue Ridge Elementary School, Walla Walla, Oct 14, 1982.
"Independence: Earth Sheltered Home can let you thumb your nose at Enegry Costs" - Seattle Post Intelligencer, May 31, 1983.
"Building Demonstrates Concrete Commitment: A Major supplier in the Pacific Northwest Goes Under" - Earth Shelter Living, July-Aug 1983.
"Lectures: Energy Choices, Bern Super Insulation, Earth Shelter" – Spokesman Review, June 20, 1986.
"Solar Homes Adaptable to Pacific Northwest" - Arlington Times, June 24, 1988.
"A Home fit for a Hobbit" – Spokesman Review, June 26, 2008.