1900 - 1920
The Flemish Revival style was one of dozens of Period Revival styles which appeared in the design toolbox of architects the early 20th century. While the style isn't as common as some other revival styles, you'll recognize it when you see it.
Inspired by the 15th to 17th merchant architecture of Flanders area of Northern Europe, especially Belgium and The Netherlands as well as the Weser River area of Germany, the style first reappeared in the 1870s and 1880s. Sometimes referred to as Flemish Renaissance Revival, Belgian architect Emile Janlet helped bring the design mode back to the forefront when he used it on the Belgian Pavilion for the World Exposition in Paris in 1878.
In the United States, the style became popular in the 1890s in places like New York City, which had a background as an early Dutch colony. It also appeared in moderation in cities with large populations of German immigrants and people of German descent. Here in the Pacific Northwest, like many architectural styles, the style appears later and may or may not be associated with buildings that have a German or Dutch connection.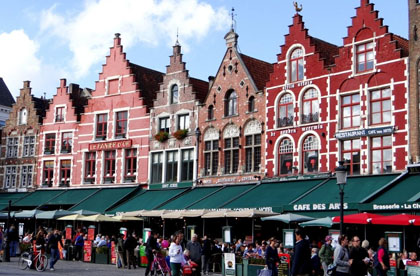 The most identifiable feature of Flemish Revival is the stepped gable. Technically it is really a parapet wall that is used to hide a standard pitched gable roof. Some parapets might have scalloped elements, shaped with a series of convex and concave curves. Others might be stepped, forming a staircase type of design (called a crow-step). High style examples might include decorative pinnacles on the various steps. Most Flemish Revival structures are made of red brick and some examples boast raised stone quoins to give texture to the masonry corners. Further ornamentation might take the form of carved terra cotta decorations with Dutch Baroque motifs and/or dormers with miniature stepped gables or arched tops.
Further references to the Flemish Revival style can be found in the decorative arts. During the early 20th century, the word Flemish was used to describe a plethora of objects from beer steins and linen (high end fabric made from flax), to heavy furniture with elaborate carvings. You can also find a Flemish scroll (an S or C curved ornamental form broken by an angle) on many table and chair legs executed in Flemish oak finish (very dark brown almost black color). Don't be fooled by the term Flemish bond brick work which dates to earlier colonial times.
Washington State Examples
Ballard Fire Station No. 18
Seattle, 1911
Green Park School
Walla Walla, 1905
Rainier Club
Seattle, 1904
Northern Pacific RR Depot
Ellensburg, 1910
Substation
Rockford, c.1908
Academy of the Holly Names
Spokane, 1903
Schade Brewery
Spokane, 1902
Fourplex
Seattle, 1918
Robert Greer House
Seattle, c.1910
For More Information:
Emily, Cole, The Grammar of Architecture. Barns & Noble Publishing. New York, NY, 2006.
Gowans, Alan, The Comfortable House, The MIT Press, Cambridge, MA, 1987.
Baker, John M., American House Styles: A Concise Guide W.W. Norton & Co., New York, NY, 1994.
Walker, Lester, American Homes: An Illustrated Encyclopedia of Domestic Architecture, The Overlook Press., New York, NY 1981.
Howe, Jeffery. Houses of Worship Thunder Bay Press, San Diego, CA. 2003.
"Colville Has New Masonic Temple" Spokesman Review – June 11, 1911.
"Humane Barns to Cost $35,000" Spokesman Review – Feb 6, 1910.