1920 - 1940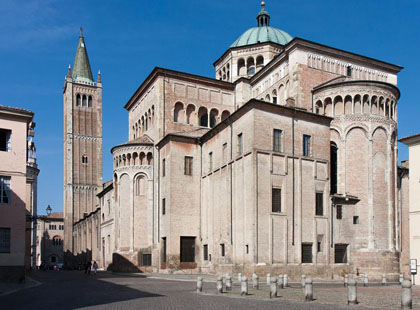 The Late Romanesque Revival style is based on architectural forms, materials and details from medieval and Roman architecture. The original style was widespread across western Europe during the 11th and 12th centuries and is typically called the "Rundbogenstil" style. The revival of the style in the United States, some 800 + years later, however had only a limited and brief impact. The style was mainly used for ecclesiastical buildings, but can also be found on banks, apartment buildings, and some civic and educational structures. Its use began in the early 1920s and lasted until about 1940.
Sometimes referred to as "Lombardy Romanesque", the Late Romanesque Revival style is defined by a repetitive use of semi-circular arches for window and door openings. The style also often uses corbel tables or miniature arches below the eaves and at the end of gable roofs. Other distinguishing motifs include prominent belt courses that define the horizontal lines of the building and the use of different colored siding in layers on the first floor level.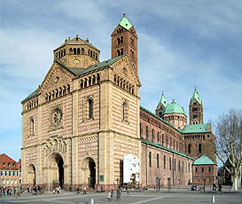 Exteriors are usually of brick, stucco or stone and many of the shallow pitched roofs are covered with red clay tile. Column capitals and compound arches are often enriched with geometric medieval ornament, and groups of arched windows are commonly separated by small columns or colonettes. Prominent "cathedral-type" entries are typical with deeply recessed solid wood doors surrounded by multiple layers of richly carved stone. High style examples of Late Romanesque Revival buildings have twisted columns, mosaic tile floors and transoms, and wheel windows in the gable ends. Ecclesiastical examples often have shallow-pitched hip roofs with prominent bell towers. The towers range from highly ornamented to simple shafts.
Washington State Examples
Chapel
Fort Lewis - 1934
First Baptist Church
Spokane - 1928
YMCA
Seattle - 1930
Mt. Baker Presbyterian Church
Seattle - 1924
Chamber of Commerce Building
Seattle - 1924
Soverign Apartments
Seattle - 1925

Saint Edward Seminary
Kenmore - 1931

Acacia Memorial Park Mausolemm
Lake Forest - 1926

Saint Paul's Methodist Church
Spokane - c.1929
For More Information:
Howe, Jeffery,

Houses of Worship

Thunder Bay Press, San Diego, CA, 2003.
Thiry, Paul; Richard Bennett & Henry Kamphoefner,

Churches & Temples

Reinhold Publishing, New York, NY, 1953.
Blumenson, John,

Identifying American Architecture: A Pictorial Guide to the Styles and Terms, 1600-1945

, W.W. Norton & Co, New York, NY 1977.