1890 - 1930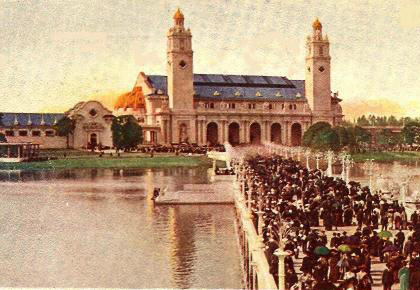 By the late 19th century, several California architects made a monumental shift in the direction of their architectural inspiration. Rather than continuing to adopt imported East Coast architectural styles, these architects recognized the value of their own historic surroundings. They rediscovered the early Spanish Franciscan mission churches of the Southwestern United States, which were originally built in the mid to late 1700s. Their most obvious feature is the curvilinear parapet, often punctured by deep window and door openings.
The Mission Revival style as it was called, gained acceptance as early as 1885. However it did not become popular until 1893 when the style was first used for the California Building at the Columbian Exposition in Chicago. Several exposition buildings followed at various fairs across the county bringing the new style to the masses. While architects such as A. Page Brown, Bernard Maybeck, and Irving Gill popularized the style in California, architect Lester S. Moore is generally given credit for first seeing and appreciating the possibilities of the Mission Revival style.
Once introduced, the style quickly became popular nationally and was used in a variety of building types from churches to train stations, and social clubs to single-family homes.
Here in the Pacific Northwest, the Lewis & Clark Centennial Exposition held in Portland, Oregon in 1905 fueled specific interest in the style. Planners for the expo adopted a distinct Spanish Renaissance design palette for all of the main fair buildings. At the fair, shaped parapets and stucco exterior walls were joined with Baroque ornamentation and the simplicity of the Arts & Crafts aesthetic.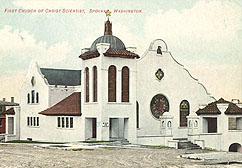 The Mission Revival style enjoyed its greatest popularity between 1905 and 1915, although examples can be found as late as 1930. Early on it became associated with the Arts & Crafts Movement, whose primary emphasis was to be simple in form, without superfluous or excessive decoration, highlighting the quality of materials. As such many examples, show a blending of these two design motifs. Building magazines and architectural portfolios of the southwest fueled the styles' popularity across the United States.
In the case of churches, architects could rely on specific precedents in the California Missions. In other buildings they had more freedom to adapt the essential elements of the style. Many American Foursquare type homes utilize a Mission Style shaped parapet, but the overall design is Craftsman inspired.
Typical character defining features include low-pitched red tile hip and/or gable roofs with exposed rafters and deep overhangs; scalloped/curved parapets; and round-arched window and door openings. Like their forefathers, exteriors are typically clad in stucco, but examples in wood, brick and stone can be found. While Mission style buildings have little surface ornamentation wrought-iron railings and light fixtures add a playful detail to many buildings. When sculptural ornament is present, cast terra cotta or concrete is found in patterns of Islamic or Sullivanesque designs. Windows come in a wide variety of shapes and sizes but are often multi-panned in the upper sash. On larger buildings towers, small balconies and open arcaded porches with square columns beak up the mass of the building.
Washington State Examples
Hubert Schafer House
Aberdeen - 1913
Saint Mary's Catholic Church
Kelso - c.1915
Jeffers Studio
Olympia - 1907
St. Alphonsus Catholic Church
Mount Vernon - c.1908
Building
Soap Lake - c.1920
United Methodist Church
Monroe - c.1918
House
Tacoma - c.1910
Bank of Fairfield
Fairfield - 1912
William Bradley House
Spokane - 1909
For More Information:
Townsend, Gilbert & J. Ralph Dalzell, How to Plan a House. American Technical Society. Chicago, IL, 1946.
Gowans, Alan, The Comfortable House, The MIT Press, Cambridge, MA, 1987.
Baker, John M., American House Styles: A Concise Guide W.W. Norton & Co., New York, NY, 1994.
Massey, James & Shirley Maxwell, House Styles in American: The Old-House Journal Guide to the Architecture of American Homes Penguin Books, New York, NY, 1996.
Walker, Lester, American Homes: An Illustrated Encyclopedia of Domestic Architecture, The Overlook Press., New York, NY 1981.
Wiffen, Marcus. American Architecture Since 1780: A Guide to the Styles. 4th ed. MOT Press, Cambridge, Mass. 1996.
"Beautiful Kevin Homes Finished – Spanish Style" Olympia Daily Recorder – May 29, 1909.
"Residence of Wallce G. Collins" Seattle Sunday Times - November 22, 1908
"The Spokane County Building at the A.Y.P. Exposition….." Olympia Daily Recorder – February 6, 1909.
"Modern Dwelling Built in Spanish Mission Style" Bellingham Herald – October 20, 1906.
"Government Buildings" Morning Olympian – May 7, 1905.
Design No. 90 Western Home Builder – V.W. Voorhees, 1908
Chacon, Hipolito R. "Creating a Mythic Past: Spanish style Architecture in Montana" Montana: The Magazine of Western History, Autumn 2001.