1920 - 1940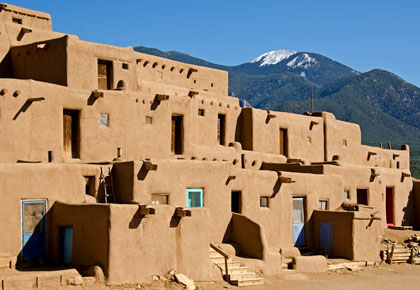 The Pueblo Revival style, popular between 1900 and 1940, was inspired by a mixture of Spanish Colonial and Indian Pueblo architectural forms. It is one of the few architectural styles that was consciously developed to attract tourists. Originating in Santa Fe, New Mexico at the turn of the 20th century, the style quickly became a regional architectural expression in the southwest. While Arizona, New Mexico, and eventually, California, were the epicenter of this architectural movement, a few Pueblo Revival style buildings reached the Pacific Northwest. An early example was built in 1909 at the Alaska-Yukon-Pacific Exposition (the Utah State Building), but most examples found in Washington State date to the 1920s and 30s. Those examples however only boast small decorative elements of the style.
Key distinguishing features includes an exterior of stucco, meant to imitate the adobe walls of the Indian pueblo, and projecting roof rafters called "Vigas". These are generally round or square and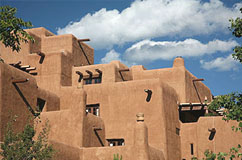 protrude from the wall near the roofline, but are purely decorative in nature. Projecting round scuppers/ roof drains, called "Canales" may also be found or substituted for vigas. The roof of the Pueblo Revival structure is usually flat or slightly sloped and is hidden behind a low parapet wall. Better examples of the style have rounded corners, and battered exterior walls. Multi-story buildings usually employ stepped massing similar to that seen at Taos Pueblo.
Straight-headed, multi-light windows are often recessed deep within the façade. Large heavy doors, many with arched tops, are also common. Sheltered courtyards and patios, enclosed by low walls, often utilize built-in benches, called "Bancos", which protrude from walls. You may also find inside or outside, small carved niches in the walls which were designed for storing decorations or religious icons.
Washington State Examples
House
Seattle - c.1928
Doctor's Office
Dayton - c.1930
House
Seattle - c.1935
Utah Building - AYP Expo
Seattle - 1909
House
Everett - c.1923
For More Information:
Baker, John Milnes,

American House Styles: A Consise Guide

, W.W. Norton & Company, New York, NY. 1994.
Carley, Rachel,

The Visual Dictionary of American Domestic Architecture

, A Roundtable Press Book, New York, NY. 1994.
McAlester, Virgina & Lee,

A Field Guide to American Houses

Alfred A. Knopf, NewYork, NY, 1992.
Walker, Lester,

American Homes: An Illustrated Encyclopedia of Domestic Architecture

, The Overlook Press, New York, NY 1981.
Massey, James & Shirley Maxwell. "Pueblo of the Southwest Houses"

This Old House

. January/February 1992.