1870-1890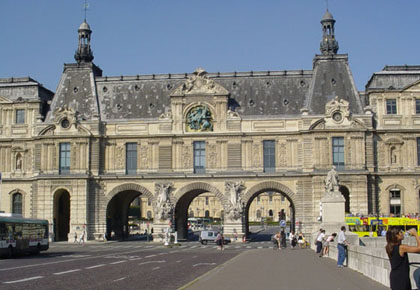 Unlike other popular 19th century architectural styles, the Second Empire style was largely the product of new and emerging architectural fashions, rather than classical precedents from Gothic and Greek traditions.
The style itself was imported directly from France and relates to building projects, which were completed under the reign of Napoleon III (1852-70). During his time in office, Napoleon undertook a major building campaign that transformed Paris into a city of grand boulevards and monumental buildings. Many of these structures utilized a unique roof form that was originally developed by 17th-century French Renaissance architect, Francois Mansart.
Mansart had made extensive use of a four-sided, double slope gambrel roof which was punctuated with windows on the steeper lower slope, thus creating additional habitable space in the attic space. Such a design ultimately became named for him – the mansard roof.
Quickly, the mansard roof and the reconstruction of Paris had a major impact on building design throughout Europe and the United States. As domestic architecture, the Second Empire style was meant to portray a sense high culture; as public architecture, a sense of permanence and order. In fact, here in the U.S., the style was used for many public buildings during the Presidency of Ulysses S. Grant (1869-1877) and is therefore sometimes referred to as the "General Grant style."
The peak of its popularity in the United States was from roughly 1855-1885, but the style rapidly faded from popularity following the panic of 1873 and subsequent economic depression. However like many early styles, the Second Empire style remained in vogue in the Pacific Northwest for much longer than in other parts of the U.S., with the best examples in Washington state being built in the mid to late 1880s.
In reality, the Second Empire style utilized the design characteristics of several historical forms, thereby departing from the custom of imitating established idioms. Free adaptation, allowing architects far more leeway in their designs, mirrored the belief that in America, one could pick and choose the best from the past. This philosophy drove a mix-and-match sensibility. One constant of the style however is the mansard roof. But beneath their distinctive roofs, Second Empire buildings had much in common with other Victorian-era styles, particularly the Italianate style. Similarities between the Second Empire and Italianate are found in their stylistic use of overhanging eaves with decorative brackets, ornate door and window hoods, and bay windows.
Residences designed in this style were, generally large and built for affluent homeowners. At its most elaborate, the look was sometimes described as a wedding cake. The styles popularity also led to a widespread remodeling boom during which mansard roofs were incorporated into formerly pitched-roof residences.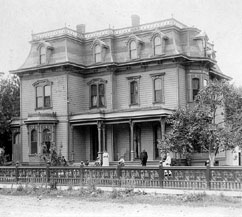 Mansard roofs are actually hipped and double sloped, with a nearly vertical lower slope, and a much flatter upper slope that typically isn't usually visible from ground level. The four-sided, double sloped approach made these roofs extremely functional as well as attractive, and allowed for large three story floor plans. The lower slope took on several shapes over the course of the style's development: straight-angled, convex, concave, and even "S" curved shapes, all with or without dormers. Here in the Pacific Northwest most roofs were covered with wood shingles (instead of slate), some stained in a variety of colors to create a unique decorative pattern.
Another common feature of the Second Empire architecture was a tower, or tower-like element. The tower can be square or rectangular and placed either symmetrically or asymmetrically. Other decorative details included iron cresting on the roof, heavily bracketed cornices, quoins, and balustrades. The general effect is monumental and ornate, appropriate to the style's Napoleonic roots.
The practicality of Second Empire architecture was often overshadowed by its abundant ornamentation. Extensive custom molding on the exterior of these buildings was often matched by intricate detailing on the interior walls, typically accented by sculpted pillars and wide winding staircases. While beautiful ornamentation helped make the Second Empire style popular, it also may have helped push it into obscurity, as plainer building styles became more popular during the early 20th century.
Second Empire buildings often had a simple box form, square or rectangular, and are typically highly symmetrical. However, there was also an asymmetrical form, usually an L-plan which called attention to an entrance where the wings meet.
Here in the Pacific Northwest the primary building materials for Second Empire buildings are wood, but some brick examples can be found. Both wood and brick buildings were sometimes embellished with cut stone, or simulated cut-stone quoins at the corners to make them more ornate.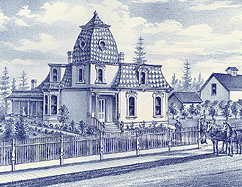 Elaborate, elongated paired 2-over-2 or 1-over-1 windows toped with arched, hooded, pedimented, or dentiled surrounds are commonly found. These were supported by brackets, and/or multiple layers of wood trim, often with incised patterns. Bay windows were often used as an architectural feature on a facade that accommodated an abundance of ornamentation.
There is never a doubt as to where the entrance is located on a Second Empire building. A central projecting pavilion often highlights the entrance in the form of a porch or elaborate canopy with some form of protection from weather. Entrances are typically elevated above the grade by several steps and doors are typically double or an extra wide single door.
As architectural fashion shifted, many Second Empire buildings were lost or remodeled beyond recognition, making those that remain on the landscape today, all the more special.
Washington State Examples
Frank Bartlett House,
Port Townsend - 1883
Columbia County Courthouse,
Dayton - 1887
Cook - Brown House
Vancouver - c.1870
David Byles House,
Elma - c.1891
House,
Port Townsend - c. 1880
St. Elmos Hotel,
Palouse - 1888
Officers Row - Fort Vancouver
Vancouver - c.1885
Pearson House,
Stanwood - c.1885
Zylstra House,
Coupeville - 1889
For More Information:
Baker, John M.

American House Styles: A Concise Guide

. W.W. Norton & Co., New York, N.Y. 1994.
Carley, Rachel,

The Visual Dictionary of American Domestic Architecture

, A Roundtable Press Book, New York, NY. 1994.
Massey, James & Shirley Maxwell,

House Styles in American: The Old-House Journal Guide to the Architecture of American Homes

Penguin Books, New York, NY, 1996.
Massey, James & Shirley Maxwell, "Second Empire" Old House Journal March/April 1989.
Massey, James & Shirley Maxwell, "The Mania for Mansards" Old House Journal January/February 2008.
McAlester, Virginia & Lee,

A Field Guide to American Houses

Alfred A. Knopf, New York, NY, 1992.
Morgan, William, The Abrams Guide to American House Styles Harry N. Abrams, Inc., New York, NY, 2004.
Walker, Lester,

American Homes: An Illustrated Encyclopedia of Domestic Architecture

, The Overlook Press, New York, NY 1981.
Whiffen, Marcus.

American Architecture Since 1780

. MIT Press, Massachusetts. 1969.