1885 - 1910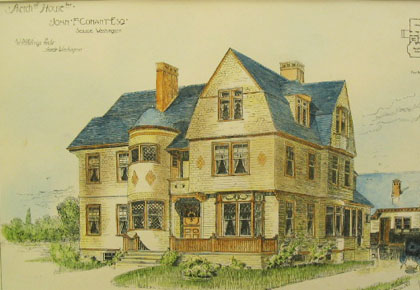 Quoined by the noted architectural historian Vincent Scully in the mid 1950s, the Shingle Style was developed on the New England coast in the 1880s and over the next two decades expanded across the U.S. A transitional style, it occupies a period between the Queen Anne style and the Colonial Revival's formal Georgian period. From the Queen Anne style it borrows massing and asymmetry as well as some of its picturesque features such as turrets, an abundance of complex windows, and broad verandas. From the Colonial Revival vein, it borrows embellishments such as Palladian windows, classical columns, balustrades, and oval windows. To this blending is added a strong low, horizontal continuity and a near uniform sheath of wooden shingles covering the building from top to bottom. Some examples also add Richardsonian Romanesque arches.
Mainly a residential style, the Shingle Style has been described as "the first modern American house style", and initially served as an expression for summer homes of wealthy east coast families. It has its roots in New England Colonial architecture and the Richardsonian Romanesque style. The best examples were designed by W. R. Emerson, H. H. Richardson, and the architectural firms of McKim, Mead & White and Peabody & Stearns. By the late 1890s the Shingle style was declining among the Eastern wealthy, however it continued to blossom across the rest of the country as dozens of young architects, trained in the large east coast firms, moved west. Also helping the migration of the style were the publication of photos of Shingle Style homes in a variety of architectural journals like Inland Architect and Western Architect; thus facilitating modest builder versions.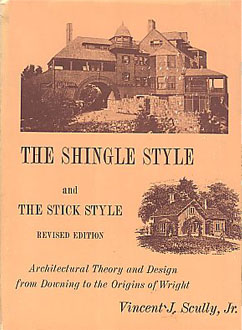 The style appears briefly in the Pacific Northwest but in limited "watered-down" versions, with the best expressions appearing in the 1890s. Elements of the style however hold on in the region for another twenty years until 1910.
Shingle style homes can take on many forms. Five principle sub-types have been defined: hipped roof with cross gable; side-gabled roof; front-gable roof; cross-gabled roof; and gambrel roof. Typically Shingle style dwellings are one-and-a-half to two-and-a-half stories tall, and are spread low against the ground resting on a heavy stone foundation. Often rounded contours define recessed window openings of grouped sashes. Multi-pane top sashes and one-over-one sash windows are common, although diamond pane sashes can be found.
Verandas are common and are integrated fully into the overall design rather than as separate attachments. Entry porches are typically defined by heavy, low arches, held up by short, stubby columns, sometimes grouped in pairs. Roofs are prominent, sometimes complex, and are often broken by hipped-roof or curving eyebrow style dormers. Some have deep cornice returns and/or pow-shaped gables supported brackets. Eaves of the roof are close to the wall so as to not distract from the homogeneous and monochromatic shingle covering, however flared or defined water tables and stringcourses are common.
Note that the style also experienced a minor revival in the 1970s and 1980s as part of Post Modernism's rediscovery of the past.
Washington State Examples
Charles Riddle House
Seattle - 1899
House
Vancouver - c.1903
House
Mount Vernon - c.1900
Smith - Stewart House
Tacoma - 1892
Rudolph Ankeny House
Seattle - 1891
House
Seattle - c.1905
Osgood - Anderson House
Tacoma - 1893
Rufus Woods House
Wenatchee - 1910
Harold Ogden House
Olympia - 1896
For More Information:
Baker, John M.

American House Styles: A Concise Guide

. W.W. Norton & Co., New York, N.Y. 1994.
Carley, Rachel,

The Visual Dictionary of American Domestic Architecture

, A Roundtable Press Book, New York, NY. 1994.
Massey, James & Shirley Maxwell,

House Styles in American: The Old-House Journal Guide to the Architecture of American Homes

Penguin Books, New York, NY, 1996.
McAlester, Virginia & Lee,

A Field Guide to American Houses

Alfred A. Knopf, New York, NY, 1992.
Scully, Vincent Jr. The Shingle Style and the Stick Style: Architectural Theory and Design from Downing to the Origins of Wright Yale University Press, New Haven, CT 1955
Scully, Vincent Jr.

The Shingle Style Today

. New York: George Braziller, 1974.
Schweitzer, Robert & Michael Davis,

America's Favorite Homes

Wayne State University Press, Detroit, MI, 1990.
Walker, Lester,

American Homes: An Illustrated Encyclopedia of Domestic Architecture

, The Overlook Press, New York, NY 1981.
Whiffen, Marcus.

American Architecture Since 1780

. MIT Press, Massachusetts. 1969.