1870 - 1910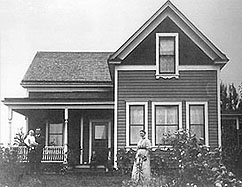 The "Upright-and-Wing" (sometimes referred to as Temple & Wing or Gable Front & Wing) was initially developed for the rural settings, however it enjoyed wide usage in both rural and urban settings. It consists of a one-and-a-half to two-story wing with a front-facing gable roof, and a side wing set at a right angle to it (sometimes known as the kitchen wing or ell). Such wing can be one-and-a-half to one-story tall, with a side-facing gable.
As a type of non-stylistic folk architecture, Upright-and-Wing houses were generally designed and built by tradesmen as opposed to the owners of the house. Upright and Wing houses were laid out in either an L-plan or T-plan. The ell usually has bedrooms and the kitchen while the wing holds a parlor, staircase, and additional bedrooms. Early East Coast examples (c.1830–50) have the main entry on the upright portion of the house. Post-1850 examples, such as those found in the Pacific Northwest usually shifted the entryway to the ell portion of the house under a covered porch.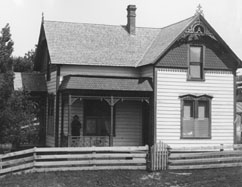 The Upright-and-Wing enjoyed a lengthy and nationwide period of popularity. No systematic survey of Upright-and-Wing houses in Washington State has been conducted, however numerous examples are known to exist throughout the State in a variety of locations.
The building type partially coincided with the popularity of Greek Revival architecture in the United States and thus, many Upright-and-Wing houses are adorned with pilasters, cornice returns and wide entablatures. Due to their late construction date, many examples here in the Pacific Northwest boast Queen Anne and/or Italianate style detailing such as bay windows, decorative bargeboards and cut cedar shingle siding in the gable ends.
Washington State Examples
Donohue House
Eastsound - c.1890
House
Ellensburg - c.1900
House
Garfield - c.1900
House
LaConner - c.1890
House
Pomeroy - c.1900
House
Bellingham - c.1895
House
Wilkeson - c.1905
Robert Espy House
Oysterville - 1910
House
Cle Elum - c.1900
For More Information:
Baker, John M.

American House Styles: A Concise Guide

. W.W. Norton & Co., New York, N.Y. 1994.
Carley, Rachel,

The Visual Dictionary of American Domestic Architecture

, A Roundtable Press Book, New York, NY. 1994.
Massey, James & Shirley Maxwell,

House Styles in American: The Old-House Journal Guide to the Architecture of American Homes

Penguin Books, New York, NY, 1996.
McAlester, Virginia & Lee,

A Field Guide to American Houses

Alfred A. Knopf, New York, NY, 1992.
Schweitzer, Robert & Michael Davis,

America's Favorite Homes

Wayne State University Press, Detroit, MI, 1990.
Walker, Lester,

American Homes: An Illustrated Encyclopedia of Domestic Architecture

, The Overlook Press, New York, NY 1981.
Whiffen, Marcus.

American Architecture Since 1780

. MIT Press, Massachusetts. 1969.