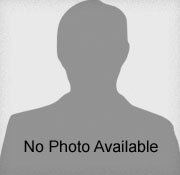 The son of Congregational missionaries, Ambrose Janvier Russell was born in Trivandram, India on October 15, 1857. By age five the family returned to their native Scotland. Raised in Glasgow, Russell received his formal architectural training at the University of Glasgow (1875 to 1880) and at the Ecole des Beaux Arts (1881-1884), in Paris. While there he formed a lifelong friendship with fellow student, Bernard Maybeck.
Upon his arrival in the United States, in 1884 Russell moved to Boston where he took a job in the office of H. H. Richardson. After spending one year in the office of the famous architect, he opened an office with a friend in Worcester, Mass. After a short year, Russell moved again, this time to Kansas City, Missouri, where he joined Maybeck at the architectural firm of Van Brunt & Howe. After working for Van Brunt & Howe, Russell formed a brief partnership with Maybeck in Kansas City but business was slow. Maybeck headed for California, and Russell moved to St. Louis, Missouri.
In St. Louis he worked briefly with the architectural firm of Eames & Young but by 1892 had moved to Tacoma. Initially, Russell worked for the Cottage Home Building Company as its Architectural Department Manager. His designs include the 1892 Shingle style Smith-Stewart House (4305 N. 42nd). By 1893 he had his first independent commission, the Davie House (423 N. Sheridan) and formed a partnership with Portland, Oregon transplant Albert Sutton. The partnership lasted two years after which Sutton moved to San Francisco.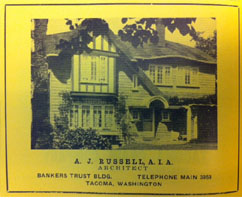 Russell then formed a brief partnership with George W. White in 1899, followed by another partnership with architect A. Walter Spalding the next year. Frederick Heath joined the firm in 1901. Spalding left the partnership in 1902, and Russell and Heath continued as a firm for another year until 1903. In 1905, Russell joined with his former draftsman, Everett Babcock, to form a new partnership, which lasted until 1911. Together they produced a significant number of commercial, religious and residential properties in Tacoma. Notable work includes the Woodstock Apartments (1905); the Snyder House (1905); the Pickerill House (1906); the National Guard Armory (1908); and the Governor's Mansion (1909) in Olympia.
As the firm grew they opened office branch offices in Seattle (with Walter E. Rice) and Vancouver, B.C. They closed their Tacoma and Seattle offices in 1912 with hopes of developing their Vancouver business. After one large commission, the Weart Building (1912-14), their business failed to take off. Russell returned to Tacoma in 1915 and started an independent practice.
In 1930 he formed yet another partnership, this time with Gaston Lance. They were joined briefly by A. Gordon Lumm (1931-32) and in 1936 took on a new partner Irwin Muri. Russell, who reportedly worked until the day he died, passed away in Tacoma on March 16, 1938.
By Michael Houser, State Architectural Historian - Nov. 2011