Seattle architect Bjarne Holten Moe was born in Trondheim, Norway on November 4, 1904. He immigrated to the United States with his family at the young age of 3 and was raised in Tacoma and Everett, graduating from Everett High School.
Moe studied at the University of Washington during the mid 1920s for three years but never received a formal degree. Instead he gained practical experience working for a variety of architects for over a seven-year period including Ludwig Solberg in Wenatchee, and for several architects in Seattle including: Sherwood Ford, J. Charles Stanley, R.C. Reamer and the firm of Shack, Young & Meyers. He acquired is state architectural license in 1930 (No. L126)
Some histories show that Moe worked for builder/designer Fred Anhalt, although this has not been verified. According to Polk Directories he opened his own practice in 1932. That year Moe presented options on how to modernize your home with brick facing in the Seattle Times.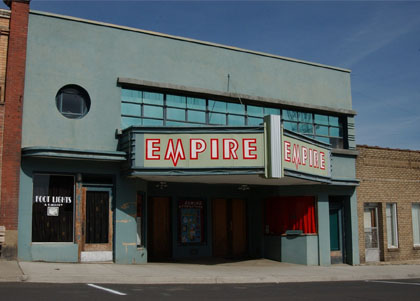 Moe specialized in movie theaters and designed several across the Pacific Northwest. In the Seattle area projects included the Green Lake Theater (1937); Lake City Theater (c1939); Renton Theater (1939); Varsity Theater (1940); Coy's Highline Theater (1947) in Highline; Crest Theater (1949) in Shoreline; and alterations to the Rainier Theater (1945). Outside of the city theater projects included the Ritz Theater (1937) in Ritzville; the Liberty Theaters in Ellensburg (1937) and Dayton (1938); the Huff Theater (c.1936) in Coeur d'Alene, ID; a remodel of the Capitol Theater (1938) in Walla Walla; the Bungalo Theater (1939) in St. Maries, ID; the Empire Theater (1940) in Tekoa; the Roxy Theater (1941) in Bremerton; a theater in South Bend (1945, unbuilt); the New Liberty Theater (1947) in Lynden; and a remodel of the Roman Theater (1935) in Red Lodge, Montana. His last theater project was most likely the remodeling of the Ridgemont Theater (1967), which included the installation of a 40' high basket-weave metal façade. Moe was reportedly a member of the Movie Theater Remodeling Institute and some reports indicate he designed auditorium seating for the B.F. Shearer Co. in Seattle; a division of the National Theater Supply Company, manufacturers of theatrical equipment.
While Moe certainly designed other types of structures, his known non-theater designs are limited to the French Electric style R.V. Welts House in Mount Vernon (1935); a market building for John Wilson in the Green Lake Neighborhood (1937); the Norwegian Evangelical Lutheran Church (1940) in Seattle and a remodel of the Richmond Hotel Coffee Shop (1940).
Moe passed away in Seattle on April 29, 1980 at the age of 75.
By Michael Houser, State Architectural Historian - March 2013