Architect Clarence Ferris White was one of the most prolific architects in the Inland Empire area, reportedly preparing plans for over eleven-hundred buildings. His designs range in style and type from homes of prominent businessmen, to working class apartment complexes, as well as several important commercial buildings and schools. He was born in Chicago, Illinois on August 22, 1867 and reportedly studied architecture in Chicago, but his formal architectural education is unknown. Before coming to the PNW he rose to the position of head draftsman for the office of W.W. Meyers and worked in the offices of architects Sprague & Newell and W.W. Clay.
Around 1890, White came to Spokane under a contact to work for architect Herman Preusse. However within a month he left the office and began working for architect Chauncey B. Seaton. Some studies indicate that White formed a partnership with Seaton, but Polk Directories do not verify this. Instead he was employed by Seaton as a draftsman and then oversaw a branch office for Seaton in Bellingham. Newspaper accounts note that White independently entered the list of competitors to design the new state Capitol building in Olympia. In 1892, he moved to Everett and opened a short-lived practice with architect William T. Moller.
White then returned to Spokane in 1896 and again became associated with Chauncey B. Seaton. After Seaton passed away suddenly, White formed a partnership with architect Charles A. Alexander in 1897. It was during this time that he designed the first Stevens County Courthouse (1897, demolished). Alexander passed away suddenly and White formed a new partnership with architect Arthur E. Permain in 1898. They were joined by engineer John W. Strack and architect Oscar Huber, but they both left the firm to work for the railroad in 1899. White continued the practice alone. It was during the early part of his career that White got into legal trouble when a suit was brought against him by engineer J.C. Ralston for a map that White had created for the mining area of Republic.
Early known projects include the R.L. Webster cottage (1899); a house for M. Chase (1899); a double house for N.W. Durham (1899) and Phillip Richmond (1900); and a home for J.S. Dunn (1901) all in Spokane. Outside of the city he worked on a school building in Ritzville (1902); a commercial building in Newport (1903); the W.R. Cunningham Jr. House in Ritzville (1903); a commercial building in Harrington (1903), and the First Baptist Church in Coeur d'Alene (1903).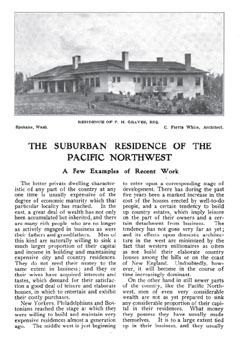 In 1903 White left Spokane to take care of his ill wife, Florence, who had moved to California for health reasons. Unfortunately she passed away in September at the young age of 34. While away he left his practice in the capable hands of architect Alfred Jones eventually returning to Spokane in October. Upon his return, White jumped back into his architectural practice designing several buildings including an addition to Sandpoint Idaho's school (1903); and homes for J.C. McDevitt (1904), Frank D. Allen (1904), F.C. Uhlir (1904), and D.F. Strobeck (1904). White's life took another turn for the worst in 1904 when he was forced to file for bankruptcy, and then was sued by his new business partner W.W. Hyslop. That partnership lasted for only a year and White remained in private practice. The case was eventually dismissed in 1906. Known designs during this time include the Spokane County Savings Bank (1906); the L.J. Birdseye House (1906) and in 1905, his largest commission to date, the design of the entire company town of Potlatch, Idaho for the Potlatch Lumber Company (the source of dispute with W.W. Hyslop). For the town White designed and erected more than 300 buildings, which included commercial properties, residences, a hotel, theater, warehouses, schools, churches, and a railroad depot. Author N. W. Durham writes that White had contract work in 1905 that amounted to a half-a-million dollars. Other projects during this time included several architecturally prominent homes such as the Waldo Paine House (1905); the Frank Graves House (1906); the E.H. Ehlers House (1907); the George Wooster House (1907); the Bleecker House (1909); the E.F. Hayes House (1910); and the A.T. Kendrick House (1911). He also completed plans for numerous schools around the inland northwest in the communities of Leavenworth, Ellensburg, Waterville, Chattaroy, Oroville, and Wilson Creek.
With business booming, White diversified his business portfolio and became a partner of the Spokane Wrecking Company and the Windsor Cafe Company. He also opened a decorating business, called "The Studio of Decorative Art" and continued to purchase property around the city for investment purposes. By 1915 White took on another partner, Rowland J. Englebry, but the partnership lasted for a short two-year period. In 1918 he got into financial trouble again and filled for bankruptcy for a second time. In 1920 he remarried and shortly thereafter he decided to move to Everett where he continued his architectural career until his death. White's known projects in Everett are limited to the Labor Temple (1929); the Sevenich House (1930); and a mortuary at Pacific & Wetmore Avenues (1932).
Like many architects, White was involved in a variety of social and professional organizations throughout his career. He was a member of the Elks Club, the Spokane Athletic Club and the Inland and Coeur d'Alene Boat Clubs, and was an active member of the Republican Party serving as a Snohomish County delegate. White was also a founding member of the Spokane Architectural Club (forerunner of the AIA), and served on the Board of Directors in 1912.
White passed away suddenly in Everett due to a heart attack at the age of 61 in August 1932. His obituary noted that he had designed 63 different schools in Washington State.
By Michael Houser, State Architectural Historian - March 2012