Often confused with Aberdeen architect Charles A. Haynes, Seattle architect Charles Lyman Haynes was born in Santa Cruz, California in 1870 and came to Seattle via San Francisco in 1907. The following year he opened his own independent architectural firm at the age of 38, maintaining an office in the Melhorn Building. Haynes' formal architectural training is unknown but he gained valuable experience working for San Francisco architect Alexander Cantin before arriving in the Pacific Northwest.
During his 30+ year career, he designed a variety of buildings from apartment houses to warehouses, to commercial buildings, single family residences and automobile showrooms. Like many architects during the early 20th century, Haynes completed designs in a variety of eclectic styles ranging from Spanish Eclectic to Neo-Classical. His Flemish style Robert P. Greer(n) House (1910) stands in stark contrast to his Tudor style Kappa Sigma Fraternity (1914), and his formal Colonial Revival style T.A. Davies House (c.1925).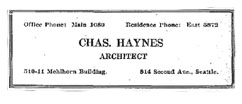 In 1919, when Washington began licensing architects, Haynes received Washington license No. 73, under the grandfather clause. As the official architect for the Hunter Improvement Company, Haynes prepared plans for over one-hundred homes to be erected by the company in the Mount Baker neighborhood. Notable single-family homes include the Robert B. Kellogg House (1912); the Frank Buty House (1915); and the Amelia Hemrich House (1923).
Several of Haynes designs were published in Bungalow Magazine and his well published Prairie style home for the Margaret Calvert (1913) brought him much attention and further commissions.
Haynes also designed many apartment buildings scattered throughout the city including the Roy Vue Apartments (1924); Dunlap Apartments (1929); Brooklyn Building (1930); Narada Apartments (1925); Bonair Apartments (1925);
Other known projects include the Hotel Hudson (1909); the Reliance Hospital (1910); the Packard Automotive Showroom (1911); the South Bend Commercial Club (1911) in South Bend; the Spanish Electric style Donohoe Garage (1921); Tyson Oldsmobile Co. Building (1912); the Masonic Temple on Capitol Hill (1912); the Mount Baker Community Club (1914); the Butterworth Mortuary (1922); Farmer's Public Market (1923); and the Russell Building (1924).
Haynes retired around 1940 and died in Seattle on July 15, 1947 at the age of 77.
By Michael Houser, State Architectural Historian - April 2012