Seattle architect Clare Moffitt was born on July 30, 1885 in Milan, Kansas. He received his formal education from Kansas State University and arrived to Seattle in 1917 via Yakima and Tacoma. After serving as draftsmen and designer for several firms, Moffitt opened his own independent practice in 1922.
While he remained in business for nearly 40 years (one of the longest architectural practices in the City of Seattle), few designs have been attributed to him to date. Known projects include the West Seattle Christian Church (1932); the Ballard Christian Church (1930); the University Christian Church (1928); the Lake City Christian Church (1958); alterations to an apartment building at 5073 Brooklyn Ave.; and a custom home for U.S. Plywood executive William C. Bailey (c.1939). For several years Moffitt maintained an office in the Seaboard Building, but in 1932 he opened a home office at 4521 10th Ave NE.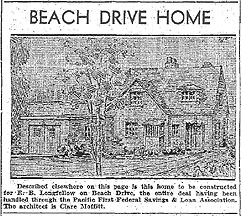 In the 1930s Moffitt was hired by the Pacific First Federal Savings & Loan to design a home for thier housing program which would enable a buyer to complete an entire transaction of home construction in one unit. A model home was built by the bank on Beach Drive.
Over the course of his career, Moffitt was heavily involved several proffesional and civic organizations, including severing as President of the Washington State AIA chapter and as chapter treasurer in 1940-41. Moffitt also served as chapter representative on the National AIA Technical Committee (1948) and was a National AIA Delegate in 1959. Locally he served on the City Board of Appeals (1959); and was chairman of the Municipal League of Seattle and King County.
Moffitt retired in 1970 and passed away in Seattle on May 4, 1975.
By Michael Houser, State Architectural Historian - April 2012