David S. Dow was born into a large family on June 19, 1855 in Braehead, Scotland, east of Glasgow. Along with several of his brothers, David learned carpentry in Glasgow, and immigrated to the United States together around 1875. David and his brother Matthew first moved to Forth Worth, Texas, where they founded a contracting firm. They soon moved to Belton, Texas, where they constructed buildings for Baylor Female College and the Belton courthouse. The brothers' parents and seven of their siblings joined them in Belton. In 1888, David married Mary Powers.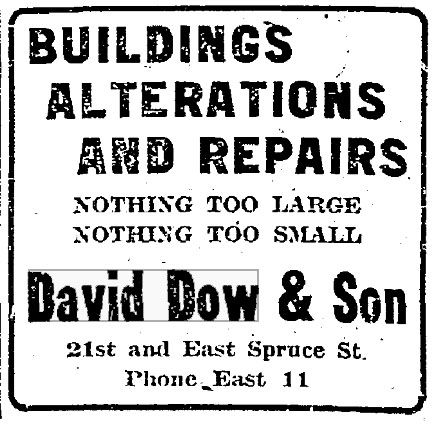 David and Matthew both settled in Seattle in 1889. They lived in Ballard and worked as carpenters until 1902. They were each prominent contractors and as early as 1907 were in business with each other as Matthew Dow & Company, although David continued to do work under his own name, and had a separate business with his son Andrew. David Dow & Son were building contractors and owned a machinery rental business that Andrew kept up after his father's death. In 1910, David was in business with his son with offices at 2102 E Spruce Street, and Matthew was in business with an office in the Walker Building, suite 401.
Unlike his contractor brothers, David Dow promoted himself as both an architect and a contractor, and designed and constructed many buildings as a sole practitioner. His best known individual work outside of his brother's contracting firm was the Cataract Building for the Snoqualmie Power Company, now known as the Furuya Building, built in 1900. Others include the upper story of the Eitel Building (1907, William Van Siclen), and the Eastern Hotel (1911).
Dow was known to have constructed several buildings in the International District. There are records of his work for the general merchandise Wa Chong Company, although he probably worked for others in the area as well. The first building he constructed for Wa Chong was a three-story building with a basement on Main Street between Fourth and Fifth avenues (1902, demolished). In 1911 he designed and constructed the aforementioned Eastern Hotel for Wa Chong, located at 506 Maynard Avenue S.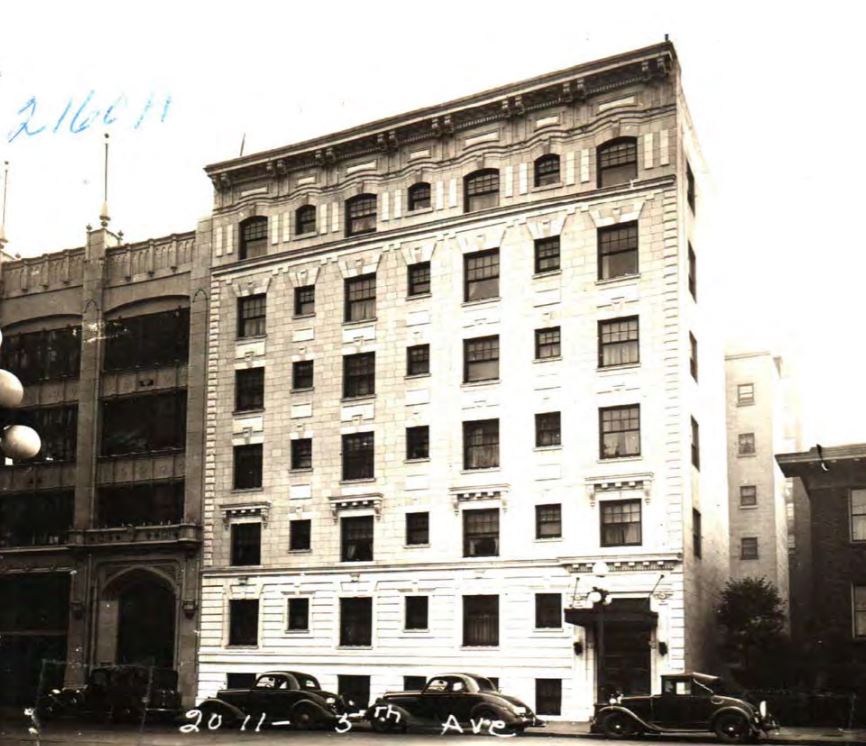 Other buildings in Seattle that David Dow either designed and built or was the general contractor for include:
Warehouse at 548 First Avenue South (unverified)
The E. N. Fobes Building/Westinghouse Electric Supply Company, 558 First Avenue South (1904)
The Washington Laundry Company building on Eastlake Avenue (1910)
A two-story factory building at 2013-17 First Avenue S. (1910, architect George C. Dietrich)
Cast concrete building for the Overland Agency on the northwestern corner of Eleventh Avenue and Pike Street (1913, architect Victor Voorhees)
Store and apartment building for Mrs. John Collins located on the northeastern corner of First Avenue and Virginia Street (1914, demolished)
Film exchange building at 1933 Third Avenue (1916)
The Eyres Transfer and Warehouse Company building, 2203 First Avenue (1925, engineers Hall & Stevenson).
An anecdote that illustrates more about the attitude of young men on a construction crew at the turn of the century than it says about Dow in particular is that in January 1909 David Dow's crew was careless while burning their construction debris and set the whole block at 510 First Avenue S on fire. Their burn permit was revoked by the fire marshal, who described the crew as "grossly negligent," and the fire capable of igniting buildings "fifty feet away."
Over the years the Dow brothers variously merged their contracting firms and at different times operated independently. Matthew Dow settled in Ballard in 1895, where he became involved in politics and served as mayor of the town for a single term. After the annexation of Ballard, Matthew twice ran for mayor of Seattle before dropping out of the race to support fellow Democrat Judge Moore. He also ran unsuccessfully for a councilman seat on a municipal ownership ticket, which promoted municipal rail and water projects. Matthew Dow was a supporter of labor unions, and his contracting firm employed only union labor.
Matthew Dow's contracting firm was responsible for the construction of the following buildings: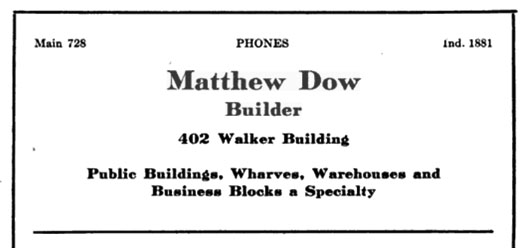 Baptist and Methodist Churches in Ballard, before 1907 (un-verified)
National Bank Building, also known as the Pacific Block, now the Interurban Building (1890, Parkinson and Evers)
The Marshall-Walker Building, referred to in the Seattle Times as the Walker Building, now known as the Globe Building, 310 First Avenue (1891, W.E. Boone)
Residence for Klondike millionaire T. S. Lippy, 108-110 First Avenue (1900, E. C. McManus, demolished)
The first story of (another) residence for T. S. Lippy, 712-716 Third Avenue (1900, Saunders & Lawton, demolished)
Colonnade Hotel, a four-story brick building for the Stimson Bros, 1524-1534 First Avenue, corner of Pine Street (1900, C. H. Bebb, now called the Gatewood Hotel)
Pacific Drug Company/Seattle Paint Company/Stadium Furniture, also known as Kelley-Clarke Building and US Rubber Building, 319 Third Avenue (1902, Boone & Corner)
The four-story Walker Building, 1300-1312 Second Avenue, corner of University Street (1902, demolished)
Western Dry Goods Company/Wax and Raine Building, also known as the Heritage Building and the Talbot Walker Building, 101 S Jackson Street (1904)
The Coliseum Theater, renamed the Orpheum Theater in 1908, corner of Third and James streets (1907, E. W. Houghton and John Donnellan, demolished)
The Hancock Building, now known as the Harold Poll Building, 110 Union Street (1910, Graham & Myers)
The Chapin Building, Second Avenue and King Street (1901, Boone & Corner, demolished)
The Chapin Bank Building, also known as the Chapin Building or the Colonial Building, Second Avenue and Columbia Street (1888, Boone & Meeker)
The Chapin Building, 117 S Jackson, also known as the W. P. Fuller Building and the Northcoast Building (1901, Boone & Corner)
The Bemis Brothers Bag Factory building, 65 S Atlantic Street (1904-05, damaged in 1949 earthquake)
The brick- and stonework of the Colman Building (1904 remodel, John Shand)
Sullivan & Considine's Orpheum Theater, 919 Third Avenue (1911, William Kingsley, demolished)
John Considine's Majestic Theater, Second Avenue and Spring Street (1909, demolished)
Puget Sound Machinery Depot Building, also known as the Lowman and Hanford Printing and Binding Building, and the Washington Park Building, 68 S Washington Street (1890)
The Seattle Armory Building, located in what is now Victor Steinbrueck Park (1909, Lohman & Place Architects, damaged by fire 1962, demolished 1968)
The Victoria Hotel, 1207 First Avenue, between University and Seneca streets (1906, demolished)
Clubhouse for the Seattle Athletic Club (1903, Bebb & Mendel, demolished)
Lincoln High School (1907, James Stephen).
Grand Trunk Pacific Dock (1910, engineer Fred P. Lucas).
In addition to the works listed above, Matthew Dow and the Dow brothers have been credited with construction of buildings elsewhere in Washington State, including "A State training School in Chehalis," and buildings in Alaska and Montana.
The Dow brothers both enjoyed the theater, and singing and dancing traditional Scottish songs and dances. They were leading members of Clan Mackenzie, the Caledonians, and the St. Andrew's Society. Matthew Dow had a summer home at "Yarrow" on Lake Washington where he threw a birthday party in 1910.
Matthew Dow died in Seattle in May of 1912. David died of a heart attack at the age of 72 in the People's Bank Building on December 8, 1928.
Adapted from Seattle Landmark Nomination for Sheridan Apartments by Ellen F.C. Mirro