No single person in the history of southwest Washington has had a greater impact on the physical built environment than architect Day Walter Hilborn. His projects span a 40-year period and define many of the cultural institutions of the city of Vancouver and the surrounding communities.
Hilborn was born on a farm near Brow City, Michigan on February 1, 1897. Early in his life the family moved a variety of times finally settling in Ford's Prairie outside of Centralia where he graduated from high school in 1916. While there, he was an all star basketball player and became active in the performing arts. Three days before graduation, he had the leading role in his senior class play, "Merely Mary Ann." This introduction to the theater would continue to interest him for the rest of his life and had an effect on many of his designs.
Soon after graduation, Hilborn enlisted in the Army and was sent to the Texas/Mexican border. When he returned home, he enrolled for classes at Washington State College in Pullman. However, after the draft was authorized by Congress in May of 1917, Hilborn was shipped out on one of the first U.S. ships to sail for France to fight in WWI.
While on the front lines, Hilborn carried his watercolor paints in his rucksack so he could paint the French countryside. He sent many pencil sketches home in letters to his mother. Family stories persist of a large charcoal and pencil drawing that Hilborn sketched on a wall in a rural French farmhouse outbuilding during the war to entertain troops during a Thanksgiving feast. Reportedly today the site is a tourist attraction.
Even though Hilborn lived through extreme war conditions, he was able to find postcards of buildings and houses that he would send home with comments about the local architecture. By the end of the war he had risen to the rank of 2nd Lieutenant and returned home on one of the last troop ships to leave France.
Hilborn immediately returned to WSC campus in late 1919, eager to develop his skills as an artist. While in Pullman, Hilborn was active in a variety of social circles. He joined the Kappa Sigma fraternity in 1920 (40 years later he designed them a new frat house) and became a member of Phi Mu Alpha Sinforia Fraternity (a national music honorary) in 1921. In the same year he was appointed captain of the WSC Corp of Cadets. While attending classes in Pullman Hilborn played the piano for Sunday School classes and joined the male Glee Club on campus, which toured throughout the state. Hilborn sang bass in the quartet.
While at school Hilborn's best friend and future brother-in-law Hubert Miller, convinced him to change his major from art to architecture and engineering. Under the tutelage of the School of Architecture Director Rudolph Weaver, Hiborn received a strong pragmatic application in the theory of design in the Beaux Arts tradition.
After three plus years of interrupted college studies, he returned home to Centralia with a degree in architectural engineering and began looking for work. City directories indicate that he first entered the real estate business with partner Arthur Kresky. The Kresky-Hilborn Co. specialized in real estate transactions, loans, city property and farm lands. In 1926 received his real estate broker license.
By 1930 however, Hilborn had moved to Vancouver and began working as a construction superintendent for architect Richard V. Gough; whom he most likely meet in Centraila. The two set up offices in the Central Building in downtown Vancouver and began receiving commission almost immediately.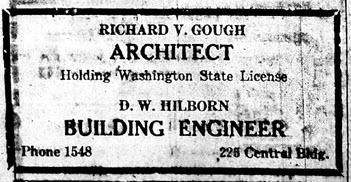 Together Gough & Hilborn's work included a variety of period revival pieces from the remodeling of the A.L. Curtin House (Spanish Revival) to the Tudor Revival style T.W. Jeffers House. One of the largest projects was the four-story Arts Building (1928) at 11th and Main, which celebrated the Beaux Arts training that Hilborn received at WSU. Important commissions followed. Constructed as a mixed-use building the Columbian Building and Storm King Ice Cream Store at Evergreen Blvd and Broadway was a unique project. It had two distinct facades, for two uses under one roof and brought the young firm and Hilborn in particular, lifelong connections with Vancouver's political and social elite.
It was during this early period that Hilborn eloped in Seattle on February 3, 1928. His new bride, Dorothy Janet White was a principal and teacher in Woodland, WA. They made their home in Vancouver in a Craftsman style house that Hilborn had designed.
Gough retired around 1930 and the young Hilborn, then age 33, continued to receive important high profile commissions. At the time, the City of Vancouver was growing leaps and bounds and was ripe for new development. In the first six months of 1928 over $1 million in building permits had been taken out. Vancouver had just two architects but over 34 contractors.
By the 1930s, Hilborn began exploring a new mode of architectural designs keeping with the architectural fashions of the day. Many of his buildings exhibit both architectural details and design forms of the Art Deco style.
A good example is Hilborn's design for Vancouver City Hall. Completed in 1930, the buildings simple central bocks and subsequent lower side wings are typical of many Deco structures. Originally painted all white, architectural detailing is limited to the relationships of solid to void, smooth exterior surfaces, and three recessed cartouches on the main façade. The $65,000 building housed the administrative offices, a fire station and police station and was built by Portland contractor P.L. Reed. Other Deco design include the CC Store (1932) in Vancouver and the Stoller Building in Camas. Other examples include several new buildings and a remodel for Real Estate Developer Ed Hunter as well as a delightful cararra glass and aluminum storefront for the Sprouce-Ritz Co.
Among Hilborn's more celebrated works during this time was Kiggins Bowl. An engineering masterpiece at the time, Hilborn utilized all his engineering skills he acquired at WSU. The dedication ceremony in 1933 was a gala event filled with music, speeches, a relay race, a march by school children, flag raising ceremony, and short a circus. The same year Hilborn designed the Art Deco style Columbia Mausoleum. Located east of the city limits, the $150,000 Mausoleum was only partially constructed. Due to lack of money the mausoleum sat for years, half finished and rusted until it was demolished in 1939.
In 1934, Hilborn moved his family to E 34th Street in a modest Tudor Revival style home he designed. In 1936 he became a licensed structural engineer in Washington State and the next year he officially received his license to practice architecture in WA and OR.
With his practice in full swing, Hilborn designed and built an office for himself in 1938. The building reflects Hilborn's shift to a more restrained design based on classical or colonial detailing. His work throughout the war years would reflect the style. It was out of this office that most of the buildings he designed which were to become his legacy.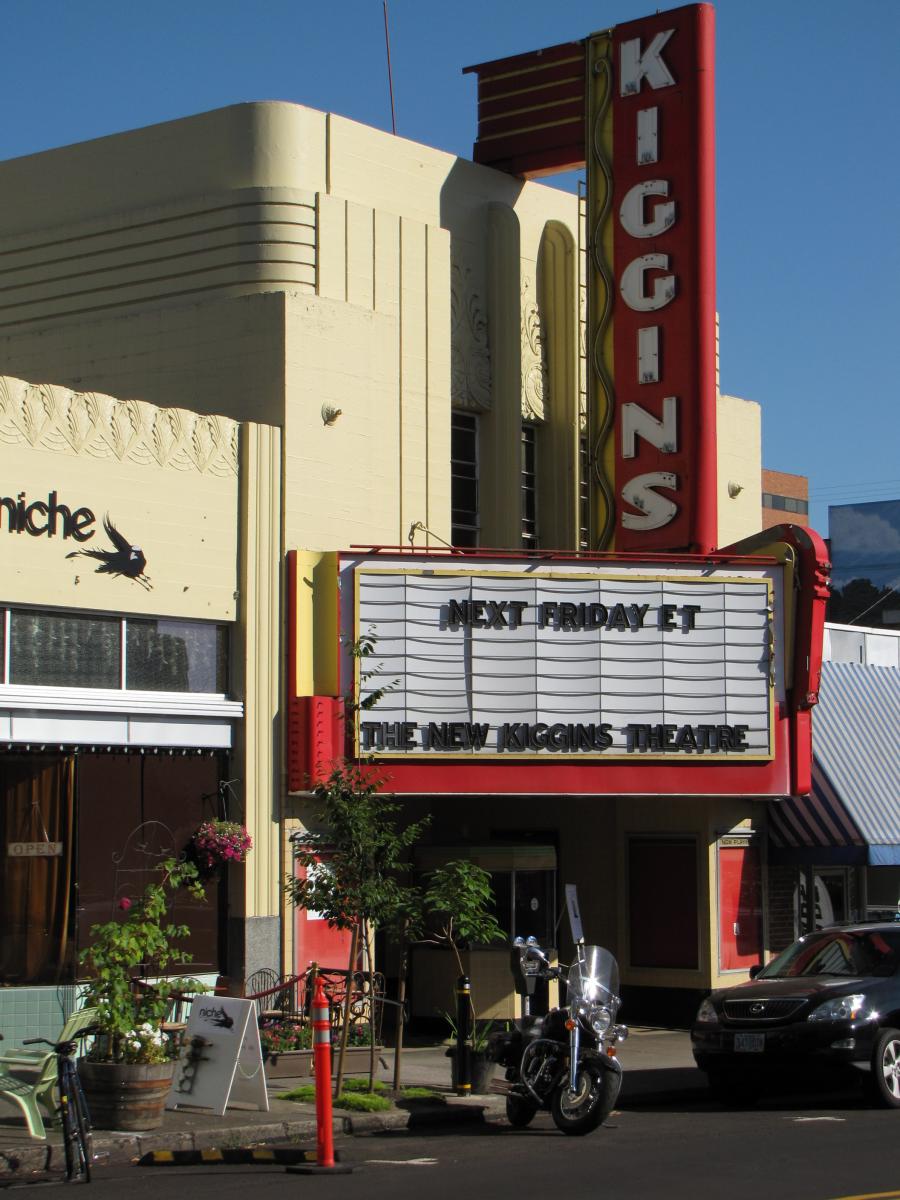 Driving Hilborn's business during the late 1930s was a series of Art Deco inspired movie theaters. Designed for then mayor John P. Kiggins, the Kiggins Theater was hailed in the local press as a "design masterpiece" and was the first of other theaters to come around the PNW. The Kiggins Theater was a mixed use project; housing a state of the art movie theater and four business spaces. Hilborn designed every detail of the building, from the elaborate marquee, and stylized Art Deco sandblasted sculptural relief's on the exterior to the lobby snack bar, and vanity stands in the women's rest room. It was Hilborn's masterpiece. 500 truckloads of concrete were used in the construction, mahogany woodwork throughout the interior was installed by the Central Wood Company, and British decorative art painters were hired to create a large mural in the center of the auditorium ceiling.
Word quickly spread throughout the movie industry of Hilborn's design and soon commissions were coming in. The Cameo Theater in Newburg, OR utilized many of the same design motifs. The Sellwood Theater in Portland had a similar but reversed floor plan. Smaller theaters designed by Hilborn are found in such places as Redmond, OR, White Salmon, Reedsport, and Brownsville. The Kelso Theater in 1940 is a later design but still exhibits many of the features of the Kiggins. Hilborn continued designing theaters for the rest of his career including the $120,000 two-tone pastel green Broadway Theater in Vancouver, the Moore Theater in Hermiston, OR (1947) and the Allmon Theater in Canby, OR (1948).
In 1939, Hilborn became a member of the AIA. Newspaper reports indicate that that his admittance was based on his work in designing the Kiggins Bowl, the Kiggin's Theater and the Centralia Armory.
While these projects may have been of note at the time of their construction, Hilborn's best work, in my estimation, was yet to come.
Dedicated in 1941 by then Gov Arthur B. Langlie just eight days before Pearl Harbor, the Clark County Courthouse is perhaps Hilborn's greatest legacy. Designing a county courthouse permanently put Hilborn on the map and brought him nationwide recognition. The courthouse included a bas-relief sculpture above the front entry door of two rugged explorers clad in buckskins and an Indian with a canoe. The life size figures were originally cast in concrete. The sculpture designed by Hilborn, also became the county seal and is still used on the Clark County flag.
Hilborn's work was so respected that county commissioners asked him to design a courthouse for Klickitat County. The restrained PWA Modern style Klickitat County Courthouse was completed in 1942. In the 1950s' Hilborn was asked to design yet another courthouse for Jefferson County, OR. For unknown reasons, the design was not executed.
It was also during this time that Hilborn completed work on the City Hall & Library Building in Camas. Used today as the main library, the building originally housed city offices, the police station and a fire station, as well as an attached library wing. Hilborn liked grand plans and at the request of the City of Vancouver in 1945 he proposed a traditional, multi-block civic center which would reach out east of the courthouse in a three-block area. The civic center would contain a federal building, a public auditorium, city hall, a museum, the post office, and the library all facing a boulevard and a monument.
In 1941 the city of Vancouver's population was 18,778 and the city was still a relatively quite place. However when the U.S. entered WWII and news broke out that Vancouver had been selected for a huge Kaiser shipyard things changed rapidly. Overnight people flocked to Vancouver to work in the shipyards, 45,000 people, and housing was needed. Six mini cities were developed by the Vancouver Housing Authority. They included 12,343 dwelling units (temp and permanent), and two 5,000-bed dormitories. Along with the development came 8 schools, roads, sewers, water, shopping centers and care centers. In 18 months the east side of Vancouver was transformed. McLoughlin Heights, Ogden Meadows, Fruit Valley Homes, Fourth Plain Village, Bagley Downs and Burton Homes. Hilborn designed several of the row houses and individual homes, as well as the elementary school for the Vancouver Housing Authority. After the war, Hilborn proposed a way to remodel the homes into more attractive units.
Like many architects looking for work during the war years, Hilborn took just about any job to make ends meet. His job list notes several additions and remodels during the war period as well a variety of small job like adding a porch to a home, or remodeling a kitchen.
When the shipyard closed after the war many people left (some 2,000 families in a three month period). Others stayed in Vancouver and the returning GI's who were ready to start a family, but they also required permanent housing and services. Immediately following the war Clark County still had just three architects. Again Hilborn was ripe for business. Commissions for private dwellings and businesses came in by the handful.
One of the more fun projects that Hilborn designed was the Spic-N-Span Drive in 1949. After it opened Hilborn often dropped by for a have a quick lunch while he sketched ideas for new structures he was working on. Stories persist about the well-dressed Hillborn sitting own at the then popular hangout for lunch one day. In one-hand- was a pencil, and the other a burger. As the Hilborn sketched between bites, patrons looked over his shoulder. One observer asked… who do you think you are Day Hilborn?
The story is really indicative of Hilborn's involvement in the community. He seemed to know everyone in town and had many connections. He was chairman of the committee organized for revising the Clark County building code, served on the Vancouver Board of Equalization, and for a long time on the Vancouver Board of Appeals. He was also asked to serve on the restoration committee for the rebuilding of Fort Vancouver. He belonged to the First Methodist Church, was a member of the Salvation Army and its advisory board, BPOE, the Navy League, the American Legion, Royal Oaks Country Club and the Society of Professional Engineers.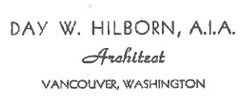 Hilborn continued his love of music by belonging to a barbershop quartet. Earle Castle, Frank Davies, Gordon Alvord, and Hilborn performed in Vancouver for many groups, including on radio station KVAN, and the participated in contests in both WA and OR. Hilborn also often sang solos for many events.
His persona, looking back on it today, seems almost legendary. On March 30, 1930 the Columbian reported that Hilborn had saved a woman's life when he rescued her from the showboat "Swan" after it had been rammed by the lumber schooner Davenport. "Hilborn picked her up and fought his way through the milling crowd of 300 up the stairs to safety."
Hilborn used his connections and lifelong friends well. His job lists show that he often designed multiple projects for his clients. For example Hilborn designed a home for Dr. Leslie Nunn in 1936, then three years later designed a clinic for him in downtown Vancouver. He did the same for Dr. Parish, Mayor John Kiggins, Robert DuBois and Loren Corder to name a few. Hilborn seemed to design most of the dwellings for Vancouver's political and social elite. Among his projects were the Elwood Caples House (city Attorney) Raymond & Eleanor Bachman House (V.P. of the Columbian), Harold & Pauline Whitefield House (Whitefeild Real Estate Co), the Elwood, Dr Ralph Carter House (mayor & Dentist), the A.W. Kendall House, the Eugene Cushing House (Prosecuting Attorney).
With the war over, Vancouver began to return to a sense of normalcy. By 1950 Vancouver's population had almost tripled in 10 years to 41,664. As a result the city hired its first planner in 1953, Einar Hendrickson. The city was booming once again. 6.8 million $ in building permits were taken out in 1956.
The residential and commercial architecture nationwide took a shift to new building materials, cleaner lines, and mass production. Hilborn's designs followed suite to keep up with times. Despite his formal Beaux Arts training and preference for period revival details, Hilborn's projects during this time show a strong understanding of modern design principles.
His first modern post war building was the Gateway building for Al Erdman. The $70,000 building is an early example statewide of the International style and housed the Fuller Paint Company on the first floor and a variety of offices on the 2nd floor.
Corder Motors and Hoffman's Men's Clothing store introduced modernism to both downtown and uptown. Hilborn turned a simple two-story business block on Main Street to a signature building with a complete facelift for Mayor Kiggins in 1946.
The Salvation Army Building in downtown and the Vancouver Sign Company in Hazel Dell were strict modern interpretations of traditional building forms.
In yet another successful bid, and knack to keep clients long term, Hilborn designed the second home for the Columbian in 1955. They had long outgrown the space that Hilborn and Gough had designed for them in 1928 and needed a new "modern" facility. Charles S. White, Hilborn's brother-in-law, acted as the general contractor for the building and many of Hilborn's projects.
Other modern design included expansions to Shumway Jr. High School (Gym, Music Room, and Shop) in 1952. A proposal for a new high school (Hudson's Bay) in 1952, and the first real facilities for the upstart Clark College.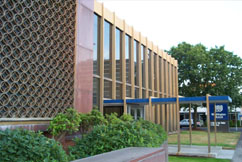 If the Kiggins Theater was Hilborn's masterpiece of the 1930s, and the Clark County Courthouse, forever sealed Hilborn's fate, it's really the Vancouver Federal Savings and Loan, which demonstrated Hilborn's skill as an architect. Completed in 1960, Hilborn was nearing the end of his career. He was 63 years old.. but full of life and new ideas. The Columbian called the building "Proof of Great Faith in the Community" and not only the newest addition to the downtown area, but it also the most beautiful.
Hilborn and his staff spent weeks designing every detail of the building from the cabinets and casters, to the stair railings and connectors for the exterior aluminum screen. Over 75 sheets of architectural details were developed. (excluding plumbing and mechanical). The new bank was the pride of the city with a multi-page spread in the newspaper and advertisements of congratulations by various sub-contactors. Vancouver own nationally know sculptor James Lee Hansen, created the 6 foot tall abstract eagle in lobby. Such innovation included heated sidewalks, a 145 ft deep supply well, provisions for a carillion bell system in the tower, Walnut and butternut wood trim, a closed circuit TV, public meeting rooms in the basement, and a drive thru tellers window protected by bullet proof glass.
It was also during this time that Hilborn completed a large corporate headquarters building for Mayflower Dairy in Portland. Hilborn has designed other Mayflower store/plants in Camas, Vancouver and Hillsboro.
Day Walter Hilborn passed away in Vancouver on November 8, 1971 at the age of 74.
By Michael Houser, State Architectural Historian - Oct. 2011