Architect Donovan Clark Byers may have been one of the most prolific architects in the Portland metropolitan area during the 1940s, 50s and 60s. To date there are at least 112 known buildings designed by his hand in the Portland metropolitan area, and several in Washington State. And between 1948 and 1951 he designed over 2,500 housing units, mainly in the form of garden court apartments and residential apartment towers. His work includes shopping malls, restaurants, hospitals, churches, office buildings, banks, and countless single-family residences. However it may be series of plan books which had the greatest impact on the built environment here in the Pacific Northwest and beyond.
Don Byers' work also includes some of the tallest buildings in the state of Oregon at the time of their construction. Among them, is the $4.5 million, 24-story Panorama Apartments. At 224 feet high, the building was Portland's tallest apartment complex when it opened in 1964 and the second tallest building in the state of Oregon, subordinate only to the Portland Hilton Hotel. Byers work was also featured in a variety of national and regional magazines for his innovative use of materials and unusual construction techniques. Among them was St. Matthew's Episcopal Church, built in 1957, which was featured in Architect and Engineer magazine in December of 1958, for its use of parabolic arches, which highlighted a glass end curtain wall. The church was also featured in numerous advertisements for its innovative use of the Pella Company's new folding door system. Yet despite Byers' impact on the built environment particularly in the Portland area, he is almost unknown by preservationists, scholars, and many architectural historians.
Born Donovan Clark Byers on April 28th, 1912. He grew up in Alvadore, a small town about 10 miles outside of Eugene, Oregon. After attending grammar school in Portland, the Byers family moved back to Alvadore, where at Eugene High School Don took a liking to mechanical drawing and decided to become an architect.
After high school Byers enrolled at the University of Oregon majoring in architecture. There he studied under Ellis Lawrence, the Dean of the School of Art and Architecture, and Walter Wilcox, the Head of the Architecture Department. This was at the time when Lawrence and Wilcox were scrapping the traditional Beaux Arts curriculum and replacing it with an innovative program based on an affiliation with the allied arts (painting, crafts and sculpture), rather than with engineering. They were also utilizing a non-competitive, individual approach to learning which was the exact opposite of the competitive Beaux Arts approach. The teachings of Lawrence and Wilcox helped the young designer balance these divergent approaches to architecture, and in later years would enable him to apply a broad stylistic vocabulary to a diverse set of building types and needs.
Byers' projects during school proved him to be a talented student and for a time he considered changing his major to sculpture. However, before he graduated the realities of the Depression caught up with him and he attended school off and on from 1930 to 1936. One-year shy of his degree, he was forced to leave school to make ends meet. After leaving school, Byers eventually wound up in Portland working as a draftsman for building designer, Harry Boland, and his design firm, Universal Plan Service.
At the time Byers joined the firm in 1934, Boland was busy carrying out his vision to make it possible for people with limited means to build an individually designed home for a very low architectural fee. In order to do this, he assembled a large number of stock plans, publishing his first plan book in 1926. Tudor, Colonial, Craftsman, and Spanish Colonial designs were all featured. Copies of the plan book sold from 75 cents to $1.00 each. Orders for Universal Plan Service's books came from all parts of the country during the building boom of the 1920s. By the mid 1930s, Universal Plan Service was one of the largest residential architectural firms in the Portland area. When the Depression struck the construction industry in the 1930s, Universal Plan Service continued to do well. Now more than ever builders were anxious to cut every corner in their expenses. One popular book in the late 1930s went into its 5th reprint, selling a total of 50,000 copies. The 1930s also saw the expansion of the business to international markets as orders for plans from Universal Plan Service began to come in from foreign countries all over the globe; from places as far away as Turkey, the British Isles, South Africa, and South and Central America.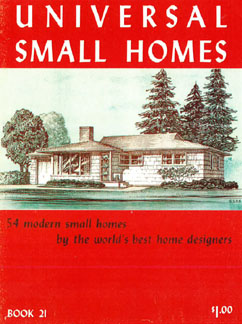 By 1940, six years after Byers had arrived at the firm, Universal Plan Service had sold 158,000 plan books. And by 1950, the company had sold nearly 500,000 plan books. Estimates show that in Portland, area alone, the firm sold plans for nearly 10,000 homes. Their last plan book was published in 1960.
In 1937 Byers left Universal Plan Service for a short time and went to work for fellow Boland employee, Howard Gifford. Gifford was just wrapping up his work as part of a team of designers working on Timberline Lodge and was well known in the architectural community. The record is unclear during this time, but reports indicate that Byers acted on behalf of Gifford as Maintenance Engineer for the Housing Authority of Portland during WWII, a relationship which would serve him well in later years. While there for 8+ years he designed a number of residences and small commercial buildings with Gifford. During Byers time with Gifford, Harry Boland acted as Gifford's business manager.
Gifford passed away in 1945 and Byers, after finishing Gifford's work which was in progress, went back to work for Boland and Universal Plan Service. At that time he also opened his own firm on the side. Byers was just 33, and became a full partner at Universal Plan Service.
While the firm continued to produce single-family residential plan books, under Byers' management and guidance, they began to receive larger commissions. During the 1930s and 1940s, the firm began to dabble in the Streamlined Moderne style. Examples include the McCall Oil Building on Powell Blvd with its stucco exterior, glass block and Brise-de-soleil shades; and Phillips Electronic Building (1946) on 11th and Flanders.
In 1946, with no registered architect in the office, Byers took the Oregon State Board of Architect examiners test. As the head designer for Universal Plan Service, Byers was most likely responsible for most of their designs. By 1950, the company was doing very well. It was estimated that the value of the housing projects that Byers had personally designed was between $25 and $50 million dollars.
The popularity of the Universal Plan Service's plan books, now mainly under Byers control, afforded him many invitations to interact with the public regarding his professional opinion on good residential design and construction techniques. He spoke numerous times for the Eugene, Longview-Kelso, and Portland chapters of the Home Planners Institute. During his lectures he often warned contractors against unnecessarily cutting all the trees from lots, and advised homeowners to "plan their homes to fit the site with rooms facing the proper direction for adequate views and sunlight".
In the mid 1950s, Byers was asked to develop a series of "Home-of-the-Weeks" for the Oregon Journal's NW Living section. He had previously been afforded a two-page article describing a design he developed in 1953 called the "Trade Secret House". The home was modeled after the "Trade Secret Home" featured in Life magazine a few months before. Byers' design had adapted the original plan to meet local conditions in the Northwest. Priced at $15,000, the 1,342 sq. ft. home was eventually built by the Portland Home Builders Association at its yearly show. After the show, the home was reportedly cut in half, moved to a new site and then sold. Its current location at SE 96th and Lincoln was then used again in the parade of homes in September of that year.
Byers seemed to have a talent for model homes, or at least a solid connection with the Portland Home Builders Association. His affiliation to the Association may have started in 1948 when he acted as supervising architect for "Mr. Blandings Dream House". The house was a promotional venture to announce the release of the movie "Mr. Blandings Dream House" staring Cary Grant and Mryna Loy. The movie, which portrays the trials and tribulations of home ownership resonated with a public living in the post-war housing boom. The premise was reworked later for a radio series in 1949. And over the years, the plot has been reincarnated countless times, most notable in a remake in 1986's called the Money Pit, starring Tom Hanks; and most recently in a movie called The Dream House in 1993. The model house, located on Walker Road, in Cedar Hills, showcased the latest in construction materials and featured over $30,000 worth of Meier & Frank furnishings. Byers went on to design the Association's 1950 Mid-Century model home, (location unknown) and its 1953 General Electric Model Home.
Located in the west hills of Portland, the General Electric Model Home was reportedly "perfect and complete to the last detail" and was "excellently planned for a maximum expression of living enjoyment in the great northwest." The Oregon Journal called the house, the "home of electrical ideas" and "a home of delightful surprises". Byers' plan utilized a wide porte-cochere and circular entrance driveway. Roman brick planters, glass blocks, and fluted glass sidelights greeted the homeowner as he or she entered the house. Off the entry vestibule was a large 19' x 38' living / dining room combination, which featured an unusual drum-type brick fireplace with a built-in planter. Of course in the kitchen, General Electric had supplied all of its latest appliances. Over 15,000 people toured the four-bedroom home in just a few days. The house was eventually sold for $40,000, and is still owned today by relatives of the original purchasers of the house, Earl and Virginia Rowe.
Byers and Universal Plan Service experienced a huge increase of business in the 1940s. Wartime mobilization had transformed the Portland area into a shipbuilding center, and its population swelled by a staggering 23 % over ten years, from 305,000 in 1940 to almost 374,000 in 1950. Workers from all over the country poured into the city to man the shipyards, which between 1940 and 1944 produced more than a thousand oceangoing vessels. Housing tracts and apartment complexes sprang up almost overnight to shelter the influx. It was during this time that Byers and Universal Plan Service reportedly designed about 1/3 of all the single family residential housing units in the Portland area. Designs ranged from what are called WWII Era cottages, to Colonial Revivals, to Ranch Houses and full-blown contemporary dwellings. Despite these numbers only a handful of dwellings have been identified to date as Universal Plan Service designs.
In addition to the hundreds of single-family residences, between 1948 and 1951, Byers reportedly designed some 608 apartment projects scattered throughout the Pacific Northwest. Byers' apartment designs fall into two categories: garden court apartments and tower or corridor apartments. His garden court apartment designs allowed each apartment it's own outside entrance off a wide and often highly landscaped courtyard; all planned for the maximum of privacy of each unit. They were generally built outside the city core in the sprawling suburbs and frequently on corner lots. His designs usually incorporated a brick veneered first floor, which highlighted a second story covered in horizontal clapboard. Almost all of Byers' garden court apartments utilized a hip or gable-on-hip roof design. A distinguishing characteristic of many of his designs was the use of basement garages, which gave his garden apartments a raised entry court yard. On the garage door side, concrete abutments and trusses supported a balcony for the apartments above.
Byers' tower or corridor apartments all have their entrances from a central corridor which is reached from either a front door to the building, a stairway or by elevators. His tower apartments are located in mainly high-density areas of downtown Portland, although he did provide tower apartment designs for other cities including Medford, Corvallis, Eugene, Salem, and even Anchorage, Alaska. Modern high-speed elevators served all of his tower apartments. Many of the tower designs provided their own parking in a multi-level garage adjacent to the main apartment structure or under the tower so that the urban dweller need never go outside to reach the car, successfully avoiding the constantly drizzly northwest weather. His tower apartments show a distinct geometric pattern with building footprints of an "X" or "+". While the banding of multiple groups of windows without mullions gave the structures a horizontal, almost international style flavor; they are broken by articulated end walls which had a strong vertical component. Another favorite design element of Byers was the use of the uninterrupted corner window, which gave each apartment dweller an unobstructed view of the city. His whimsical play of curving or round elements at the entryways of each geometric tower softened the harsh realities of the poured concrete and concrete block designs.
In 1954 Byers and Boland moved into their new architectural offices in NE Portland. The firm had previously been in the Railway-Exchange Building in downtown. The historic two-story home behind the modern office building was converted into a duplex. The office had a reception room, three conference rooms, two private offices and a large drafting room.
After almost five decades of design work, Byers officially retired and closed his office in the early 1980s. At the time of his retirement he held licenses in seven states including Washington, Oregon, California, Arizona, Montana, Hawaii and Alaska. His know projects in Washington State include the double A-framed Olson Oldsmobile Dealership (1965) in Shoreline; and the Gov-Mart Bazaar Shopping Center (1967) in Renton.
In 1989, Byers was fatally stuck by a car while attempting to cross McLoughlin Boulevard in Portland, Oregon. While his building designs may not live up to the stature of such Pacific Northwest architectural giants as Pietro Belluschi, Van Evera Bailey, or Richard Sundeleaf, Byers' work should be appreciated for its significant impact on Portland's urban landscape. His buildings convey an important message relative to their time and place in history. And unlike Belluschi and Bailey, Byers created an unusually high number of structures that directly impacted the day-to-day lives of the middle class, suburban and urban dweller. His presence can be found in the built environment in countless cities throughout the nation and maybe even throughout the globe. Such work should make Byers one of the more notable architects of his time.
Michael Houser - Washington State Architectural Historian