Born in Liverpool, England, Edward Thomas Osborn received his formal education in the United Kingdom and acquired his British Architectural license in 1891. Reportedly Osborn worked in New Zealand, California, British Columbia, and Alberta before he arrived in Washington State. Census records and immigration manifests show Osborn traveling to and from Victoria B.C. and San Francisco several times from 1905 to 1918. He joined the local San Francisco chapter of the American Institute of Architects in 1912 but is recorded as having worked as an assistant for B. Marcus Priteca in Seattle by 1918.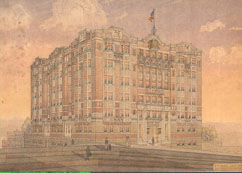 Osborn opened his own practice in 1920 after having received his State architectural license on December 16, 1919 (License No. 118). A renowned delineator, he often worked with other designers including Edwin W. Houghton and Arthur Wheatley. Osborn is listed in the Seattle Polk Directories as an architect until 1932. He may have returned permanently to England having gone to visit his sister as late as 1936. Death date and place of death is unknown. The University of Washington holds several or Osborn's drawings in their Special Collections Department.
Known projects include Trinity Episcopal Church, Everett (1921); the Charlesgate Apartments (1922), the Lynnwood Apartments(1922-23), the Rowe Apartments (c.1924) and the Commodore Apartments (1927) all in Seattle. He also designed the Central Auto Stage Terminal, (1924, with Arthur Wheatley; unbuilt project) in Seattle; co-designer (with McCarter & Nairne) on the Opera House (c.1916), the English Bay Hotel (c.1918) and the Natatorium (c.1915) in Vancouver, B.C.