Spokane architect Franklin P. Manz was born on February 20, 1888, in Lyons, Iowa. He suffered losses an early age and was only four when his father died. By the time he was twelve Manz was living with his widowed grandmother, Anna Majer. She provided a good life for him and upon graduation from Lyons High School in 1906 he enrolled in the Armour Institute in Chicago, studying structural engineering. For reasons unknown, he left the Institute and transferred to the University of Iowa, reportedly graduating with a bachelor's degree in architecture around 1908. While there he was a member of the Sigma Chi fraternity. During his studies his widowed aunt, Fannie Majer and her son Ernest Majer, had moved to Spokane, Washington and Manz followed them to the city, spending the summers between his studies there. He arrived in Spokane sometime around 1909. In fact records indicate that he was married in Spokane to Mae Neil on Sept 4, 1909. Initially he took a job as a draftsman for the Ballard Plannery Company. With valuable work experience at hand, by 1912 he was ready to open his own architectural firm, which he called "The Plan Shop".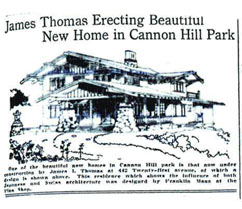 Manz specialized in high-end Craftsman style Bungalows and American Foursquares (many with Prairie Style detailing), and his projects serve as some of the best examples of the style in the city. Notable designs included: the McMillen-Dyar House (1912, 526 E 12th Ave); a house at 532 E 12th (1912); the G.E. Lovell House (911 E 20th, 1913); a house at (442 W 21st Ave, 1913); the Harry & Dorothy Alvis House (448 W 21st, 1913), the John & Agnes Pritz House (438 W 21st, 1913); the Durkin House garage (930 S Lincoln, 1915); the S.D. Weaver House (720 W 23rd, 1912); the Hugo Oswald House (1004 W 17th,1913); the Howard & Fie Harrison House (438 W Shoshone Pl, 1913); a spec home at 716 W 23rd (1913); the Cunningham House (1220 S Division, 1913); the Alex J. Lindsay House (532 e 12th Ave, 1912); and the Robert J. Hart House (1624 S Tacoma, 1913).
Non-residential projects included the Apple Show Building (1916); a hotel for Milwaukee Lumber Co. (1913) in St. Joe, ID; Fire Station No.13 (1913, Wabash & Jefferson) in Spokane; and the a 10 story building (design only) for the Spokane Ad Club Building (1912).
During WWI Manz was drafted in 1917, and he left Spokane. As a college graduate, he was commissioned as a 1st Lieutenant, serving in the U.S. Air Service, assigned to the 682nd Signal Corps Squadron which was based in Huston, Texas. He left the service in 1919 without being deployed overseas and following his discharge, he and his wife Mae lived briefly with other family members in Savanna, Illinois. They returned to Spokane in 1920 but for reasons unknown by 1924 they had moved to San Gabriel, California settling into a home at 2231 South San Gabriel Boulevard. While there, Manz took a job as a civil engineer with the US Army Corp- Los Angles District (1938-1955). By 1956 he was working as a construction engineer for Holmes & Navers. During his later years, he lived in Pasadena with his son, Franklin A. Manz, his son's wife Marjorie, and their daughters Connie and Catherine. He passed away in Pasadena, California on May 11, 1962.
By Michael Houser, State Architectural Historian - October 2013