Architect George Paris Thompson was born in Mebane, North Carolina on Feb 2, 1850. To date the history of his early life and educational background are unknown. Reportedly by age 19 he left the family home in North Carolina, but his specific whereabouts are unknown. By 1880, census records indicate that Thompson (then age 30) was living in Walla Walla, where he practiced as a carpenter. Like many builders of the day, Thompson began to advertise himself as an architect, first appearing as such in the 1883 city directory. He partnered with H.I. Joslin for a short year and then returned to his indvidual practice. No verififed design by Thomson have been confirmed to date, although he surely had a hand in building and/or designing numerous structures in the city during his 20+ year residency in the community.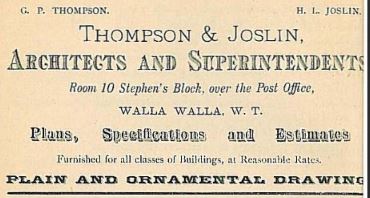 It was during this early part of his residence in Walla Walla that he married Ms. Abbie R. Cope on April 5, 1883. Together they had three children, two girls and a boy. The family remained in Walla Walla until 1909 and most likely moved to California to be close to Abbie's family. His name is dropped as a architect in the Walla Walla begining in 1906. Eventually Thompson and his family settled in Escondido, California. Immediately upon his arrival he joined with M.B. Hawkins in the Escondidy Building & Construction Company, but the partnership only lasted a year. He then formed a partnership with builder Clarence J. Hinman, but that also lasted a year. According to newspaper accounts in 1910 Thompson re-entered into partnership with the both of them forming the Escondido Building & Construction Company. Known projects by Thompson in California are limited to the Union Bank; the Escondido Episcopal Church; and a house for Dr. Sniff.
Thompson died in Los Angeles, California on June 25, 1928 at the age of 73.
By Michael Houser, State Architectural Historian - June 2020