Tacoma architect Gustavus C. Clements was born in Ohio in 1852. His early life and training is unknown, although some census records indicate he worked as a carpenter before he became an architect. Prior to his arrival in Tacoma he had formed a partnership with H.J. Bingham in Huron, South Dakota. An advertisement in the Huron Daily Hurionite on June 11, 1886 notes "Bingham & Clements, Architects & Civil Engineers." When he arrived in Huron or how long the partnership lasted is unknown.

Directories and census records from Tacoma indicate Clements arrived in the city as early as 1889. Shortly thereafter he was joined by architect Louis L. Mendel. The younger Mendel was born in 1867, and had emigrated from Germany to the U.S. in 1882. Reportedly before settling on the West Coast in 1886, he worked for several years in the Midwest. He appears in various Seattle and Tacoma directories from 1889 to 1903, as part of various architectural offices. He formed a partnered with G. C. Clements in about 1889 through 1891, then remained in Tacoma and joined a new partnership, Roath & Mendel, for at least one year, 1892 before eventually joining Charles Bebb's architectural practice in Seattle. In 1901, Mendel became a partner in the office, forming one of the region's premier architectural firms, Bebb & Mendel. Together they designed some of Seattle's most prestigious residences and hotels. Louis L. Mendel remained in Seattle with his family until he passed away in 1940.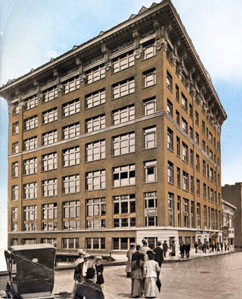 Despite only existing for about two years, the G.C. Clements firm designed many buildings in Tacoma and elsewhere across the state. However, few of these buildings remain. Reportedly the firm drew plans for some of Tacoma largest buildings. These included the Waddell Building (1890), the Lister Block (1890), Siler Block (1889), and the Bradley and Thompson buildings. They were most known for their school designs. Projects include Tacoma's Irving School (1890) and Emerson School (1889), schools in Sumner (1891), Kent, Sehome, Whatcom, and other communities. The firm claimed at least seventeen school projects in Western Washington built between 1889 and early 1891. Of their known school designs, all have been demolished except for Lincoln School (1892) in Port Townsend.
Shortly after the Lincoln School project was designed and while construction was underway, Clements got into legal trouble. He was arrested in Portland, Oregon in 1891 for apparently skipping town with embezzled money. After that Clements seems to have moved around often. He was part of the Clements & Hazell architectural firm in Portland, Oregon for about one year in 1892 but had relocated to southern California by about 1904. After being based in San Diego (1905-11), Clements moved his practice to the other side of the mountains in Bishop around 1913. He continued to practice as an architect through at least 1916 and passed away in San Bernardino, California on January 23, 1923 at the age of 70.
Adapted from Lincoln School NR nomination - June 2017