Harold Emmons Crawford was born in Grinnell, Kansas on June 1, 1890. The family came to Walla Walla via Fairmont, Nebraska in 1904. Crawford graduated from Walla Walla High School and attended Whitman College, graduating cum laude in 1911. After graduation he attended MIT where he received a Bachelor of Science degree in architecture in 1913. That year he wrote a thesis on the construction of small factory buildings published by MIT.
Returning to Walla Walla, Crawford established an independent architectural practice and served as chief architect for the Tum-A-Lum Lumber Company (a subsidiary of the family business; the Whitehouse & Crawford Company). The company offered a free plan service for their customers in hope that they would buy products for the construction of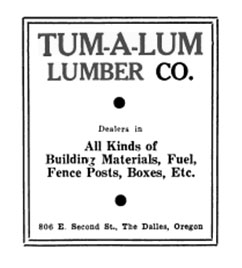 their home from the lumber yard. While no specific designs by the company have been identified, the company operated over 40 retail yards in Eastern Washington and Oregon. Crawford remained head of the architectural services department into the 1940s and became Vice President of the company upon his father's death. Unfortunately records for the company, along with Crawford's Office files were destroyed by a fire in 1960.
In 1919, when Washington and Oregon began licensing architects, Crawford received Washington license No. 34, and Oregon license No. 101, under the grandfather clause. Reportedly he designed a number of buildings on the Whitman College Campus however, his only verified designs are the C.J. Breier Building (1926), the City Hall/ Fire Station (1927) in Pomeroy; the Braden-Bell Building (c.1925) in Walla Walla; and a shop addition (1944) to Weston School in Weston, Oregon.
Active in social circles, Crawford was a member of the Whitman College Board of Overseers, played the cello in the Walla Walla Symphony from its inception in 1907. He was also an active member of the American Society of Civil Engineers and was awarded an honorary Doctor of Science degree from Whitman College in 1959.
Crawford died in Walla Walla on June 28, 1980 at the age of 90.
By Michael Houser, State Architectural Historian - Dec. 2011