Born in Omaha, Nebraska on November 10, 1908, Seattle architect Harrison John Overturf was raised in Tacoma graduating from Stadium High School. He studied architecture at University of Oregon and University of Washington but never received a formal diploma. Instead, like many architects of his day, Overturf gained valuable skills by working on-the-job. He spent his early years working in Tacoma for the noted architectural firm of Heath, Gove & Bell as a junior draftsman at the age of 16 (1924-26). He then went to work for Tacoma architect Silas Nelson (2 months); and then engineer R.C. Stockton (6 months) before returning to Heath, Gove & Bell as a chief draftsman (1927-28).
With vauable experience at hand, Overturf moved to Seattle and became the chief draftsman and designer for George W. Stoddard (1929-41). His skills impressed Stoddard, and eventually Overturf rose to the level of associate. As a result, he is often noted as the co-designer on many of Stoddard's projects, particularly residential commissions. Known designs by Overturf while at Stoddard's office include several model homes for builder Albert Balch in his View Ridge subdivision (1937); the E.A. Uehling House (1938); the Dr. Bernard Jankelson House (1940); and the Dr. Kenneth Cole House (1940), which was first built as a model home demonstrating the latest design trends in the Puget Sounds area.
During the war years, Overturf served as Leutenant Colonel, for the U.S. Army Air Corps (1942-46). Upon his return to Seattle, Overturf formed a lasting partnership with fellow Seattle architect William J. Bain. The partnership allowed Bain to focus on residential projects, while he maintained another partnership (NBBJ) for larger projects. For a short time Bain & Overturf were joined by Edwin T. Turner (1948-49); but remained as partners (1946-72) desiging mainly residential projects for 30+ years until Overturf's death.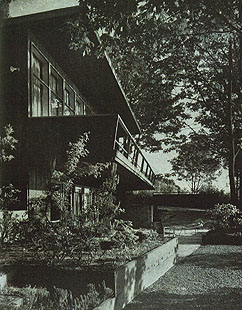 Their first project, acredited to Overturf, was the design of a model home for the American Legion at 8801 20th Ave NE in Seattle (1947). Other early projects include the T. D. Davies House (1949); Overturf's own home (1951); and the W. E. Boeing House (1953) in Fall City. The Bernard C. Sevener House (1952) brought the young firm much needed publicity. The home was featured in both House & Garden Magazine (Oct 1955) and House & Home Magazine (Sept 1955).
Overturf and Bain also designed some non-residential projects. Known work includes the John Doyle Bishop Stores (1954, 1968) in downtown Seattle and at Southgate Mall; renovations to the Washington Athletic Club (1955); an addition to the Kappa Delta Sorority House (1956); the Loomis Armored Car Service Building (1955); the L.H. Butcher Co. Building (1958); and the Bonney-Watson Mortuary Building (1961) all in Seattle. One of their bigger prjects was the Wesley Gardens Methodist Retirement Home (1961) in Des Moines.
Overturf and Bain's early work tended to focus on period revival styles, later projects show their skills as delinators with a clear understanding of the modern style. Other notable projects in the modern vein include the Elizabeth Smithson House (1968); and several homes in the Cantebury neighborhood (1960-65).
Overturf was a frequent guess lecturer at the University of Washington in the Interior Design program (1954) and served as the Seattle AIA President (1958-59). While there he was involved in the Century 21 State Beautification Committee (1959) and designed their award signs.
Overturf died in Seattle after a long illness on January 24, 1972.
By Michael Houser, State Architectural Historian, May 2012