Architect Herbert Monroe Keeney was born August 27, 1866 in the community of Oswego, in upstate New York. Polk directories show that he served as a carpenter early in his career. His formal architectural training, if any, is unknown. However census records indicate that he had some type of four year degree.
Regardless of his training, by 1900 Keeney had moved to Conneaut, Ohio and began to bill himself as an architect. Then around 1904 he moved to Winston-Salem, North Carolina and set up an independent architectural practice. While there, he heavily advertised in the local newspaper, but no known projects during this time in his career have been found.
For reasons unknown in 1907, at the age of 41, Keeney moved to Tacoma and took a job with architect Frederick Heath. By the next year he formed a short-lived partnership with fellow local architect George Trust. However, to date, no projects have been found that are tied to Keeney in Tacoma. Perhaps this indicates a lack of work since in 1909 Keeney moved again, this time to Spokane. While there he met his wife Minnie L. Deal. They married in Coeur d'Alene, Idaho on September 24, 1910. Together they had no children.
Keeney opened his own practice in the city of Spokane. Projects included the Northwest General Trading Company Warehouse (1910, NW corner of Division & DeSmet Ave); the L.F. Reinhardt House (1910, 22nd Ave & Myrtle St.); and the J.T. Wright House (1910, 734 Park Pl) which reportedly brought the Dutch Colonial Revival to Spokane.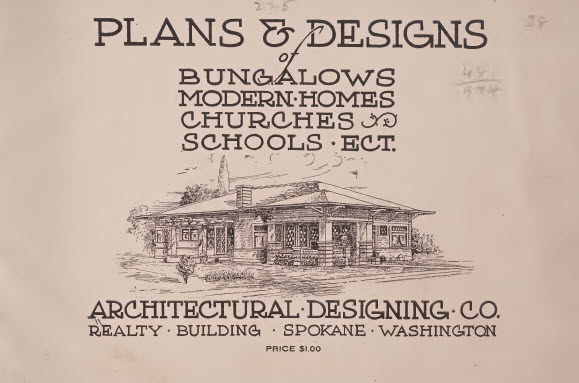 In May of 1912, Keeney formed a partnership with fellow New Yorker, Howard J. Bensinger, under the name "Architectural Designing Company." They had offices in Realty Building in downtown Spokane. Together they created a 144 page book of architectural plans which sold for $1.00. The book highlighted designs of craftsman bungalows and other dwellings but also included designs for churches and schools. By October of 1912 Bensinger retired from the architectural profession, but Keeney continued under the Architectural Designing Co. name for an additional five years.
Projects during this phase of his career include the Coulee City School (1912); the G.F. Ward House (1912, Plan No 133B, 3813 Normandie St); the J.F. Bode House (1912, Sherman & Rose Ct); the Howard Russell House (1912, Plan No 112B, Normandie St); an addition and alteration to a school at Milan (1913); the Eagles Hall (1913, Madison St); and a schoolhouse for the Chilco district (1913).
In 1917, reportedly Kenney moved again, this time to Gastonia, North Carolina. By then, Keeney was 50 and divorced. He moved to the community with his mother and opened an independent architectural practice. Known projects in the community are limited to the Mrs. Charles Day House (1917, New Hope Rd). After spending time in Albuquerque, New Mexico and Colorado for two months in 1918, he decided to move back to the west. In January 1919 he joined the architectural firm of Fitzhugh & Fitzhugh, but was soon appointed to be the city building inspector for the City of Phoenix.
He remained with the city for several years, but by the mid-1930s he had returned to private practice. Known projects during this latter part of his career include several building in Tucson, Arizona as well as the J.D. Halstead Lumber Co. Building (1928, Grand Ave.) in Nogales, AZ; and the Myers Duplex in Walnut Grove (1929).
While in Arizona Keeney spend a majority of his time living in Maricopa, a suburb of Phoenix. He died in Prescott, Arizona on Dec 18, 1946 at the age of 80.
By Michael Houser, State Architectural Historian - March 2020