Architect Howard Huston Riley was born in Lima, Ohio on August 21, 1890. After studying architecture at University of Pennsylvania, he moved to Victoria, B.C. and formed a partnership with Louis Yelland (1912-1914). Known projects in Canada include the William V. Coon House (1913); and the J. V. Perks House (1913).
By 1914, Riley had moved to Seattle and began working for architect B. Marcus Priteca (1915-16). After gaining valuable experience and making contacts here in Washington State, he formed a new partnership with Seattle architect, Edwin J. Ivey in 1918.
Together the partnership of Ivey & Riley (1918-21) designed a variety of period revival dwellings including 10 frame residences for the Mutual Construction Company in West Seattle (1918); the Flora Hahn House (1919), and L. A. Levensale House (1920) in Seattle; and the Frank H. Cooper House (1921) in Lake Forest Park. Other known design designs by the firm include a store building for the Puget Mill Company at Alderwood Manor (1918) in Lynwood.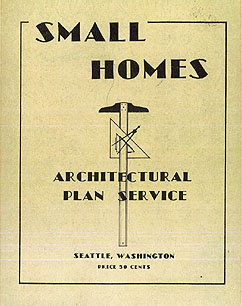 Reportedly due to financial difficulties, the partnership was dissolved in 1921 and Riley opened his own independent practice. During this time he designed several period revival apartment complexes including the Flemington Apartments (1924); the Wembley Court Garden Apartments (1924); and the Conrad Apartments (1926).
Other known projects include the Fremont Baptist Church (1924); Alpha Chi Omega (now Alpha Xi Delta) sorority house (1926); the Brooklyn Building (1928-29); and several small mill houses in Port Townsend (1928).
In 1936 Architect & Engineer magazine reported that Riley was adjusting his practice to focus on small house design. To facilitate this he published a "Small Homes" plan book and began offering complete plans and specifications to homeowners and contractors for as low as $25.00. He also published a series of articles on the subject in a variety of home journals and advertised his newly focused practice as far south as Olympia.
Riley continued his practice until his death in Seattle on December 23, 1950. Known later projects are limited to the A. J. Eyerdam House (1941); and the Rainer Community Hall (1951).
By Michael Houser, State Architectural Historian