Architect/ engineer James Wolfe Sussex was born in Dunlap, Illinois on March 22, 1878 and grew up Galesburg, Illinois. He received his formal training from Hedding College and the University of Illinois where he graduated with a degree in civil engineering in 1903. Sussex's obituary notes that he was employed at West Point under General MacArthur, however this claim cannot be verified by any formal documents and MacArthur's timing at West Point does not line up with Sussex's known career path. Interestingly military records do show that a James W. Sussex served as an Army clerk at Fort Vancouver in 1901, but this may be another individual since no other military connections has been found, and Sussex would have been in school at the time.
Upon graduation from the University of Illinois, Sussex gained a variety of experience, mainly by working as an surveyor/engineer. Records indicate that he worked as a draftsman for Delaware, Lackawanna & Western Railway (1903), as an assistant engineer for A. Potter (1904), and as a transitman for the Pittsburg, Akron & Western Railroad (1905). He was then appointed assistant engineer for Reclamation Service and assigned to Casper, Wyoming (1905). For reasons unknown, by 1907 he had moved to Wenatchee and decided to opened his own practice. There he billed himself as a civil engineer and architect, specializing in irrigation, hydraulics, mining as well as architecture. His skills were quickly sought by the city and his was appointed as the first building inspector and street commissioner for the city in 1908.
Sussex had political ambitions and ran for office several times. He first ran for County Engineer on the republican ticket in 1908, but decided to drop out of the race when his business starting to increase. He also served on the Wenatchee city council for a year, but resigned after a year (1911). In 1916 he ran for County Engineer again, but did not win the race.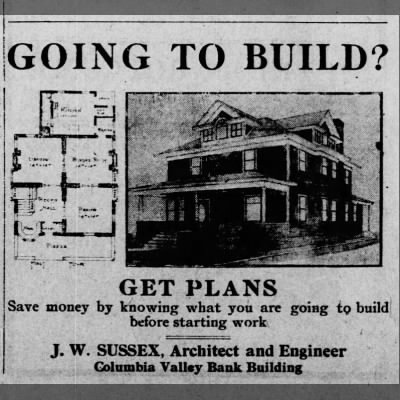 Sussex successful practice in Wenatchee produced a wide range of projects including a two-story, four-room schoolhouse in Peshastin (1909); the enlargement of Peshastin ditch (1907); the Weigand Building in Leavenworth (1908); the addition of fire escapes to a variety of school buildings in Wenatchee (1908); a mausoleum for Wenatchee Undertaking Co. in Wenatchee cemetery (1909); the Wenatchee Daily World Office (1910); the Russell-Plough Block in Wenatchee (1910); the Christian Church in Wenatchee (1910); the R.M. Lewis House (1910); the Eagle Transfer Co. Building (1910); the A.A. Bousquet House (1910); the Frank D. Case (1910); a community water system for Millerdale (1910); the Malaga Schoolhouse (1910); the Prowell House (1911); an addition to Lincoln School (1910); and the Standard Oil Warehouse (1911).
During that time he also became the consulting engineer for the Fairbanks, Morse & Co. of Seattle (1909). Reportedly he was also the designer of some of the best buildings in Leavenworth, however to date only one building has been attributed to him; after-mentioned Weigand Bldg (1908) and the Leavenworth Co-Operative Creamery (1915).
Sussex did become engaged in fruit raising in Peshastin (1915), but had moved to Newburgh, New York by 1920. Most likely still working as an engineer, by 1927 he moved to Albany, New York and later became the Chief Specification Writer for the New York Department of Public Works (1944) where he retired.
Sussex passed away in Lynden, Washington on April 13, 1959.
Michael Houser, State Architectural Historian - December 2021