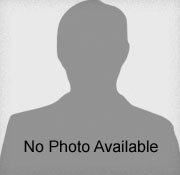 Bibliography:
"Architect Examining" Tacoma Daily Ledger, page 8. October 3, 1886.
"Architect and Contractor for Asylum Project" Tacoma Daily Ledger, page 5. October 17, 1886.
"Addition by John G. Proctor" Tacoma Daily Ledger, page 2. April 5, 1899.
"Court House Plans" Tacoma Daily Ledger, page 4. January 29, 1890.
Felker, Helen. "A lifelong Tacoman Recalls Early Days." Tacoma News Tribune, May 23, 1976.
"Fort Steilacoom Residence" Tacoma Daily Ledger, page 16. July 21, 1907.
Hunt, Herbert. Tacoma: Its History and Its Builders; a Half Century of Activity, Volume 1. Tacoma, WA: S.J. Clarke Publishing Company, 1916.
Long, Priscilla, HistoryLink.org - Tacoma's Western Washington Industrial Exposition Building burns down on September 18,1898. 25 August 2003.
Mineral Industries. The Northwest Mining Review, Volume 1. N.G. Snow & L. K. Armstrong, Spokane, WA, June 1, 1892.
"More Rooms Wanted" Tacoma Daily Ledger, page 4. December 10, 1889.
"Mortuary Bldg. Design" Tacoma Daily Ledger, page 17. May 5, 1907.
"Ornamental Stone Fence Around Western State Hospital" Tacoma Daily Ledger, page 23. January 16, 1916.
"Tacoma Pioneer Architect Dies" Tacoma News Tribune, February 9, 1925 pg 1.
"Former Washington State architect dead" Pacific Builder & Engineer, March 7, 1925, p.19
"John G. Proctor" Oregonian, February 11, 1925.
"Architect Here on Capitol Repairs" Olympia Daily Recorder, March 10, 1908.
"Proctor is Architect" Morning Olympian, February 27, 1907.
"Is The Building Safe: Tacoma Architect Says the Courthouse is Settling" Morning Olympian, August 30, 1892, pg 4.
"The City Offices: Councilman Proctor Says the Barlow Building is All Right" Tacoma Daily News, May 7, 1892.
"To Draw Capitol Plans" Morning Olympian, March 1, 1907.
Advertisements – Daniels & Proctor, Grand Forks Daily Herald, 1883-1884
Proctor Project List - compiled by Sarah Hilsendeger
Tacoma architect John Gardiner Proctor was born in April 1854 in Ontario, Canada. While his formal architectural education is unknown, Proctor arrived in Tacoma in 1885 with his business partner Charles N. Daniels. Daniels was a self-trained architect, whom worked first as a cabinet-maker, then carpenter - builder before advertising himself as an architect around 1862. As evidenced their earlier projects, both were highly skilled, having previously established a prominent architectural firm in Fargo, North Dakota. Known projects in North Dakota include the 2nd Cass County Courthouse (1883); and the Masonic Hall (1884) in Fargo and Ferfus Falls. The firm most likely fled North Dakota after the regional economy collapsed and building construction came to a halt.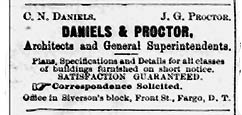 In Tacoma, projects by the firm of Daniels & Proctor are limited to the Frederick T. Olds House (1886); the Drum & Paulson Duplex (1886); the Catlin House (1886); and the George Atkinson House (1886) all in Tacoma. The firm also designed the Italianate style Chambers Block (1887) in Olympia, which remains today one of the oldest properties in the downtown core.
After three years, Proctor took on a new partner, Oliver Perry Dennis. Projects under the partnership of Proctor & Dennis (c.1890-1901) were constructed during the building boom of the late 1880s. In fact, they opened a satellite office in Ellensburg after the Great Fire of 1889 in an attempt to recieve more work; however no projects in the city have been identified by the firm to date. Notable projects in the Tacoma area include the Pierce County Courthouse (1892); the Nelson Bennett Mansion (1889); a series of homes on S. "J" Street for the Washington Building Association (1889); the Wheeler Building (1889); the Massasoit Hotel (1889); the D.A. Loose House (1889) in Tacoma; the Bostwick Block (1889); the L.F. Rogers Stable (1889); the Del Monte Hotel (1890); the West Coast Grocery Building (1890); the Merchants National Bank (1891); the first building at the Old Soldiers Home (1893) in Orting; and several homes in Tacoma's north end neighborhoods.
After the "Panic of 1892", there was little architectural work and Dennis eventually moved on to Los Angeles. Proctor moved to a home he designed and built for his family on 40 acres of land on McNeil Island. Proctor formed yet another partnership in 1901, this time with architect William Farrell. Farrell had arrived in Tacoma around the same time as Proctor and was initially in partnership with Carl A. Darmer. Farrell was born in New York and was reaching the end of his career at age 64 when he joined Proctor.
Together the firm of Proctor & Farrell (1901-1908) designed many notable structures in the Tacoma area. These include Washington School (1901); the Charles Drury House (1901); the Epworth Methodist Episcopal Church (1902); the I.O.O.F. Lodge No. 89 (1903); the Masonic Temple (1903); several buildings at Western State Hospital in Steilacoom (1887-1916); and a cell wing for McNeil Island Penitentiary (1908).
On the residential side projects include the Davisson House (1902); the Rev. John Willert House (1903); the F. Wiblishauser House (1903); the Governor Lister House (1903); the Lamborn House (1904); the R.D. Shutt House (1905); the Haverkamp House (1905); the Thompson Apartments (1906); the A. B. Gehri House (1906); the Gloss Fowler House (1907); the Robert Mottau House (1908) all in Tacoma.
Proctor received his architectural license on November 29, 1919 (No. 129) when the State formally began issuing licenses. He was one of the core group of over 250 architects whom were grandfathered in during the initial licensing push. No project are known by Proctor post 1908, however since he acquired his license in 1919, he most likely was still practicing.
Over the course of his career Proctor became well regarded in the community. He served on the Tacoma City Council (1892) and was honored by have a neighborhood and street named after him in Tacoma.
Proctor died in Puyallup on February 8, 1925 at the age of 71.

By Michael Houser, State Architectural Historian - Dec 2013