Spanning a career of nearly 50 years, Joseph Henry Wohleb carved out one of the most productive and influential architectural careers in the history of Washington State.
Born in Waterbury, Connecticut on September 14,1887, Wohleb grew up in northern California in the community of Vallejo. For reasons unknown, he left Vallejo High School at the age of fifteen to enlist at the Mare Island Naval Shipyard, where he became an apprentice boat builder. For the next five years, he worked as a cabinetmaker and patternmaker. After more than three years at the shipyard, Wohleb requested a discharge effective January of 1907. He then worked for a year in a private boatbuilding operation in San Francisco. By 1911, he was listed in the Vallejo city directly as a carpenter, residing at his parents home. Later that same year he moved to Olympia, Washington.
What motivated Wohleb to settle in Olympia is not known, but it must have seemed a promising location for a young man determined to advance himself in the building trades. He evidently calculated that there was work for at least one man in architecture. According to city directories, the year of his arrival in Olympia, the city had two practicing architects; Samuel G. Ward Jr. and Howard E. Gray. Until WWII, three more architects, in addition to Wohleb, would come and set up practice in Olympia, however none remained longer than a couple of years leaving Wohleb's practice to thrive.
When he arrived in Olympia at the age of 26, what Wohleb lacked in education, he made up for with a clever mind and a strong grasp of construction and engineering concepts. He quickly began making a successful living by billing himself as an architect, first listed in the 1913 city directory.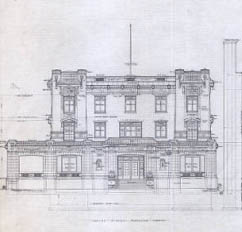 On February 12, 1912, Wohleb was married in Olympia to Matilda Gresl. Together they had three children, Robert Henry (1916-1966), George Gresl (1918-1926) and Joseph Wensel (1924-?). That year also saw Wohleb's first documented design, the Jeffers Photographic Studio at 500 S. Washington Street in Olympia. The buildings Mission Revival style with its stucco walls, red tile roof, and sculpted parapet walls would become signature features in much of Wohleb's work in the early part of his career.
In the mid teens, he concentrated on houses in the Tudor and Craftsman style, and designed several industrial structures. He also completed the Neo-Classical Carnegie Library in Olympia, with the Seattle architectural firm of Blackwelll & Baker, which raised his public profile. The decade of the teens closed with Wohleb turning out an impressive range of buildings for residential, public and commercial use. Success was further marked by receipt of his architectural license (#197) on November 29, 1919. That year, the State of Washington had passed it first law requiring the licensing of architects.
For a short time, Wohleb took on a partner, J. Charles Stanley, but the relationship was dissolved mutually. Wohleb continued to work independently until he was joined by his son, Robert in 1946. During the peak years of his practice, he employed an office force of young assistants ranging from high school graduates to licensed architects, all of who reportedly found Wohleb a strict taskmaster who could react explosively when his high standards were not met.
During the 1920s Wohleb enlarged the volume and geographic scope of his practice by turning out an ever-increasing number of building in communities outside of Olympia, from Sequim to the north, to Kelso to the south. He strengthened his emerging specialty in club design by building the grand Mission style Elks Lodges in Centralia and Bremerton, and American Legion Halls in Shelton and Olympia.
Between 1913 and 19410, Wohleb had designed over 150 buildings in Washington, including five buildings in Shelton including the Mason County Courthouse (1929), Telephone Building (1929), Sol Reed and Frank C. Reed Houses (1929) Shelton City Hall (1932) and a significant number of public buildings in Olympia such as the Thurston County Courthouse (1930), the Highway Building, State Capitol Campus (1934), and the Public Lands-Social Security Building, State Capitol Campus (1936).
Wohleb designs during the 1930s and 40s, are reflective of the era when they were constructed. These stripped down buildings, were mainly executed in the Art Deco style. The detailing includes stucco or poured concrete exterior walls, hard edged pilasters, metal multi-pane windows, and glass block. Wohleb's Art Deco examples include the Thurston Co. Courthouse (1930), the National Guard Armory - Olympia (1939), the Shelton Junior High (1931), the Shelton City Hall (1932), and the Shelton Gymnasium (1941).
Wohleb continued his architectural practice until shortly before his death at age 70 on June 11, 1958. He was buried in Olympia's Calvary Cemetery. His son continued the firm as Robert Wohleb & Associates until his own death in 1966.