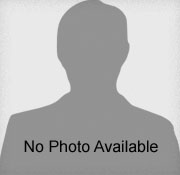 Bibliography:
Pacific Coast Architect - Nov 1912, Dec 1912, Feb 1913 & March 1913
Domestic Engineering - Nov. 13, 1915
"Seattle Public Comfort Station" Municipal Journal & Engineer - Feb 23, 1910
"Seattle''s Progress in Comfort Station Construction" Board of Trade Journal - No.12, 1910
Syracuse University Yearbook - 1892.
"Plans Now Being Drawn for Church Edifice" Seattle Daily Times - November 11, 1905 pg. 4.
"Home of Jules Redelsheimer" Seattle Daily Times - February 4, 1906 pg. 39.
"The New Temple De Hirsh" Seattle Daily Times - February 4, 1906 pg. 14.
"Pioneer Place to Have Comfort Station" Seattle Daily Times - April 7, 1909 pg. 11.
"Jobber Calls Architect Unfair" Seattle Daily Times - May 4, 1909 pg. 1.
"Court Fight On Hospital Opens" Seattle Daily Times - March 14, 1910 pg. 8.
"Opposes High Buildings" Seattle Daily Times - December 19, 1911 pg. 16.
"Factory Building Contract is Let" Seattle Daily Times - April 3, 1912 pg. 19.
"Beautiful New Homes on Lake Shore" Seattle Daily Times - August 31, 1913 pg. 22.
Born to a wealthy farmer in Leeds, Wisconsin on October 5, 1869, Julian Franklin Everett arrived in Seattle around 1904. Documents indicate he studied architecture at Syracuse University; but it is unknown if he received a formal degree. Records note that in 1902 Everett moved from Boston to Bozeman, Montana. While there he designed the J.R. Toole House (now the Kappa Kappa Gamma Sorority House) in Missoula. After moving to Butte in 1903, for reasons unknown he moved to Seattle the following year.
Shortly thereafter he received many high profile commissions including the Temple de-Hirsh-Sinai (1906); the Third United Presbyterian Church (1905); and the Pilgrim Congregational Church (1906).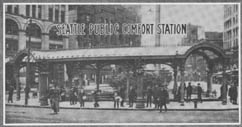 Everett is best remembered though for his design of the Public Comfort Station (today known as the "Iron Pergola") in Pioneer Square in 1909. The comfort station was touted in a variety of period journals including the January 1910 issue of Pacific Builder & Engineer and the February issue of Municipal Journal & Engineer. Both publications note that the structure was the "first down-town installation in the greater northwest" of a comfort station. They also note that the traveller will find "nowhere in the eastern hemisphere a sub-surface public comfort station equal in character to that which has recently been complete in the downtown district of Seattle."
Other notable projects include the George A. Smith house (1905); Fire Station No. 23 (1908); the Jules Redelsheimer House (1906); the Mrs. N.O. Reichart House (1908); Seattle Cracker & Candy Co. Factory (1912); the Redelsheimer-Ostrander House (1914); the Leamington Hotel & Apartments (with W.R.B. Wilcox, 1916); the Colyear-Motor Sales Co./ White Motor Co. (1918 with W.R. Kelley); Kelly-Springfield Motor Truck Co. (1917); and the Pathe Co. Building (1922), all in Seattle. He also provided designs for Elk Lodge Buildings in Port Townsend and Port Angeles. From 1912 to 1919, he designed a number of commercial garages which accommodated Seattle's growing population of automobile owners and their parking demands.
Despite these high profiles projects, little information has been found regarding other work of Julian Everett. An article in the Sept 21, 1912 issue of the Town Crier may shed some light on the lack of publicity regarding the work of Everett. The article states Julian Everett "has probably design and superintended as many beautiful buildings as any architect in the Northwest. If he knew how to advertise himself and his work (which he does not) his services would be in demand throughout the Northwest; but as he is a modest, quiet fellow, content to let the butchers of his profession get all the advertising and a good many of the fat contracts, he keeps himself fairly busy designing homes for people who are capable of appreciating his splendid talent."
Everett worked independently in Seattle until 1920 when he moved to Ventura, California. He passed away in Los Angeles at the age of 85 on January 13, 1955.
By Michael Houser, State Architectural Historian - Dec. 2011