Architect Keith Howard Bradbury was born June 27, 1918 in Portland, Oregon but was raised in Sunnyside, Washington. After attending Central Washington College, Bradbury graduated from Washington State College in 1942 with a Bachelor's degree in architecture. An outstanding student, Bradbury received the Scarab Metal multiple years (1939-42) and spent his summers and post graduate time traveling to Algeria, Africa, Panama, Hawaii and Japan. Upon the start of WWII, he went to work as an Assistant Mechanical Engineer for the Puget Sound Navy Yard in Bremerton (1944-46) and served as a Radar Officer in the US Navy Reserves.
After the war, Bradbury gained valuable experience by working as a draftsman for noted Vancouver, Washington architect Donald J. Stewart (1946-52). While there he rose to the level of associate and formally received his architectural License (No. TL-543) on June 19, 1950.

In 1952, Bradbury formed a partnership with fellow architect Luther McCoy. Practicing as McCoy & Bradbury until 1964, the firm's designs include several notable structures in southwest Washington. These include numerous buildings at Clark College in Vancouver and several structures for the Clark County Public Utility District. Other high profile projects include Sara Anderson Elementary School (1955), and McLoughlin Jr. High (1957) in Vancouver; Holy Rosary Church in Edmonds (1955); St. Rita's Catholic Church (1957) and Schwary's Shopping Center in Portland; the Independent Bank of Vancouver (1960); Hoffman Medical-Dental Building (1960) in Hood River; and Columbia River High School (1962) in Vancouver.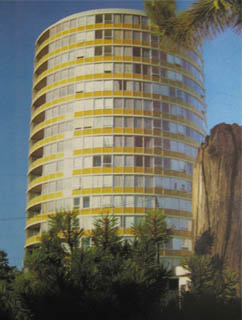 In 1965 Bradbury left the firm and formed a new partnership with fellow Vancouver architect Henry Greybrook. Together Greybrook & Bradbury produced several projects at Clark College; the Westmoreland Manor (1965) in Portland; Ya Po Ah retirement Apartments (1966) in Eugene; and the Reynolds Metals Office Complex (1967) in Longview. Their most prominent project is the cylindrical curtain-walled Smith Tower (1966) in Vancouver. The building used a lift-slab technique based around its central core, akin to Chicago's similarly-corncob-esque Marina City.
In 1970 Greybrook and Bradbury parted ways, each opening independent offices. Projects by Bradbury during this later period are unknown at this time. Bradbury was active in the local chapter of the AIA serving as Vancouver AIA Chapter Vice President (1963), President (1964) and Treasurer (1970).
In 1977 he formed another partnership with F. Arlen Stanek. Bradbury retired in 1986 and passed away in Vancouver on April 5, 2009.
By Michael Houser, State Architectural Historian - January 2012