Spokane architect Keith Thomas Boyington was born on November 8, 1922 in Coeur d'Alene, Idaho. His dad was the local doctor in small community of St. Maries, Idaho where Keith graduated from high school. Upon graduation, he enrolled at the University of Idaho (1940-43), however his studies were interrupted after being drafted during WWII. As a partially educated college student, Boyington was transferred to Washington State College in 1943 where he attended the Army Specialized Training Program, for about a year before being sent overseas. Rising to the rank of Corporal by the end of the war, Boyington returned home and reenrolled at the University Idaho (1946-50) where he graduated with a Bachelor's degree in Architectural Engineering in 1950.
During the summer months, Boyington gained valuable-on-the-job experience by working as a draftsman for architect G.A. Pehrson (1947-48), and George M. Rasque (1948-52). Further knowledge was gained after graduation by working for the firm of Culler, Gale, Martell & Norrie (1952-59).
After working for various firms, Boyington decided to start his own independent practice in 1959. His initial office was located in his house on Sunset Hill, just west of downtown Spokane (905 Buena Vista Dr). Early projects (some while still practicing with the firm) included a home for Ralph Huges (1954, St Maries, ID); the Jack Krehbiel House (1955, 13303 E Wick Ave, Spokane Valley); an addition to the Dr. Roy Stewart House (1956, 14512 E Valley Way, Spokane Valley); a remodel of St. Maries City Hall (1958); a storefront remodel for the J.A. Hogle & Co. firm (1959, 525 w Sprague Ave); a comfort station for the Whittier playground (1960); and the Sigma Chi Fraternity House (1960, 735 Nez Perce Dr.) in Moscow, Idaho. His design entry for the 1961 National Concrete Association Horizon Home Program (8510 N Stevens Dr, Spokane) with builder Bob Wideman, brought him valuable local and regional press.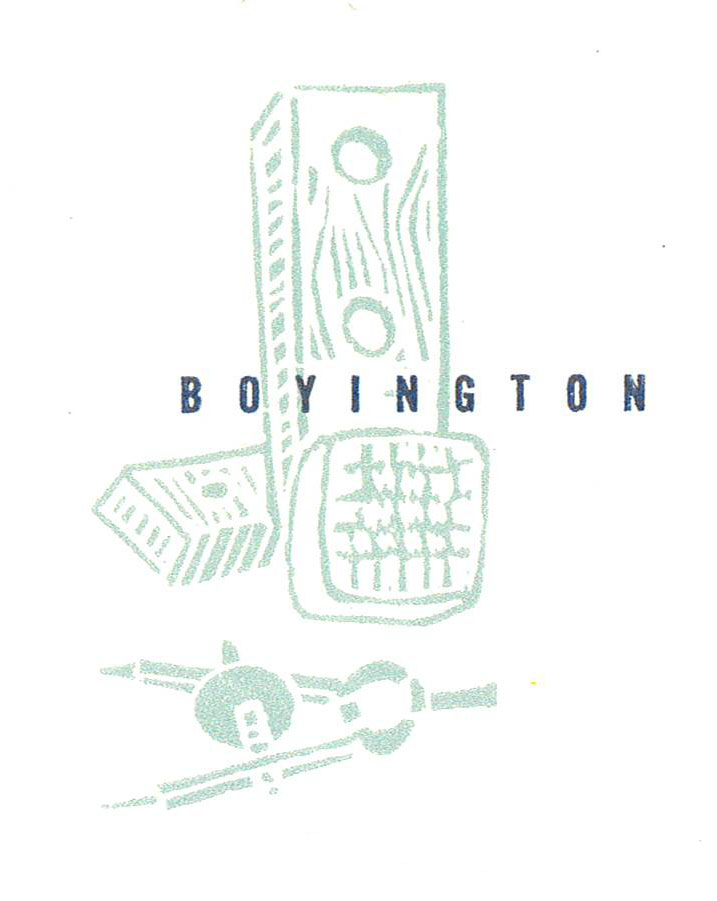 Shortly thereafter in the fall of 1961 Boyington formed a partnership with Douglas C. Durkoop. A University of Oregon graduate, Durkoop was a job captain at Culler, Gale, Martell & Norrie, Boyington former employer. Known as Durkoop & Boyington, the new firm set up an office in the Empire State Building in downtown Spokane. Their first big project was to expand the seating capacity of Joe Albi Stadium (1962). Other important projects followed such as an addition to the Kappa Kappa Gamma Sorority House in Pullman (1961) and a library in Grangeville, ID (1963).
For reasons unknown, the partnership was short-lived and by 1964 Boyington had formed a new partnership with Donald L. Read, also a former employee at Culler, Gale, Martell & Norrie. The two practiced together as Boyington & Read for 10+ years (c1975).
Projects during this period included the Lewiston Manor (1964, 8th & Linden, Lewiston); the Sandpoint Manor Nursing Home (1965, Sandpoint, ID); an addition to the local swimming pool facilities in Grangeville, ID (1965); an addition to Rogers High School (1966, Spokane); serving as supervising architects for Gloria Dei Lutheran Church (1966, 3307 w Rowan Ave., by Milton Stricker); the drive-in branch of First National Bank in downtown Spokane (1968); the KWSU Transmitter Building at WSU (1969); several alterations to buildings on the EWU campus (1969); and the WSU Horticulture Materials Storage Building (1970, Prosser).
Boyington and Read had a bitter parting around 1975 with Read eventually suing Boyington in 1978. Boyington carried on an independent firm and designed the Cox Cable TV Building (1976, 1717 E Buckeye Ave), and the Washington Water Power Metro Wall (1976, Post St.) in Spokane, both of which received architectural allocated from the local AIA chapter.
Boyington and his wife were heavily involved in a variety of actives in the local community and were often mentioned in the local newspaper's society section. He served as President of the University of Idaho Alumni Association (1956), President of local alumni chapter for Sigma Chi Fraternity (1958); served as Spokane AIA chapter secretary (1956-57); was Chairman of the 1959 AIA Regional convention in Spokane, and was very active in the local Kiwanis Club.
He passed away in Spokane at the age of 75 on July 17, 1998.